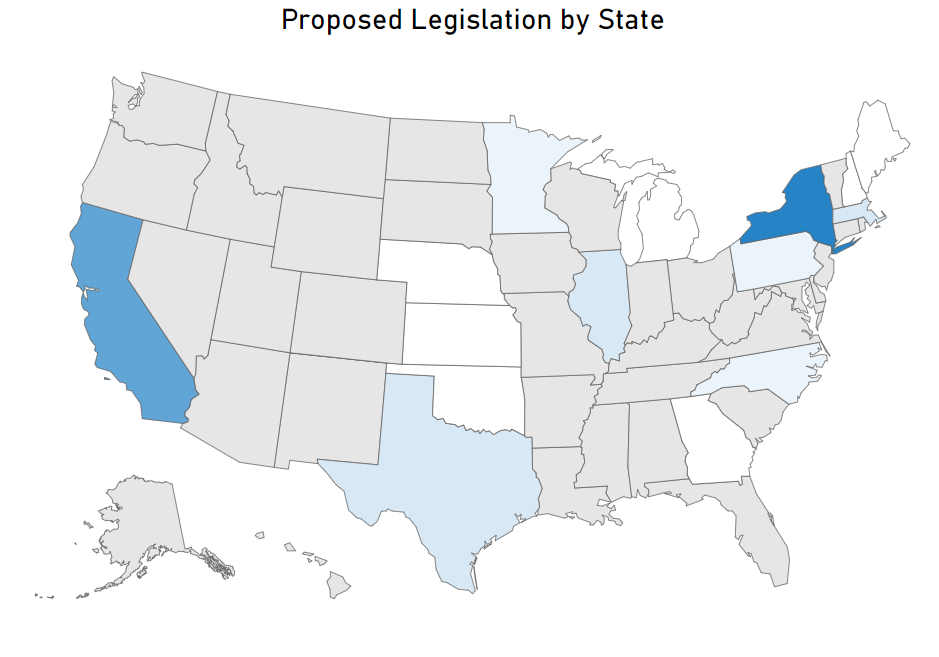 In the map above, the darker-shaded states represent a higher number of proposed laws. 
For all the policy wonks and EV advocates, it's time for another legislative update. Since our last update in March, we've captured a ton of new EV-related bills moving through State legislatures. Here are a few trends that caught our eye. As a reminder you can always view all the bills we are tracking on the Proposed Legislation page of the State Policy Dashboard.
States Aim for 2035
First, a cross-section of states have proposed legislation to transition to electric school buses. The following bills all establish a requirement that newly purchased or contracted school buses must be electric or zero-emissions by 2035:
Additionally, Illinois' Senate Bill 2154 appears to have a stronger target: this bill proposes that newly purchased, contracted, or leased school buses must be electric beginning in 2028, and that all school buses that provide transportation to enrolled students must be  electric beginning in 2035.
The World Resources Institute's Electric School Bus Initiative has a number of resources dedicated to electric school bus adoption in the United States, including this very handy article tracking electric school bus legislation.
Clean fuel standards
In our scan of recently proposed legislation, we came across four more states that have introduced clean fuel standards, or low-carbon fuel standards. 
These policies offer a mix of incentives for EV adoption and help drive down transportation emissions. So far in our tracking, three other states have enacted a low-carbon fuel standard including California, Oregon, and Washington.
Bills on the thornier side
EV fees continue to make a presence in EV policy. Last time, we discussed Georgia's contentious Senate Bill 146, which seeks to implement an excise tax of 2.4 cents per kWh on public charging. Despite drawing criticism, the bill passed both chambers of the legislature and was signed by Governor Kemp earlier this month, becoming law. In other news, Texas has recently moved forward with a similarly controversial bill that imposes additional EV fees. Texas' Senate Bill 505 implements a $400 fee to register an EV and an additional $200 fee to renew a registration. The bill quickly made its way through the State legislature and was enacted by the Governor last week.
Additionally, Montana enacted a trifecta of EV fees. HB439 implements a one-time registration fee starting at $260 for BEVs and $140 for PHEVs while HB60 imposes an annual registration fee for EVs starting at $130 for BEVs and $70 for PHEVs. Both fees are increased for heavier vehicles. Lastly, HB55 establishes a tax of $0.03 per kWh for electricity sold at public charging stations. All three bills were signed into law this spring.
Lastly, Maine legislators introduced an anti-EV bill in April. Though unlikely to hold up, House Bill 1623 proposes to prohibit all state subsidies for electric vehicles in the state of Maine. In no surprise, this proposal has chalked up immense dissent from transportation electrification advocates – see this written testimony submitted by Sierra Club's Maine Chapter opposing the bill.
See the full list below for other state legislation developments, or dive in deeper on the State Policy Dashboard. If we missed anything, respond to this email and let us know!
Active
Enacted
Adjourned
Failed
About the author: Moe Khatib