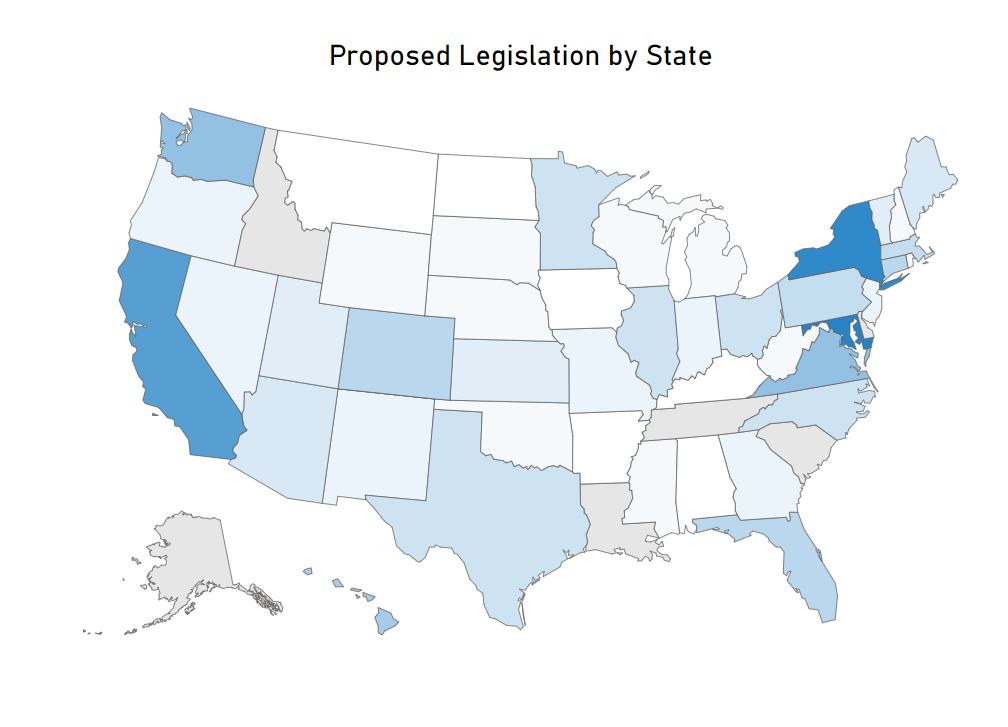 Source: EV Hub
State legislatures have been busy this session, and electric vehicles (EVs) are on the agenda all over the country. Earlier this year, we provided a legislative rundown on introduced EV legislation. Here are some policy developments we have tracked since our last update.
First and foremost, two more states have announced plans to adopt Advanced Clean Cars II (ACC II) regulations this year: Maryland and New Jersey. Both states will proceed with a public hearing and rulemaking next. Maryland and New Jersey join the fast-growing list of states to adopt the regulations. There are now ten states that have either adopted or are in the process of adopting the rules. Read more on ACC II here.
Last week, we wrote about the growing pains of the EV charging industry and cross-sector efforts to better regulate EV chargers. Since our last legislative update, many states have introduced bills to improve charging access and reliability, including Maryland and New York. Maryland's House Bill 834, or the Electric Vehicle Charging Reliability Act, puts forward a number of measures to ensure reliability, such as requiring that electric companies that operate an EV charging network ensure EV chargers in their network have an average annual uptime of 97 percent or greater and enforce reporting requirements. Similarly, New York's Senate Bill 5120 (with public support from FLO and ChargerHelp!) requires the Public Service Commission to develop reliability and reporting standards for EV chargers by January 1, 2025.
Massachusetts and North Carolina have also introduced EV charging regulations. Massachusetts' House Docket 2530 proposes to establish safety standards and regulations for EV charging stations, including charger accessibility and maintenance standards. In North Carolina, a bipartisan bill, Senate Bill 316, creates designated parking spaces for EV charging (and penalties for violating the law) and requires appropriate EV charging signage. In addition to public charging standards, North Carolina's House Bill 318 requires that new construction of single and multi-family dwellings must be "EV charger ready."
Other states have introduced more contentious EV bills, such as Georgia. Georgia's Senate Bill 146 seeks to implement an excise tax of approximately 3.5 cents per kWh on public EV charging. The measure has drawn criticism from EV advocacy groups who argue that lower-income EV drivers will be disproportionately impacted given they are more reliant on public chargers in addition to the state's existing high EV registration fees. Georgia is not alone in introducing bills that could have a negative impact on EV drivers. Kansas' House Bill 2004, or the "EV Energy Equity Road Repair Tax," would impose an excise tax of three cents per kWh on public EV charging. Similarly, Nebraska's Legislature Bill 505 proposes to increase the registration fee for EVs from $75 to $200 (or $125 for plug-in hybrid EVs) and an excise tax of three cents per kWh for commercial EV charging stations. A similar attempt was made in 2022 (though the cap was $150).
See the full list below for other state legislation developments, or dive in deeper on the State Policy Dashboard. If we missed anything, respond to this email and let us know!
Active:
Adjourned:
West Virginia: HB2260. Repeals additional registration fees for alternative fuel vehicles
Wyoming: SJ0004. A bill that seeks to phase out new electric vehicle sales by 2035
Failed:
About the author: Moe Khatib