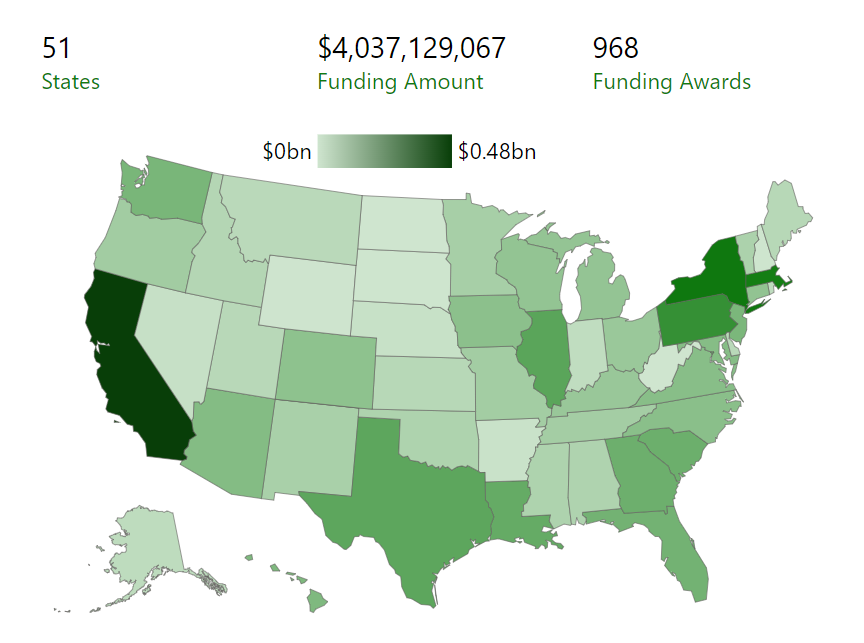 The map above depicts funding progress across four IIJA programs: Buses and Bus Facilities, Clean School Bus, NEVI, and Low-No. Source: State Policy Dashboard
Today is the two-year anniversary of the historic Infrastructure Investment and Jobs Act (IIJA), otherwise known as the Bipartisan Infrastructure Law. IIJA was signed into law on November 15th, 2021, and the bill authorized an unprecedented climate investment of $1.2 trillion for transportation and clean energy.
Since its enactment, IIJA has been a focus at Atlas across many of our workstreams, and we remain committed to providing continued analysis and content of the landmark legislation alongside the Inflation Reduction Act (IRA). Here are four IIJA-focused resources.
1. Infrastructure Investment and Jobs Act, Summary: On our Federal Policy page on EV Hub, we summarize key electric vehicle (EV) related provisions of both IIJA and IRA. I always recommend this summary page to folks to get quick information on types of programs and funding amounts authorized by IIJA.  Here, you'll find a title of each EV program in IIJA, a brief description, the lead agency implementing that program, the funding amount, the funding type, and what the funding is targeting.
In summary, we've tracked a total of $50.3 billion EV-eligible funds, with $7.5 billion dedicated to zero-emission vehicles, $32.3 billion dedicated to "clean" vehicles, and $10.5 billion dedicated to the grid and batteries.
2. Issue Brief: The State of Federal Climate Implementation, By State: Next, my colleagues Annabelle Rosser and Jaclyn Lea who lead our work on our Climate Program Portal recently published an issue brief on IIJA and IRA funding. This paper provides a snapshot of how IIJA and IRA funding has been distributed so far, and it's an insightful read to gauge how federal climate spending has unfolded by state. The data from this report comes from Climate Program Portal's Outcomes Dashboard through the end of August.
Side note: The Climate Program Portal is a free resource for organizations and public agencies tracking federal investments in climate initiatives, namely IIJA and IRA.
3. Public Funding Dashboard: Did you know that our State Policy Dashboard surfaces public funding announcements and awards, both on the federal and state level? Relevant to IIJA, we have been tracking funding progress across four programs: The National Electric Vehicle Infrastructure (NEVI) program, the Clean School Bus program, the Buses and Bus Facilities program and the Low- or No- Emission (Low-No) grant program.
You can search through these programs by visiting the State Policy Dashboard and searching for them in the yellow filter bar on the right-hand side of the page. Make sure to tick the federal box (under Source of Funds) and the funding allocated box (under Investment Type).
Check out a digest I published earlier this year that summarizes some of the funding progress we have seen across these programs.
4. NEVI Dashboard: Many have been closely following the progress of the $5 billion NEVI formula program, which was established by IIJA. Our NEVI dashboard intends to serve as a one-stop shop for tracking the program's developments.
On this dashboard, you'll find two things: 1) each state's funding allocation, and their NEVI plan and website, and 2) state agency requests related to the implementation of NEVI, including Requests for Proposals (RFP), Requests for Information (RFI), Notices of Intent (NOI) and Public Comment requests. Soon you'll be able to view information on state NEVI funding awards. More information on that soon.
About the author: Moe Khatib