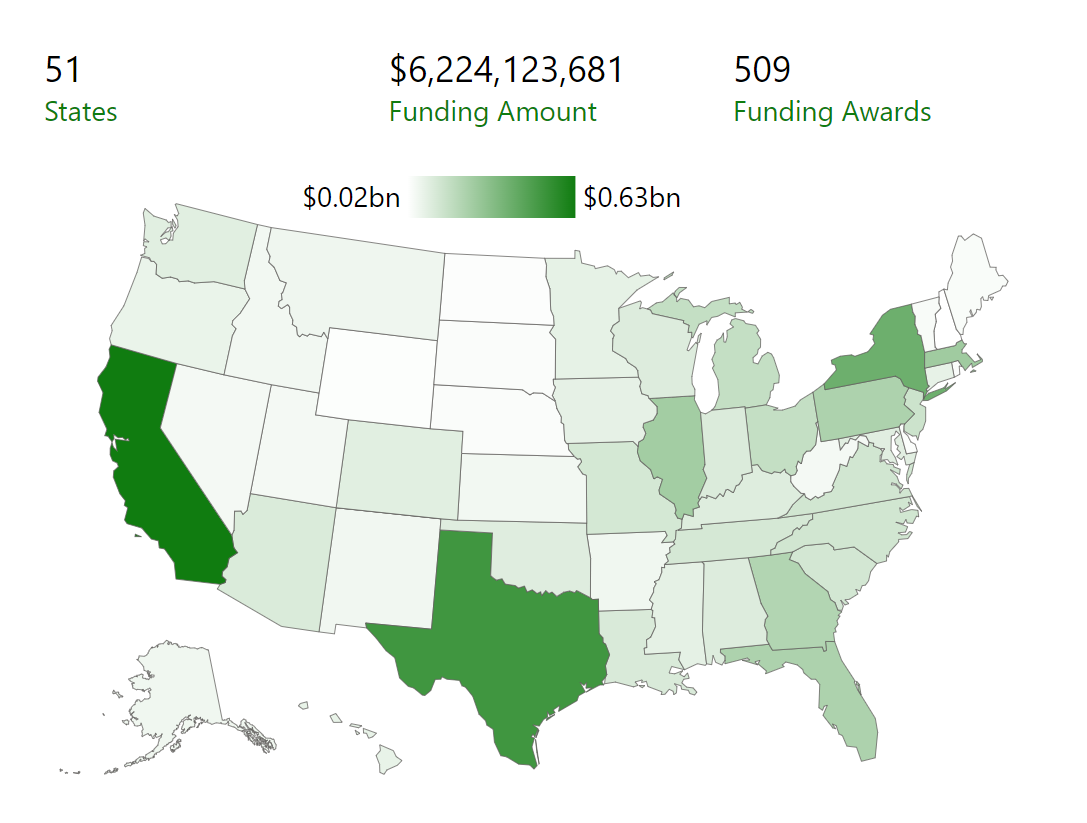 The Infrastructure Investment and Jobs Act (IIJA) (also known as the Bipartisan Infrastructure Law) unlocked billions in funding for EV-related projects. More than a year on from the signing of the Act, we are starting to see this funding roll out the door.
At EV Hub, we are keeping tabs on the funding status of IIJA programs that are allocating funds for transportation electrification with our State Policy Dashboard, including public funding announcements and awards. We have tracked four programs so far including two new programs: National Electric Vehicle Infrastructure (NEVI) program and the Clean School Bus Program and two existing programs: the Buses and Bus Facilities Program and the Low- or No-Emission (Low-No) Grant program.
In total, $6.2 billion in funding has been allocated across the four IIJA programs mentioned above, including approximately 509 funding allocations and awards across all 50 states plus U.S. territories. Note that this only includes funding for electrification projects beginning in FY 2022.
We are seeing some hefty funding allocations across those programs. Here are the largest electric investments for each program:
NEVI: An estimated $407.8 million in funding has been allocated to the state of Texas to build out an electric vehicle charging network between FY 2022 and FY 2026. In FY 2022, Texas was awarded $60.3 billion alone. You can also track state NEVI requests on our dedicated NEVI page here.
Clean School Bus Program: In FY 2022, New York State was awarded a total of $69.6 million through the Clean School Bus Rebate program to fund electric school buses across the state.
Buses and Bus Facilities Program: A total of $54 million will be allocated to the Pioneer Valley Transit Authority in Massachusetts to electrify its bus facility.
Low-No: In FY 2022, a total of $150.2 million has been awarded to several projects in New York State to purchase electric buses and vans across the state. Read more about these projects here.
You can search through these programs by visiting the State Policy Dashboard and searching for them in the yellow filter bar on the right-hand side of the page. Make sure to tick the federal box (under Source of Funds) and the funding allocated box (under Investment Type).
We also track all public agency requests related to IIJA programs, both active and inactive. These include Public Comment periods, Requests for Proposals (RFPs) or Notices of Funding Opportunities (NOFOs), Requests for Information (RFI), and Notices of Intent (NOI). Visit the State Policy Dashboard to see more.
About the author: Moe Khatib