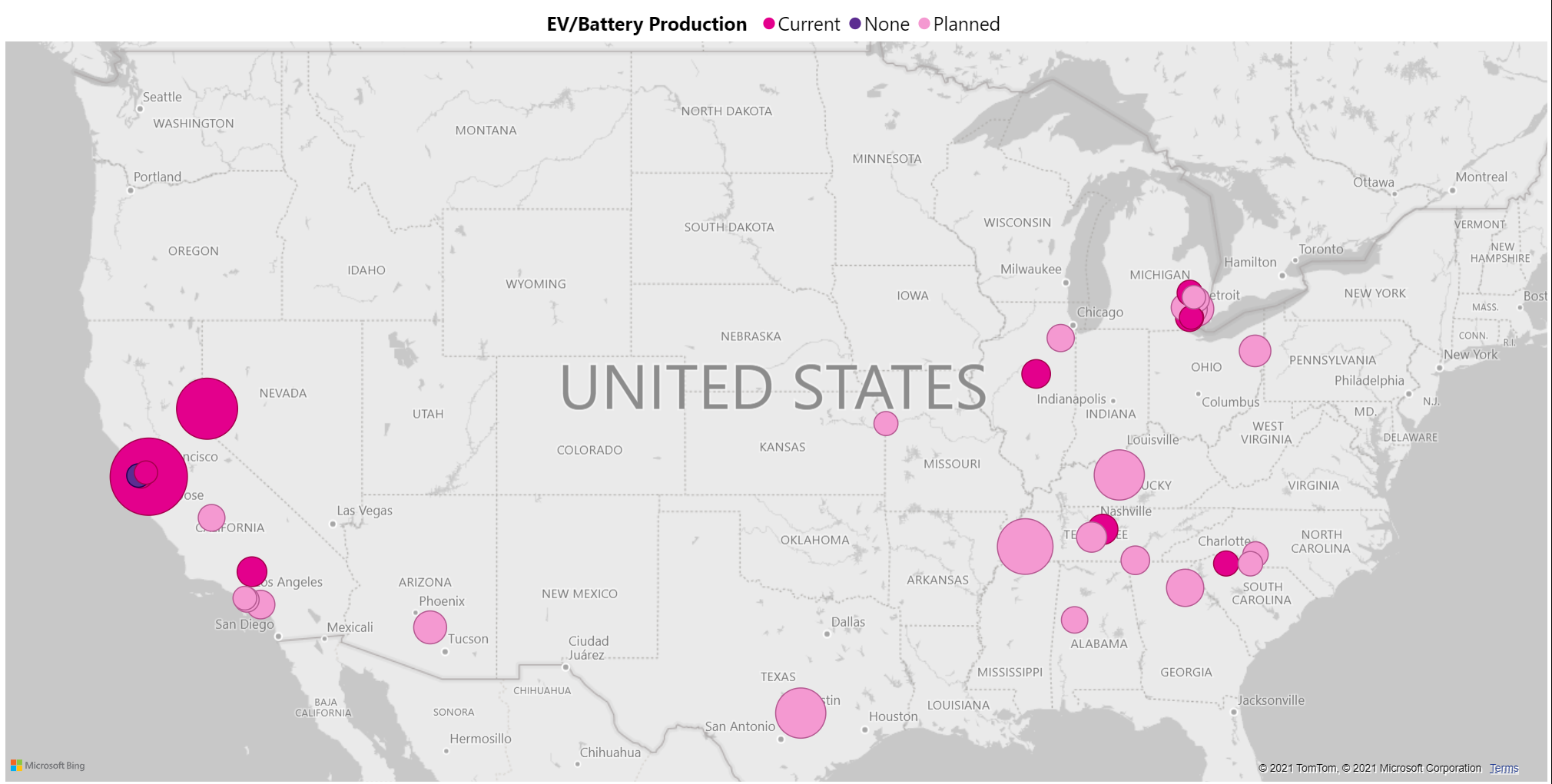 Over the past few weeks, automakers have yet again upped their commitment to electric vehicles. Last week, General Motors (GM) announced that it is building a new battery plant in the US. The facility is an addition to the Warren Tech Center in southeast Michigan and is slated to open in mid-2022. GM also announced that it would increase charging investment to $750 million through 2025 and indicated that it will open two more factories as part of the joint venture with LG. This builds on GM's announcement in July that it would increase investment in electric technologies from $27 billion to $35 billion through 2025.
Notably, GM is aiming to double its revenue by 2030 driven at least partially by growing its electric car and truck options. The company has announced plans to electrify its flagship truck, the Chevrolet Silverado, though it has not stated when it will begin production. The move builds on the company's pledge to eliminate emissions from all light duty vehicles it sells by 2035. Simultaneously, GM is working to extend the driving range of future iterations of its Ultium platform so that vehicles can travel up to 600 miles on a single charge.
GM's announcements come in the wake of large announcements by Ford including a very nicely made ad. Ford announced the siting of two large battery and electric vehicle productions, one in Kentucky and one in Tennessee. As part of the announcement, Ford also announced a plan to collaborate with Redwood Materials on a closed-loop battery recycling system.
Why is one of the Big Three, famous for their roots in Detroit, setting up operations out of state? It depends on who you ask. Ask Ford and they noted the location (size, shovel readiness and proximity to other EV sites) as the driving factor. Others have pointed to the cost of industrial energy in Michigan – two cents more per kWh than in Kentucky and Tennessee. Another explanation Robinson Meyer in The Atlantic offered was the role of incentives and the fact that both states are "right to work" states. The role of union labor in production of electric vehicles has been front and center of late. The additional tax credit proposed in the reconciliation bill was extended to union labor only, drawing criticism from a number of automakers.
The announcement is certainly a boon for Kentucky and Tennessee. In the Transportation Electrification in the Southeast 2021, we found that Tennessee leads the Southeast region for EV manufacturing jobs and investment. This investment from Ford continues to grow the state as an EV manufacturing hub.
Later in the week, Tesla announced that it was relocating its headquarters to Austin, Texas. The announcement at the Tesla shareholder meeting noted the cost of living challenges in California. The reasons, as in the case of the Ford announcement, may be more complicated. Texas is also a "right to work" state. Further, the state also has no personal income tax and just as in the case of Kentucky and Tennessee, Texas has offered corporations significant tax breaks for relocating to the state. One point of tension for Tesla is the Texas ban on direct sales there.
Meanwhile, Volvo is also making moves. The company recently announced its IPO, which is expected to raise $3 billion to help fund the transition to electric vehicles. Volvo plans to be all electric by 2030. The IPO announcement comes just weeks after its EV-only subsidiary, Polestar, announced plans to go public through a reverse merger. Both companies have plans to release all-electric SUVs next year in the Volvo XC90 Electric and Polestar 3.
These automakers are all turning hard towards electric transportation. Importantly, they have backed up initial announcements with even larger pledges and investments in production facilities.
On the Automakers Dashboard for EV Hub, we track investments in EV production across the country. The Dashboard has tracked more than $40 billion of planned investments in US EV manufacturing facilities expected to support more than 57,000 EV employees. With these new announcements, Ford ($13.6 billion) is well ahead of Tesla ($9.7 billion) and GM ($9.2 billion) for EV specific investments in the United States. Given how quickly things are changing with large automakers, this is a useful dashboard to keep an eye on.
About the author: Tom Taylor