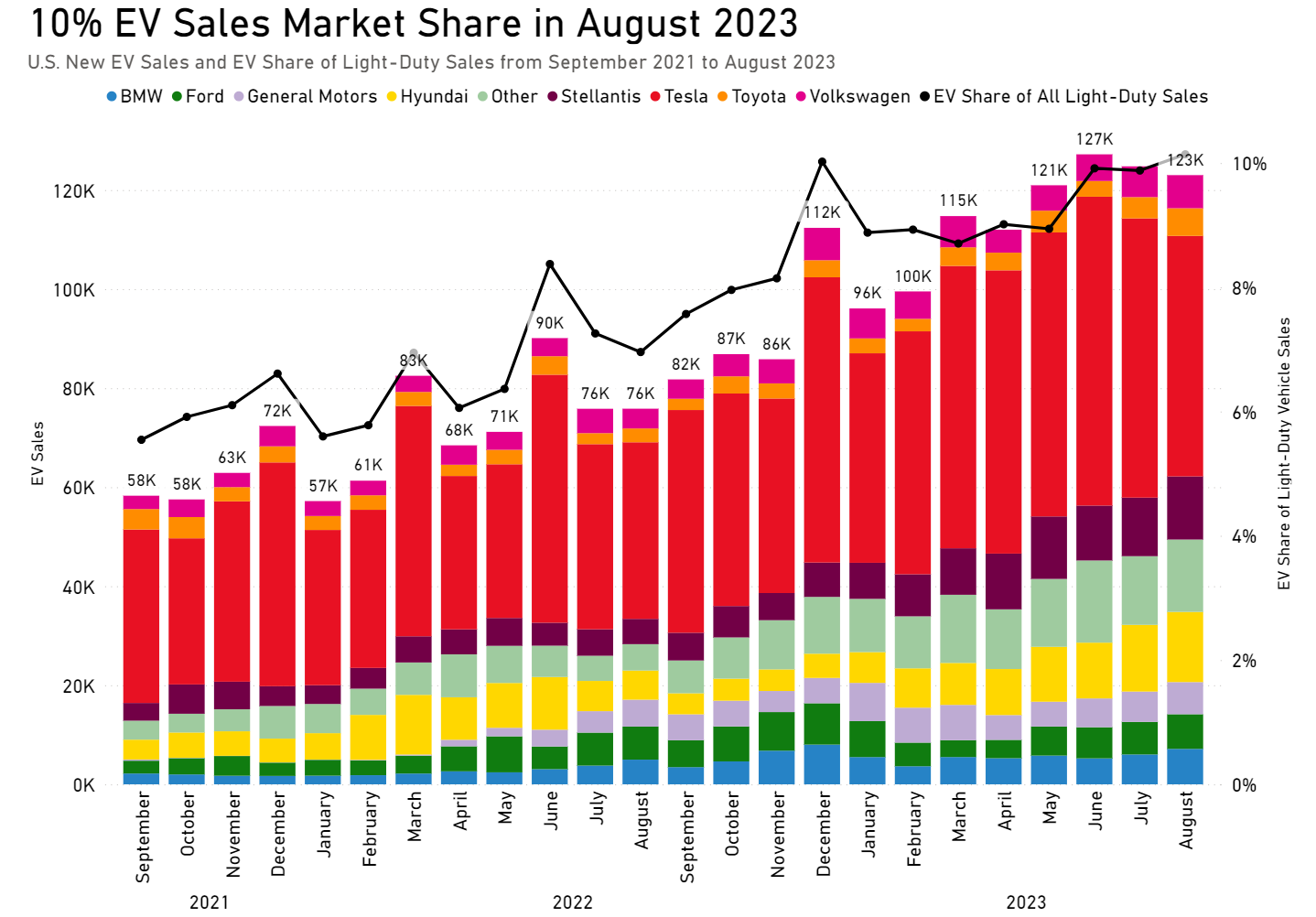 Source: Automakers Dashboard
August light-duty electric vehicle (EV) sales are now in, so what better way to welcome in autumn than an end-of-summer recap? August marks the third month in a row with a light-duty EV market share hovering around 10 percent, further solidifying the direction of the EV market. The nearly 123,000 light-duty EVs sold represented a slight dip from July. Here are three key trends we noticed,
First, Tesla saw its second month in a row of declining EV sales, and its lowest share of the EV market since May 2021. In August, the company reported just over 48,000 sales, representing 39 percent of the EV market. While Tesla still maintains a strong grip on the market, and it's common for EV sales to fluctuate month to month, the decline may indicate changes to come in the EV market as other automakers expand their EV portfolios.
Next, Hyundai sales continue to rapidly climb, reporting over 13,000 sales in August 2023. It's been a stellar year for Hyundai with eight months of consecutive growth in terms of its absolute share of light-duty EV sales. Hyundai has been busy in recent months. First, Hyundai announced plans to adopt Tesla's NACS, following many of its counterparts in the industry. Secondly, the company announced a partnership with EV charging network ChargePoint and will be offering a ChargePoint home charger and up to $600 for installation costs with the purchase of certain Hyundai EVs.
Finally, Ford sales continue to tick back up after the automaker experienced a dramatic dip in sales earlier in the year, which we've discussed in an earlier digest. In August 2023, the automaker recorded nearly 7,000 sales, with the Mach-E and the F-150 Lightning selling 4,332 and 1,316 units respectively. While Ford bounced back this summer, we have yet to see how the United Auto Workers (UAW) strike which began in September 2023 will impact future EV sales. We do know that Ford recently announced temporary layoffs for 700 workers who build the F-150 Lightning, although Ford claims these layoffs are unrelated to the strike.
Other automakers had a record month in August, such as Stellantis and Volkswagen. View the rest of our EV sales data on our Automakers Dashboard.
About the author: Moe Khatib