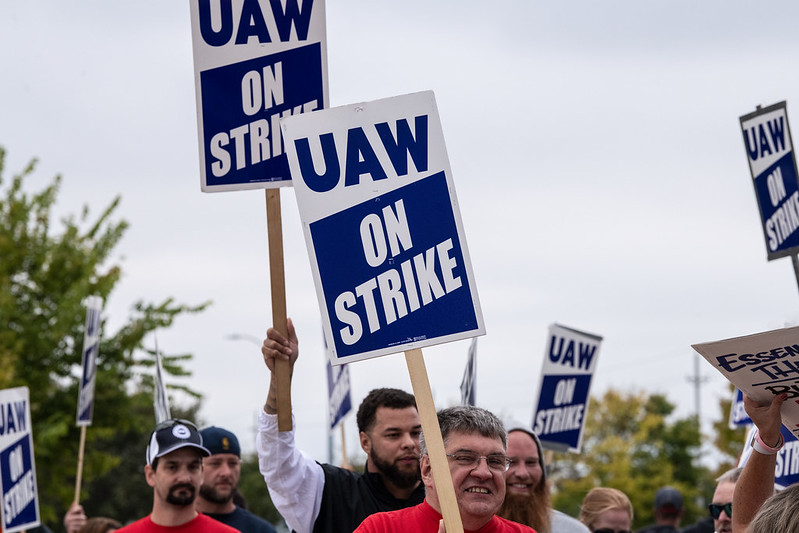 Image Source: Flickr 
Last Friday, nearly 13,000 United Auto Workers (UAW) members went on strike simultaneously at three facilities against the Detroit Three– General Motors, Ford, and Stellantis – over failure to negotiate a new collective bargaining agreement. UAW members had previously held strikes against a single auto company, but going on strike against all three is unprecedented.
As the U.S. embarks on a historic transition to electric vehicles, union workers are calling for economic security and better working conditions while automakers face significant challenges in completing a once-in-a-century transformation of their businesses. Here's what you need to know about the strike.
What does the UAW want?
The union has been in talks with all three automakers for weeks to negotiate fair wages and better benefits.  In particular, the union is calling for a 36 percent wage increase over the next four years (initially 46 percent).  Currently, full-time employees at the three automakers make anywhere from $18 to $32 an hour, depending on company seniority. Temporary workers make only $15 an hour. As a response, General Motors and Ford counter-offered a 20 percent wage increase, and Stellantis offered a 17.5 percent increase, without including some of the "key benefits" requested by the union.
In addition to higher wages, the union is also looking to remove employment tiers.  In the current model, newer workers receive less pay and fewer benefits. In the same vein, the union wants the automakers to rely less on temporary workers and invest more in its full-time employees. Other benefits in the union's offer include a 32-hour work week, health-care benefits for retirees, and the restoration of defined-benefit pensions that workers previously received.
Where are workers striking?
Currently, auto workers are striking at three plants:
General Motor's plant in Wentzville, Missouri
Ford's assembly plant in Wayne, Michigan
Stellantis' plant in Toledo, Ohio
These facilities appear to have been chosen as they have high and lucrative output.  In a video released last Friday morning, UAW president Shawn Fain stated, "[w]e are using a new strategy. We are calling on select locals to stand up and go out on strike." During his remarks, Fain suggested that the union can possibly target more factories and call for more workers to walk out if contract negotiations remain unsuccessful. According to Fain, this approach will keep automakers "guessing."
UAW members produce nearly half of light duty vehicles manufactured in the U.S., so a prolonged strike can result in potential economic consequences, especially in the Midwest.
What are the possible implications for EVs?
All three automakers are investing heavily in domestic EV manufacturing (approximately $29 billion to date). A prolonged strike could delay the rollout of new EVs by companies if they don't have sufficient capital to do so.
When it comes to the EV transition, both the UAW and Detroit Three are in support. However, both sides have competing viewpoints when it comes to the issues at the bargaining table. According to Fain, transitioning to EV production has "made it more crucial that both assembly line workers and battery workers have pay, benefits and guarantees as good as autoworkers used to have." Across the table, however, the auto companies argue the EV transition is already too costly, and that they cannot afford the UAW's demands.
How long will the strike last?
The UAW and all three companies seem far apart at this point. The three have issued statements in response to the strike, expressing "extreme disappointment" in UAW leadership. According to General Motors, the company will "continue to bargain in good faith with the union to reach an agreement as quickly as possible." Stellantis stated the company is now in contingency mode. Ford noted that it submitted four proposals to the union, and that the last offer was "historically generous, with large wage increases, cost of living adjustments, more paid time off, additional retirement contributions and more."  In Ford's statement, the company called the UAW's terms "unsustainable" and stated that the union's bargaining efforts have made little movement.
In reference to the companies' combined profit of $21 billion in 2023, UAW's Fain said, "[i]f they've got money for Wall Street they sure as hell have money for the workers making the product." And in a statement released Friday, Fain said, "we'll keep fighting for justice for the working class while the Big Three keep price-gouging the American consumer, ripping off the American taxpayer, and shortchanging the American worker."
Given the opposing stances between UAW and the automakers, a collective bargaining agreement may take some time. UAW's strike fund stands at $825 million, and striking members will receive $500 per week. As a reminder, our EV Jobs Hub visualizes EV manufacturing jobs in the United States, including union status.
About the author: Moe Khatib