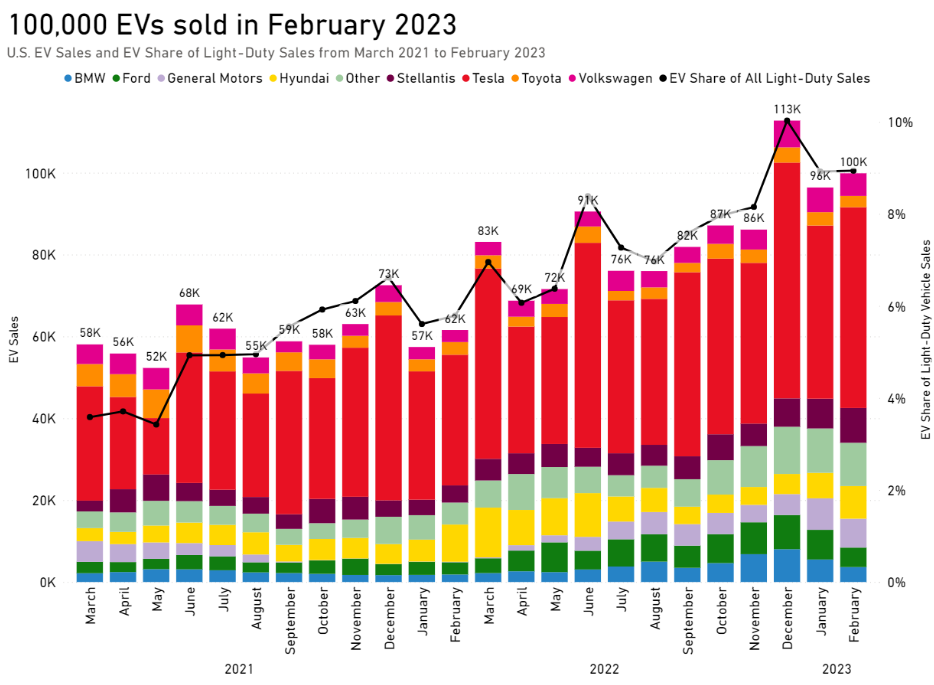 We just received February 2023 electric vehicle (EV) sales data, and new trends for 2023 are beginning to emerge. In February 2023, nearly 100,000 light-duty EVs were sold, representing a 9 percent market share for new, light duty EV sales – a 54 percent increase from February 2022. Continue reading below for some deeper insights about the data.
Let's start with Hyundai. There is no doubt that Hyundai had a turbulent year last year. After reaching its peak in March 2022 with 15 percent of the EV market (12k sales!), it's been a slippery slope for the automaker that captured under 5 percent of the EV market in December 2022. However, the company's EV sales are starting to tick back up. While not drastic, the automaker has seen three straight months of growth. In February, Hyundai reported 8,000 sales, capturing 8 percent of the EV market. With the highly anticipated Kia EV9 and Ioniq 6 launching this year, Hyundai looks poised to make a comeback.
Alternatively, Ford is seeing a steep decline in sales so far this year. The company wrapped up last year with their highest sales record ever, but it appears that they have not been able to keep that momentum. In February 2023, the automaker reported just under 5,000 sales, a 43 percent decrease from December 2022. Earlier this year, the company reportedly paused F-150 Lightning production as a result of battery recalls. Despite this setback, the company has announced plans to significantly boost EV production this year. Earlier this month, Ford announced in a press release that the company is investing $1.3 billion investment in its Oakville, Ontario plant as part of its efforts to scale up North American EV production. And in other good news for Ford, the Treasury's newly released EV tax credit guidance indicates that the F-150 Lightning is eligible for the full tax credit, and the Mach-E, Escape, and eTransit are eligible for half of the credit.
BMW has also shown a significant dip in sales. Like Ford, BMW sales reached an all-time high in December 2022, but the company has not been able to ride that wave into 2023. The company reported just under 4,000 sales in February, down 54 percent from December 2022. The x5 and the i4 remain the company's top selling EVs, making up 1,209 and 1,067 sales respectively. Just last week, the company unveiled the new BMW i7 M70 xDrive, debuting promising performance upgrades in range and speed to its i7 model.
Lastly, Stellantis has been coming in hot. We've reported on the company's sales trajectory in a previous digest, and February's sales data tells us that the company continues to reach new highs. In February, the company topped over 8,000 sales – the most of any non-Tesla automaker for the month. Late last year, the Jeep Grand Cherokee Plug In joined Stellantis's lineup of hot-selling plug-in hybrids which includes the Chrysler Pacifica and Jeep Wrangler 4xe. On top of strong February sales, all three models also qualify for either all of half of the EV tax credit, gesturing potential clear skies ahead for the company's sales goals.
Explore the rest of the data on our Automakers Dashboard, and let us know other insights you've chalked up by emailing info@atlasevhub.com
About the author: Moe Khatib