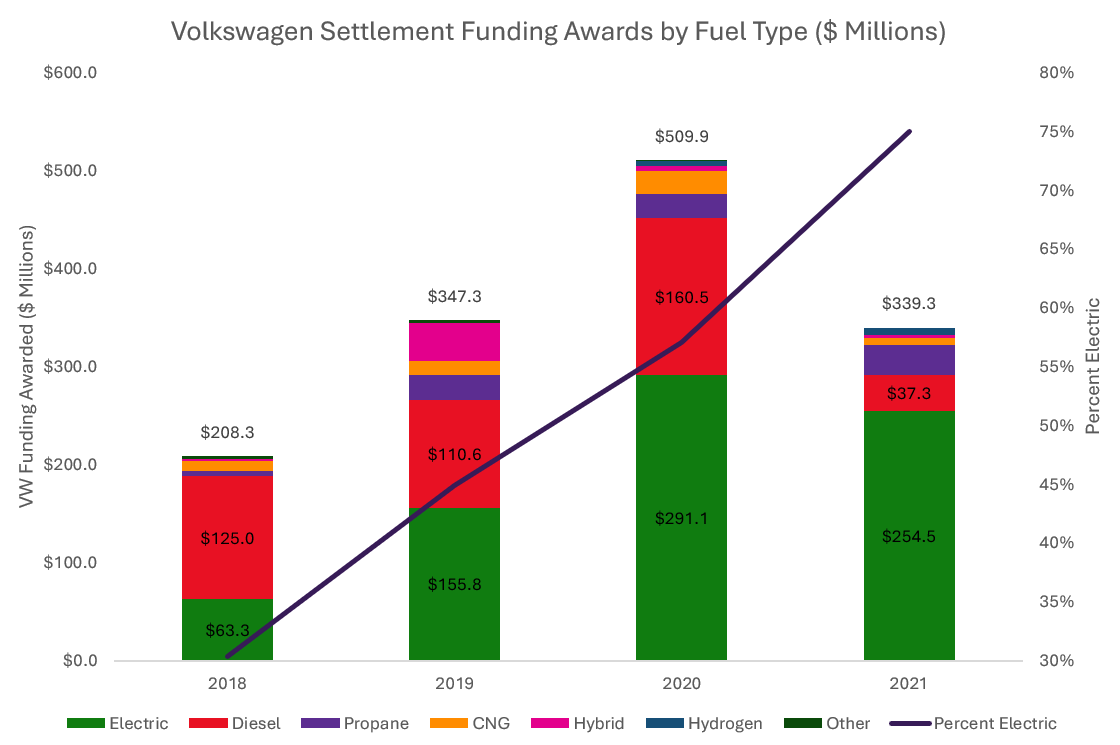 The Volkswagen (VW) Settlement has been one of the most important sources of funding for transportation electrification initiatives over the past few years. On the State Policy Dashboard, we have tracked $3.3 billion in public funding for transportation electrification and the VW Settlement accounts for nearly a quarter of it.
In total, the Settlement will make available $2.925 billion to state and local governments to reduce diesel emissions. The funding is allocated to states based on a formula and states have some constraints on what they can fund. For instance, they may only allocate up to 15 percent of funds for light-duty charging infrastructure. In our tracking we do not include Tribal allocation, Trust administration, or Puerto Rico's allocation and therefore track $2.8 billion of the $2.925 billion total.
In July 2020, we noted that 80 percent of funding had not yet been awarded. That is, just $597 million out of the $2.8 billion total in state settlement funds had been awarded to specific projects. Now, 18 months on, it is worth updating progress. To date, $1.4 billion (50 percent) has been awarded. Of that funding, $765 million (54 percent) has been spent on EVs and EV Charging. This is up from the last report which found that less than 50 percent of funds were directed to electrification initiatives.
The positive story in this update is that the rate of electrification in projects awarded has risen sharply in 2021. To date, 54 percent of all VW Settlement funding has been awarded to electric projects. However in 2021 alone, that number is 75 percent indicating an increasing comfort with electric projects.
At the time of the last report, California had yet to make any awards. The Golden State has begun to wake up. California has an allocation of $423 million, far more than any other state. To date, California has awarded $45 million of that funding for electric initiatives – the largest chunk of which has gone to electric school buses. Given that California makes up a significant portion of the total settlement funding and given the state's focus on electrification, we may expect that the rate of electrification of the overall Settlement funding will continue to increase.
States have discretion to allocate funds to electric initiatives as well as to other alternative fuel projects – as long as they advance goals to reduce nitrogen oxide (NOx) emissions. For instance, 31 percent of the funding has been allocated to diesel and 6 percent to propane projects. Funding has been spread over time – the largest quarter to date was Q3 2020, followed closely by Q4 2018.
States have pursued electrification to varying degrees. Five states lead the way with 100 percent of announced funding going to EVs and EV Charging (Florida, Hawaii, New Jersey, Rhode Island, and Vermont), while two states have yet to make an award for an electric project (Mississippi and Wyoming).
The three largest funding rounds for electric projects in 2021 are:
1. $41 million for electric trucks and buses in New Jersey
2. $20 million for charging infrastructure in Texas
3. $16 million for electric trucks in Michigan
Easily the largest electric award to date was in Florida with the allocation of $57 million for school buses around the state in late 2020. One criterion for funding was that the school district is located in an Air Quality Priority Area and the school district must meet 25 percent of the cost of the buses. For electric initiatives, light duty charging ($218 million) constitutes the largest project type followed by transit ($189 million) and school buses ($179 million).
Several states are yet to carve out significant awards from their funding allocation. Four years after the settlement, seven states have awarded less than 20 percent of their allocation including Mississippi, the only state yet to make an award. Collectively, the states with the three largest allocations, California, Florida, and Texas, have more than $550 million still available.
The Settlement also required Volkswagen to dedicate $2 billion to provide charging and promotion for EVs. The entity established to carry out that mission is Electrify America (EA). EA now runs nearly 3,100 DC fast charging ports around the country, making it the second largest EV Charging Network of DC fast charging after Tesla.
About the author: Tom Taylor