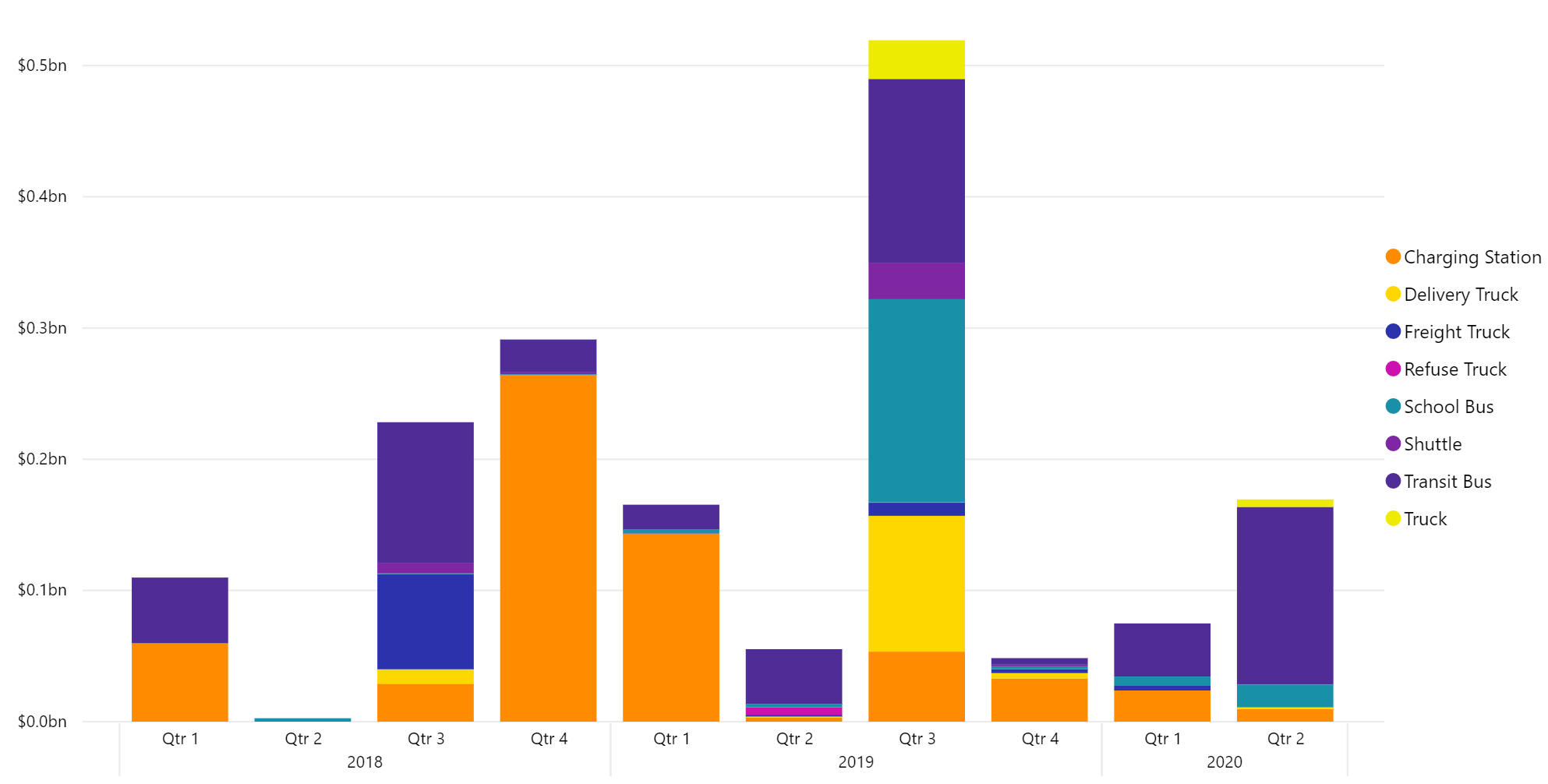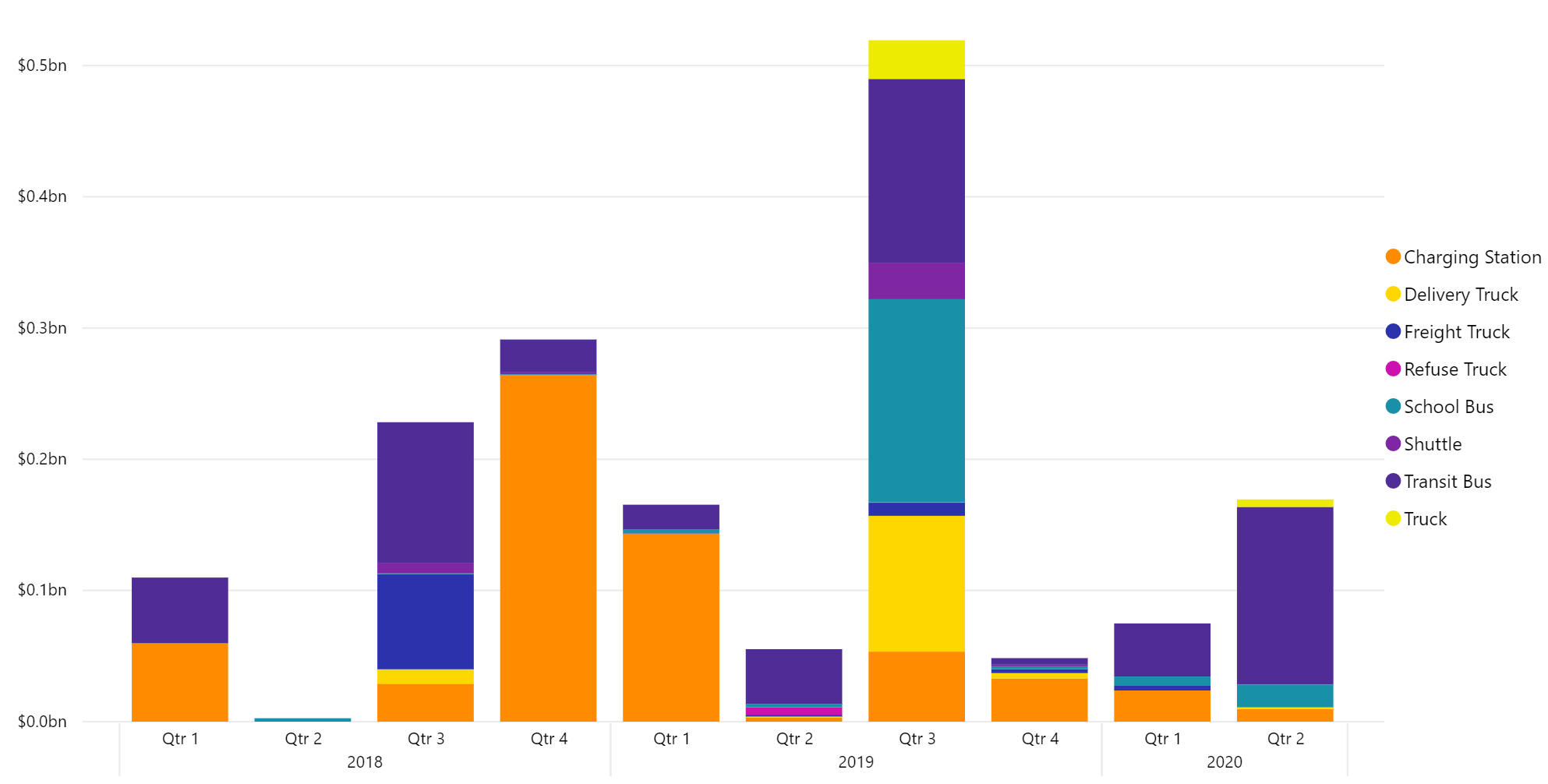 State governments, utilities, and utility commissions have been charging full steam ahead this summer with policies and programs supporting transportation electrification despite the continued struggle against COVID-19. Administrators, legislators, and regulators have been racking up milestones, with both the government and utility sectors surpassing the $2 billion dollar funding mark. The government sector was the first to top $2 billion in cumulative funding on June 2 with the awarding of $130 million for electric transit buses through the Federal Low- or No Emission (Low-No) Bus Program. The utility sector followed closely behind, racing past the threshold on July 16 with the approval of the $701 million Make-Ready Program in New York.
On the government side, $255 million of the now $2.1 billion in funding for EVs and EV charging announced since 2011 fell in the first half of 2020. This marks a 16 percent increase over the first half of 2019. This increase comes as a growing number of states award money for transportation electrification through the Volkswagen Settlement. As of August 2020, 39 states have made funding awards for EVs and EV charging, with North Carolina and Florida making their first awards in July. Around 75 percent or $2.2 billion in settlement funds remain unspent and the EV sector is set to receive a minimum of $540 million of the remaining funds.  
More than 60 percent of all government awards for transportation electrification have gone to electric buses and trucks with almost all of the remaining 40 percent of funding dedicated to EV charging across all vehicle types. Funding for medium- and heavy-duty vehicle electrification is led by California, New York, and Washington with the Golden State investing more than 42 percent of the nation's total $1.2 billion committed to these vehicles. Deployment of electric trucks in particular got another boost in California this summer with the enacting of the Advanced Clean Trucks Rule, setting the state on a course to achieve 100 percent zero emission truck sales by 2045. This first-of-its-kind rule was quickly backed up by a ZEV Truck MOU signed by 14 other states and Washington D.C. which sets out to achieve the same goal across each state by 2050. While ZEV states make up a majority of the signatories, the agreement includes commitments from three non-ZEV states in Hawaii, North Carolina, and Pennsylvania.
The MOU signatory states also continue to lead in approved and proposed utility investment in transportation electrification. Between January and July 2020, more than $760 million was approved for programs in five states. This year's approvals are three times higher than those of the first seven months of 2019. New proposals in 2020 represent a potential investment of more than $750 million, which is almost eight times more than what was proposed during the same months in 2019. New York is responsible for most of the approved investment with their Make-Ready program while a proposed approval for Southern California Edison on July 27 for $478 million could bring in an additional 24,700 Level 2 charging stations. Xcel Energy has also been on a tear in 2020 with a $102 million transportation electrification plan filed in Colorado and a $156 million COVID-19 relief and investment plan proposed in Minnesota. There have only been two denials so far in 2020, one in Maine and the other in Indiana worth a combined $13 million.
These investments show that government and utility actors are continuing to charge ahead on transportation electrification, coronavirus or not. Flagging sales for passenger EVs and stretched budgets due to pandemic response seem to have had little impact on the funding availability and policy commitments to EVs for both public agencies and electric utilities. Private sector investment also continues to roll in with EV stocks flooding the market and $8.5 billion in new announcements made in July and August alone. New June sales data showed the U.S. passenger EV sector made a modest recovery at the end of the second quarter from a dismal April and May. However, quarterly sales were still down 44 percent compared to the second quarter of 2019. We will be covering these developments in our upcoming second episode of EV Hub Live on September 1st at 1 PM EST. You can learn more and register below.
About the author: Conner Smith