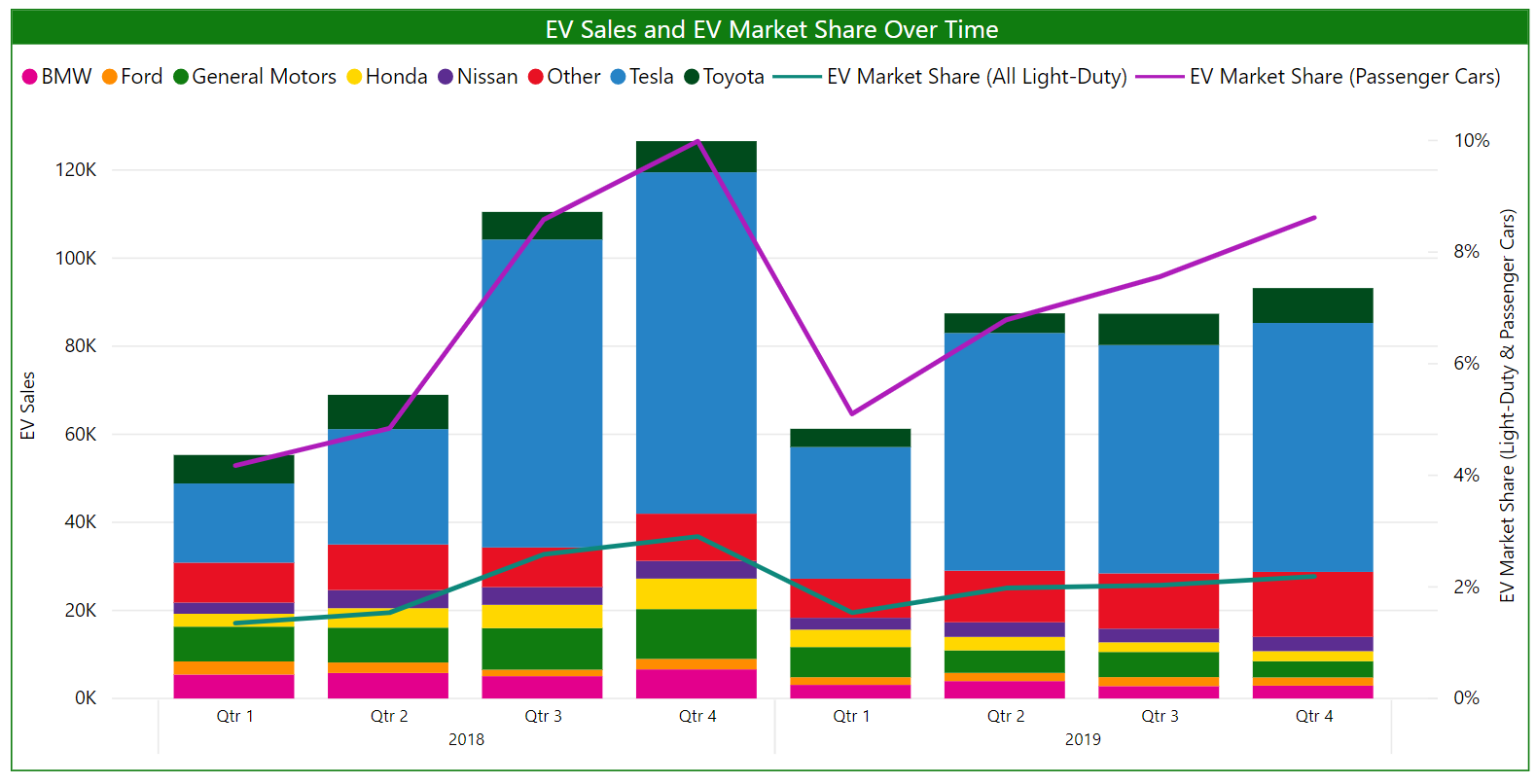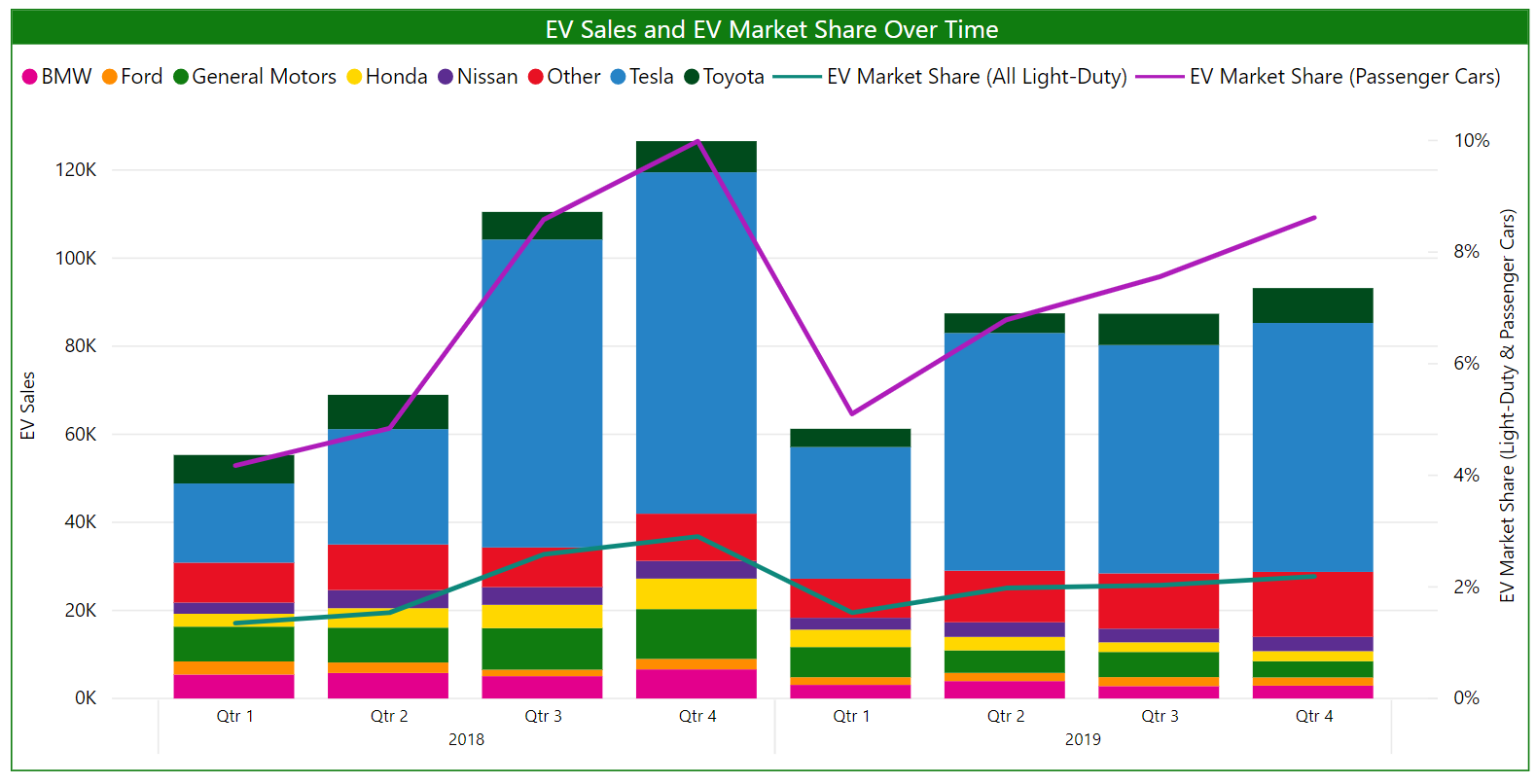 The EV industry hit several roadblocks in 2019 and automakers continue to grapple with uncertainty around the future of emissions standards in 2020. Compared to 2018, U.S. passenger EV sales dropped almost nine percent in 2019, which exceeded the 1.6 percent decline for the entire passenger vehicle market. Excluding light truck sales, EV sales as a percentage of all passenger car sales actually rose throughout 2019 from 5.1 percent in the first quarter to 8.6 percent in the fourth. EV market share had reached a high point at the end of 2018 when EV sales accounted for 10 percent of all passenger car sales in the Unites States.
While the fourth quarter of 2019 saw the year's highest EV sales at more than 93,000 vehicles, the year-over-year decline was solidified by a 26 percent decline compared to the final quarter of 2018 which had experienced a record-setting 127,000 vehicles sold.
Despite the ongoing fanfare around new models, reports from 2019 revealed that both automakers and their dealerships aren't doing enough to promote EV awareness among consumers. Based on a study published by the Northeast States for Coordinated Air Use Management, six of the leading automakers spent less than 10 percent as much on advertising for their leading EVs compared to their leading conventional models in the California and Northeast markets in 2018. The Sierra Club found that out of more than 900 dealerships that claimed to sell EVs, only 26 percent actually had EVs on their lots when surveyed. Beyond availability, volunteers were also unable to obtain important information from visits to auto dealers on consumer incentives or EV technology to help inform purchase decisions.
While automakers continue to announce new and exciting EVs and momentum around transportation electrification grows, the prospect of strong EV sales in the United States in 2020 remains uncertain. Most auto manufactures are not producing EVs in large volumes and are targeting markets where they are most competitive. Industry leaders, Tesla and GM, enter 2020 facing the end of federal tax credits after policymakers declined to extend the program for automakers who have entered the phase-out period. The effects of fading tax credits may have led to a slowdown in Tesla's sales as the company looked to overseas markets. While overall deliveries for the leading EV manufacturer were up by 50 percent in 2019 compared to 2018, sales in the United States remained almost flat. Still, Model 3 sales, which accounted for 48 percent of the overall market in 2019, saw a 35 percent increase in sales in the second half of 2019 compared to the first half.
The situation remains much the same for new entries to the market with a large divide between the industry leaders and newcomers. A few new offerings including Audi's e-tron seemed to buck the trend. Introduced in April, the e-tron was the sixth-highest selling all-electric in 2019, beating out the esteemed Jaguar I-Pace as the closest competitor to Tesla's Model X in the luxury SUV department.
Overall, there seems to be a threshold at around 10,000 annual EV sales with few models selling more than this number of vehicles in a given year. Of the 46 models on the market in 2019, 18 sold fewer than 1,000 vehicles while only seven sold more than 10,000. Some of the new affordable offerings came in around the middle of the pack this year in terms of sales. The electric Hyundai Kona had a relatively strong fourth quarter, accounting for roughly half of the 1,700 vehicles sold in its first full year on the market. Despite some gains, state model availability for many new offerings saw little change between July 2019 and January 2020 with a majority of these offerings available for sale in less than 20 states. Some, including the Kona, actually saw a decrease in availability, dropping from 12 states in July 2019 to just eight states in January 2020.
More is expected from leading automakers as they roll into 2020. Volkswagen, which has pledged more than $93 billion in global EV investment, recently announced plans to purchase 20 percent of Chinese battery-maker Guoxuan as they prepare to accelerate investments and rollout the ID crossover in the spring. GM also looks ready to make good on EV commitments, announcing a $2.2 billion plan for one of their Detroit facilities that will get going on their anticipated electric pickup.
Some of these automakers could also benefit from the recently announced $133 million in funding from the Department of Energy to support advanced vehicle technologies research. At least $40 million of this will go directly to transportation electrification projects.
New models alone are not enough to accelerate demand. The United States is competing with other nations for a production-limited number of EVs in the near term. To compete on the global stage, public policy for EVs and infrastructure must be stronger. Automakers will also need to ensure new offerings are available to a wider audience and that effective advertising and dealer training is undertaken if 2020 is to be a strong year for EV sales in the United States. Stay tuned for our upcoming review of the fourth quarter of 2019 where we take a closer look at the key developments in the EV industry at the end of last year.
About the author: Conner Smith