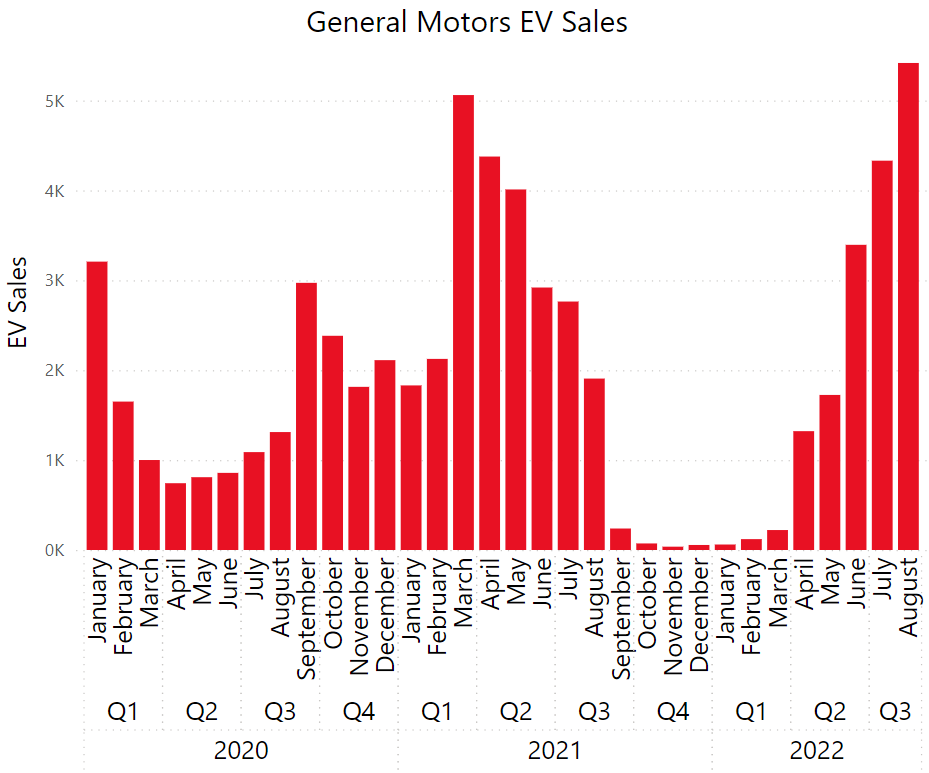 August sales data are in and it was another big month for EVs. Here are trends that caught our eye.
1. U.S. EV sales are up 38 percent year-over-year, and market share exceeds six percent for sixth straight month
In August 2022, over 75,000 EVs were sold (75,671 to be precise) across the country accounting for nearly seven percent of light-duty vehicles sold. Total sales dipped slightly from July and are down 16 percent from the record set in June 2022. Nonetheless, 2022 remains a banner year for EVs. August marked the sixth straight month that EV market share exceeded six percent and sales were up 38 percent year-over-year. To put this into perspective, EV sales were at nearly 25,000 and 55,000 in August 2020 and 2021, respectively. As sales continue to surge, automakers have been busy investing in production. See our breakdown of Q2 market activity here.
2. Tesla remains dominant with 47 percent market share for the month and 50 percent for the year to date
Tesla continues to lead the way in U.S. EV sales, selling nearly 36,000 vehicles in August and claiming four of the top seven models sold. Another strong month puts Tesla's market share at 50 percent for the year to date, equaling Tesla's market share in 2021. Tesla has held strong in 2022 despite a host of new models hitting the market from established automakers and new market entrants alike.
3. F-150 Lightning propels Ford to the number two spot
Sales of the highly anticipated F-150 Lightning ramped up this month, rounding out to nearly 2,000. Combined with just over 3,000 sales of the Mustang Mach-E, this puts Ford second to Tesla for the month in terms of total sales. After long trailing other automakers, Ford enjoyed its second straight month in the number two spot, signaling a positive sales trajectory for the automaker.
4. The Bolt is back as the best-selling non-Tesla EV
While Ford claimed the number two spot in terms of total sales, GM's Chevrolet Bolt was the best-selling non-Tesla model. Just over 5,400 Bolt's were sold in August, representing the best ever month for one of the earliest EVs on the market. After recalling 142,000 vehicles and shuttering production of the Bolt in August 2021, GM is back in business. With a host of EVs set to hit the market in the coming years, including the newly announced GMC Sierra EV Denali, GM will be well positioned to build on the momentum of the Bolt.
5. Hyundai slows down, BMW picks up steam
BMW had a record-breaking months, topping nearly 5,000 EVs sold. Out of BMW's nine EVs on the market, the i4 led the way accounting for nearly 32 percent of sales for the month, followed by the X5 with 26 percent.  The future for BMW is looking good as sales have increased by 112% since August 2021, with a dramatic increase this quarter alone. Alternatively, Hyundai sales have slowed down after a strong start to the year. Hyundai's August sales were down 52% from their peak in March 2022. Despite this dip, Hyundai held its spot with the third most EVs sold in August.
Explore EV Sales here.
About the author: Moe Khatib