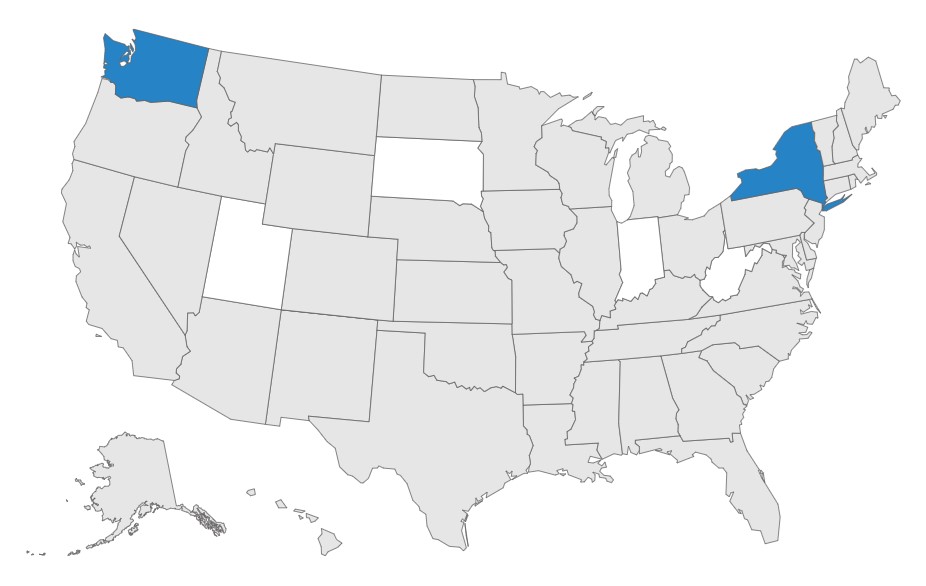 A map of state legislative policies enacted in 2022. Note: as Connecticut is still waiting on the Governor's signature, the bill outlined below does not appear on this map. Source: State Policy Dashboard – Atlas EV Hub
Much attention has been on the federal landscape with the passage of the Infrastructure Investment and Jobs Act and the who knows what with the reconciliation bill. Meanwhile, states continue to push ahead with transportation electrification.
As the 2022 state legislative session winds down in many states, it's a good time to walk through some of the big EV movements we have seen so far in 2022. The data is pulled from the State Policy Dashboard where we do our best to stay on top of major legislation in state legislatures across the country. Sometimes bills slip through the cracks so please get in touch if you see anything missing.
New York
We tracked two major bills that were enacted in New York state in 2022. The first is S8008. This is the state's budget and the associated $4.2 billion Clean Water, Clean Air, and Green Jobs Environmental Bond Act. The Bond Act will go to voters for approval in November and includes $500 million in grant aid for electric school buses and charging infrastructure, $100 million for climate adaptation and mitigation projects as well as $200 million to reduce air or water pollution impacting disadvantaged communities. The mitigation projects may include zero emissions school buses.
Next we move to S8006, legislation included in the 2022-23 state budget that requires schools to exclusively purchase zero-emission school buses by 2027 and convert 100% of their fleet to zero-emission by 2035. The bill also directs NYSERDA to provide technical assistance.
Washington
Washington State's target of 100 percent zero emissions vehicle sales by 2030 stole the headlines, however, the state passed a bunch of important pieces of legislation in 2022 including a $16.9 billion transportation package (SB5974). The package includes $5.4 billion for carbon reduction and multimodal expansion in addition to funding for hybrid-electric ferry upgrades. Further, the state passed a supplemental operating budget (SB5693), that appropriates $120 million for a new EV incentive program, $69 million for a grant program for charging infrastructure in rural areas, office buildings, multifamily housing, ports, schools and school districts, and state and local government offices (with a preference for DCFC charging). There is a further $8.5 million for a charging infrastructure mapping tool, and $3 million for EVSE at state-owned facilities. Finally, HB1793 enabled right-to-charge legislation prohibiting "common interest communities" (homeowner associations, condo boards etc.) from restricting residents from installing charging infrastructure.
West Virginia
The state passed HB4560, which relates to vehicle repairs including in the case of a recall. Earlier versions of the Act included a requirement for over-the-air repairs to be done at the dealer, however this language was not included in the final text.
Utah
Utah passed HB186 regarding EV fees. EV drivers in Utah can either opt for the set registration fee or the road user charge fee. The legislation reduces the alternative road usage charge from 1.5 cents per mile to 1 cent per mile and caps it at $130.25 (the EV fee is $120 per annum). The rule will come into effect in 2023.
South Dakota
South Dakota passed SB80 which exempts the provision of electricity through electric vehicle charging stations from the definition of an electric utility. Similar laws are on the books in much of the country.
Indiana
Indiana passed HB1221, which appears to be similar to the South Dakota law and appears to allow owners of charging stations to sell electricity by the kWh without being regulated as a utility. The argument is that the sale of electricity would allow businesses to install charging equipment more easily.
Connecticut
Connecticut Governor Ned Lamont is set to sign SB4. The legislation includes a number of key elements. First, the state will proceed with the adoption of California's Advanced Clean Truck rule regulating MD/HD vehicles. Next, the state will convert its 3,600 car and light duty truck fleet to electric vehicles by 2030. Third, there are vouchers for businesses to purchase electric trucks and funding for schools to buy zero emissions vehicles. Fourth, the state's CHEAPR rebate program will be expanded to include electric bikes and is more targeted for environmental justice communities. Finally, the bill establishes a right to charge for tenants and unit owners.
Many state houses will adjourn over the coming weeks. There is still a slate of EV related bills in the air, 29 to be precise as per the last Atlas Legislation Update. Let us know if there are others you have your eye on!
About the author: Tom Taylor