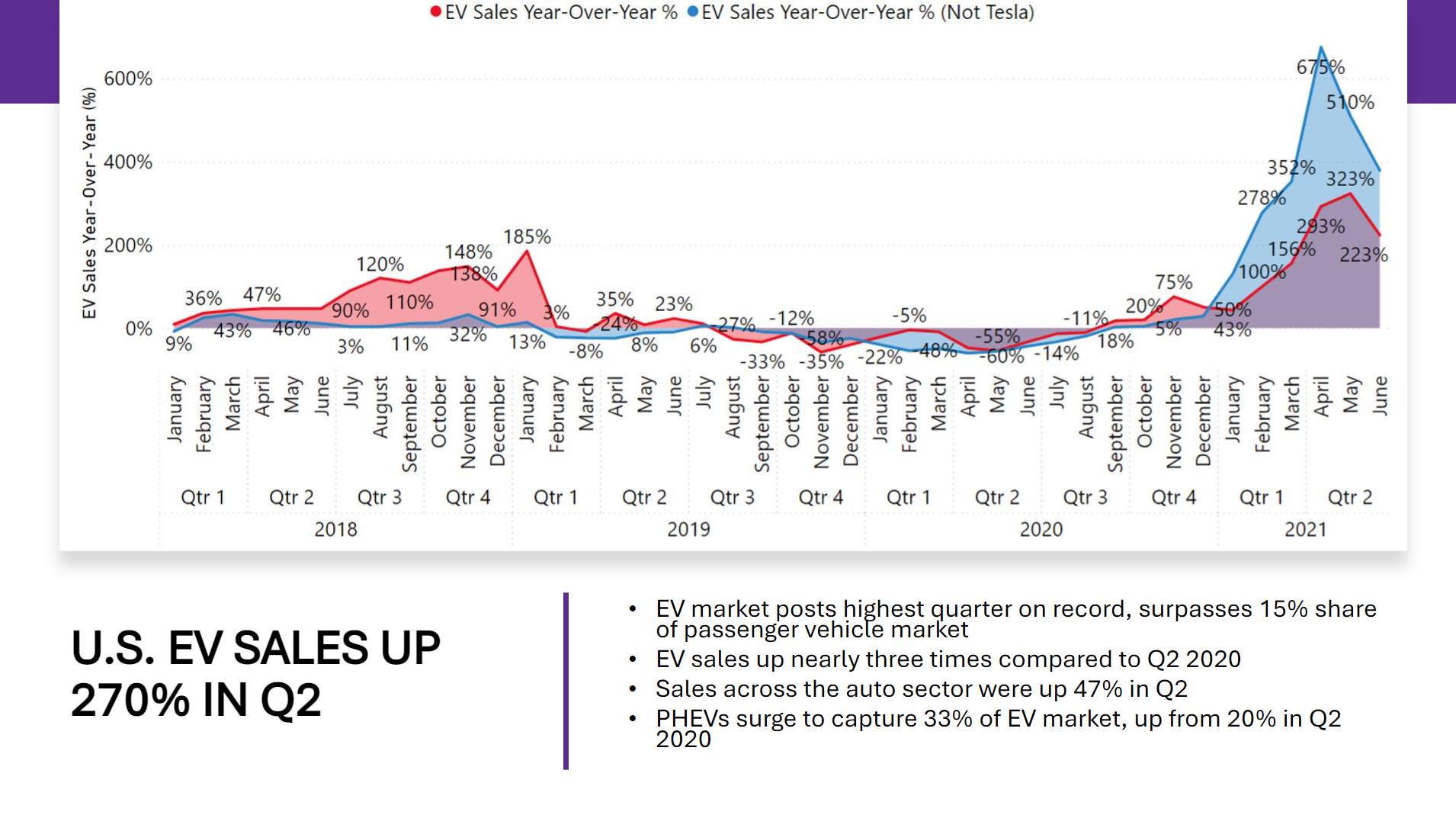 Ok the numbers are in for Q2 (April, May, June). There's a lot of ground to cover, so let's dive in.
Sales are up in a big way:
June sales data just dropped, and they were a whopper. Over 66,000 electric vehicles sold in June – that's over 10,000 more than any other month on record.
Strong sales across all three months meant that Q2 was the highest quarter on record and EV sales in the quarter surpassed 15% share of the passenger vehicle market.
EV sales were up nearly three times compared to Q2 2020 while Tesla's market share fell by nearly a third.
Billions were announced in private investment:
$41 billion in private investment announced in Q2. More than one third was due to expanded plans from GM.
Utility investment fell from Q1:
Four programs were approved during Q2 2021, totaling $113 million. This is down from $345 million in investment approved during Q1 2021.
The largest program approved was from Duke Energy Florida. Duke will invest $62.9 million to develop 100 utility-owned DCFC sites – now the largest approval for utility-owned DCFC to date.
$184 million of potential investment was filed in Q2 2021.
Colorado and Washington led the way on policy:
The Bipartisan Infrastructure Bill (passed in August) was debated and drafted in Q2.
States enacted12 bills and proposed 11 new bills in Q2.
Colorado enacted a landmark transportation bill and Washington passed a clean fuel standard.
New models hit the market:
More than 25 new BEVs models are expected to enter the market by the end of 2021.
Jeep Wrangler Plug-in was 4th-best selling EV in its first quarter on the market.
VW ID.4 and Ford Mustang Mach-E came in as 4th and 5th best-selling BEV in their first full quarter on the market.
Ford announced F-150 Lightning for 2022, priced under $40,000.
Detroit's Big Three automakers had five out of 51 EVs on the market collectively in Q2.
VW Settlement money went out the door (except in four states):
Seven states made funding announcements in Q2 worth $91 million, and EVs and EV charging continue to claim 50% of all awards overall.
Now more than two years since first VW settlement award, 61% of total funding remains to be awarded.
Four states are still yet to make an award – Mississippi, Arkansas, Kansas and West Virginia.
The bottom line: Q2 was big all over.
About the author: Tom Taylor