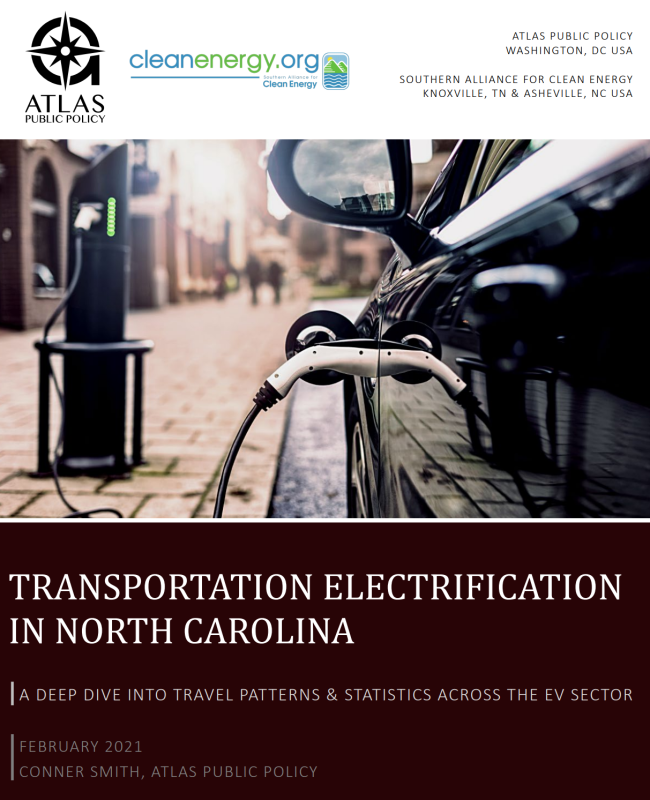 Source: Atlas Public Policy
The crisis in Texas that has been unfolding in recent weeks has demonstrated the devastating effects that extreme weather and climate change can have on critical infrastructure. From heat waves in the Southwest to the deep freeze in the Midwest, we have seen that policy decisions and climate action are intimately tied to the fate and future of our energy, transportation, and other essential systems. In states like New Jersey where climate action is a priority, grid modernization and resiliency investments upwards of $6 billion made since 2012 when Hurricane Sandy devastated the region have not been enough to prevent outages in the wake of major storms. In response, New Jersey is tackling the problem of climate change at the root. Last week, Governor Murphy established the Office of Climate Action and the Green Economy and committed an additional $100 million to transportation electrification.
Strategic policy decisions are not limited to the nation's largest EV markets and 2020 saw new states and regions emerge as regional transportation electrification leaders. This is increasingly true of North Carolina, one of the bright spots in a region ripe for rapid EV and EV charging market growth. Since becoming one of three non-ZEV states to sign the landmark Multi-State Medium- and Heavy-Duty Zero Emission Vehicle MOU in July 2020, North Carolina has made it clear it wants a piece of the growing EV pie.
As passenger EV sales fell by three percent between 2019 and 2020 nationwide, North Carolina's EV market grew by five percent. The state's EV market is also outpacing its conventional market, which shrank by 11 percent over the past year. Part of this upsurge in EV adoption in the Tar Heel State comes from strong stakeholder engagement that is driving EV support in Raleigh. Since 2012, Plug-in NC has been focused on expanding EV awareness and developing charging corridors across the state. Early electrification roadmaps developed by these stakeholders helped inform Governor Roy Cooper's Executive Order 80, North Carolina's Commitment to Address Climate Change and Transition to a Clean Energy Economy. The October 2018 order established statewide goals to deploy 80,000 EVs by 2025 and rapidly expand EV charging infrastructure statewide. These goals were integrated into the 2019 North Carolina ZEV Plan and public fleet electrification plans were set in the Motor Fleet ZEV Plan.
These plans helped set the stage for large investments in transportation electrification in 2020. Following the signing of the MOU, the state made its first Volkswagen Settlement awards and granted $9.5 million to EVs and EV charging. Several months later in November, Duke Energy was approved to invest $25 million in the state's first utility EV program. Although the approval was only a third of what Duke originally proposed in March 2019, the Commission has issued specific guidelines for the utility to partner with public agencies and other stakeholders on future programs.
These are all positive signs for North Carolina, but the state has the opportunity to go further. With 23,500 EVs sold in the state through December 2020 and 5,400 of those sales occurring in 2020 alone, annual EV deployment has to increase by roughly three times over the next four years if North Carolina is to meet its goal to have 80,000 EVs on the road by the end of 2025. In addition to increasing passenger EV deployment, at least $64 million in Volkswagen Settlement funds remain unspent. Dedicating this to the deployment of electric buses and trucks could provide in-state support for the growing medium- and heavy-duty vehicle manufacturing presence. Volvo Trucks, Freightliner Trucks, Thomas Built Buses, and Arrival all have existing or planned operations in the state and are scaling up EV operations in the United States. EV manufacturing is a growing driver of jobs in the region and E2 estimates that jobs in North Carolina's clean energy and transportation sectors are growing 50 percent faster than the rest of the labor market. Increasing support for EVs will not only lead to more jobs and investment in the state, but it will also support public health at a critical time in the pandemic and contribute to the state's climate goals of reducing greenhouse gas emissions by 40 percent of 2005 levels by 2025. See our new report, Transportation Electrification in North Carolina, produced in partnership with the Southern Alliance for Clean Energy for a deep dive into the state of the EV sector in North Carolina. 
About the author: Conner Smith