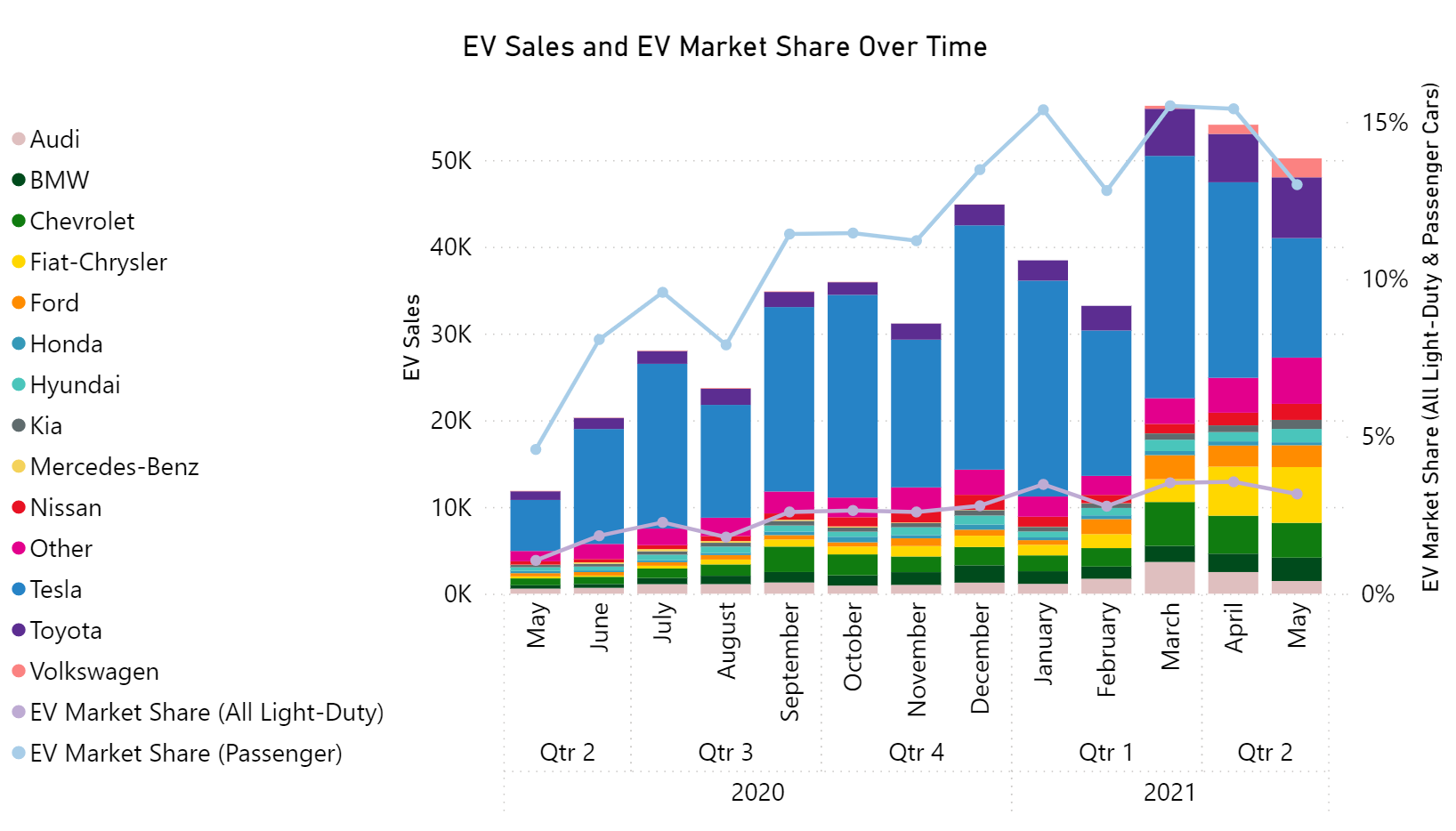 May EV sales data dropped mid last week. So what did we see?
Sales ticked above 50,000 for the third straight month. To put this number in context, this is more than double the previous high for the month of May. Electric Vehicles made up 13% of all passenger vehicles sold and 3.2% of the light duty market share in May.
The data also indicates a shrinking market share for Tesla. In May 2021, Tesla sold 27 percent of all EVs. A year earlier, Tesla sold 50 percent of all EVs (and was up at 65% market share in December 2020). See the graph below for reference to the growth we are seeing with the non-Tesla market.
The answer lies in part in lower Tesla sales but also in stronger sales from other companies – particularly Fiat Chrysler and VW.
Looking at model sales, the Wrangler Plug-In shot up to second behind Tesla's Model Y, while Tesla's Model 3 slipped from second in April to fifth in May (falling from 10,000 units to 4,000 units).
So how much was it just a bad month for Tesla? Or are we seeing the new normal in the EV market? Only time will tell. Towards the end of 2020, Tesla models regularly held four of the top five spots for most models sold. Due to parts shortages, the Model S and Model X are out of production for a few months but the bigger story is the way that sales have strengthened for other companies. It never pays to overanalyze a single data point but we will keep a keen eye on future monthly sales data.
The other important storyline buried in the data is the rise of Texas. Texas sales continue their rise. In May the state ranked third in sales in the country edging out Florida. California led the way with New York next. California slipped slightly from a bumper April month with more than 24,000 sales to around 16,000 sales.
Meanwhile, auto manufacturers continue to announce big investments in EVs. Mercedes just The carmaker also updated its sales forecasts – predicting that electric vehicles (and hybrids) would make up more than 50% of all sales by 2025 (the company had previously forecast that this would happen by 2030).
The United States is a whisker off 2 million EV sales. See you again in a month – and take care out there.
About the author: Tom Taylor