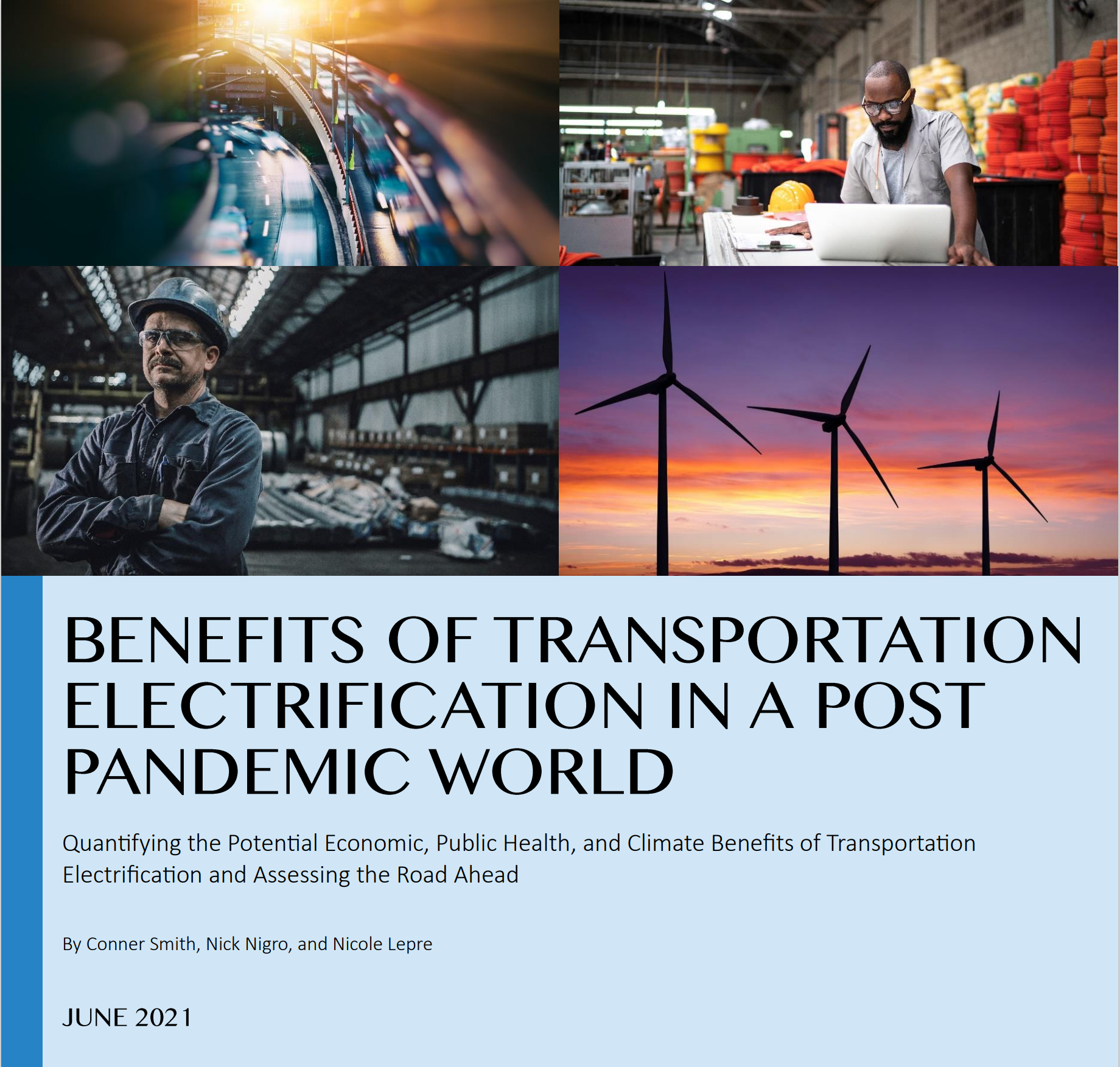 Source: Atlas Public Policy
Atlas Public Policy in partnership with the Alliance for Transportation Electrification published today a research paper, "Benefits of Transportation Electrification in a Post Pandemic World," which highlights the potential economic, public health, and climate benefits of transportation electrification in the aftermath of the COVID-19 pandemic.
The first three months of 2021 saw early actions from the Biden Administration and strong commitments to transportation electrification made by automakers, utilities, and other key players in the United States electric vehicle (EV) market. This activity has increased the number and breadth of pathways that policymakers can pursue to accelerate the shift towards transportation electrification and capture more of the billions of dollars in investments committed to the technology worldwide. This paper outlines three key opportunities for the country to achieve success and rapidly decarbonize the transportation sector:
Take Decisive Action at Federal Level.
The Biden Administration's American Jobs Plan could inject $174 billion into transportation electrification in the United States. This includes $15 billion for EV charging, which would fill a portion of the investment in charging needed to facilitate 100 percent zero emission U.S. passenger car sales by 2035. Estimates on investments needed range from $87 to $110 billion through 2030. The plan would also provide critical support to an industry looking to expand domestic EV manufacturing, battery development, and other component production. This support is essential to help ensure that the country remains competitive in the global EV market and that investment and jobs are not lost to China and the European Union.
 
Expand State Policy Frameworks.
For the last several years, states have been leading the policy development and public funding for transportation electrification. More than $2.4 billion of state-level funding has been committed to EVs and EV charging around the country through April 2021. Continuing and strengthening support from state governments and utilities will be essential to achieve widespread transportation electrification. Expanding multi-state and multi-utility partnerships, such as the Transportation and Climate Initiative Program and Regional Electric Vehicle West initiative, will be critical to growing transportation electrification nationwide. Moreover, many states have an opportunity to increase funding support for transportation electrification by dedicating remaining Volkswagen Settlement funding to EVs and EV charging and implementing policies requiring utilities to develop EV programs.
 
Prioritize Underserved Communities.
Major investments in EV and charging deployment, with a focus on underserved communities, can improve economic and public health outcomes for communities disproportionately impacted by COVID-19 and other historical injustices. Utilities have taken significant actions toward ensuring the benefits of transportation electrification are shared equitably, with more than 23 percent of the $3 billion in all-time approved utility investment in EV programs designated to these communities. A coordinated, national approach to embracing transportation electrification is also a critical way for the United States to deliver far-reaching emissions reductions and make meaningful progress on air quality, especially in underserved communities, and on the fight against climate change.
The paper is the second in a two-part series that explores the connections between the pandemic, public health, emissions, and the role of transportation electrification as a part of the solution to these challenges. View both papers on the EV Hub Resource Library.
About the author: Spencer Burget