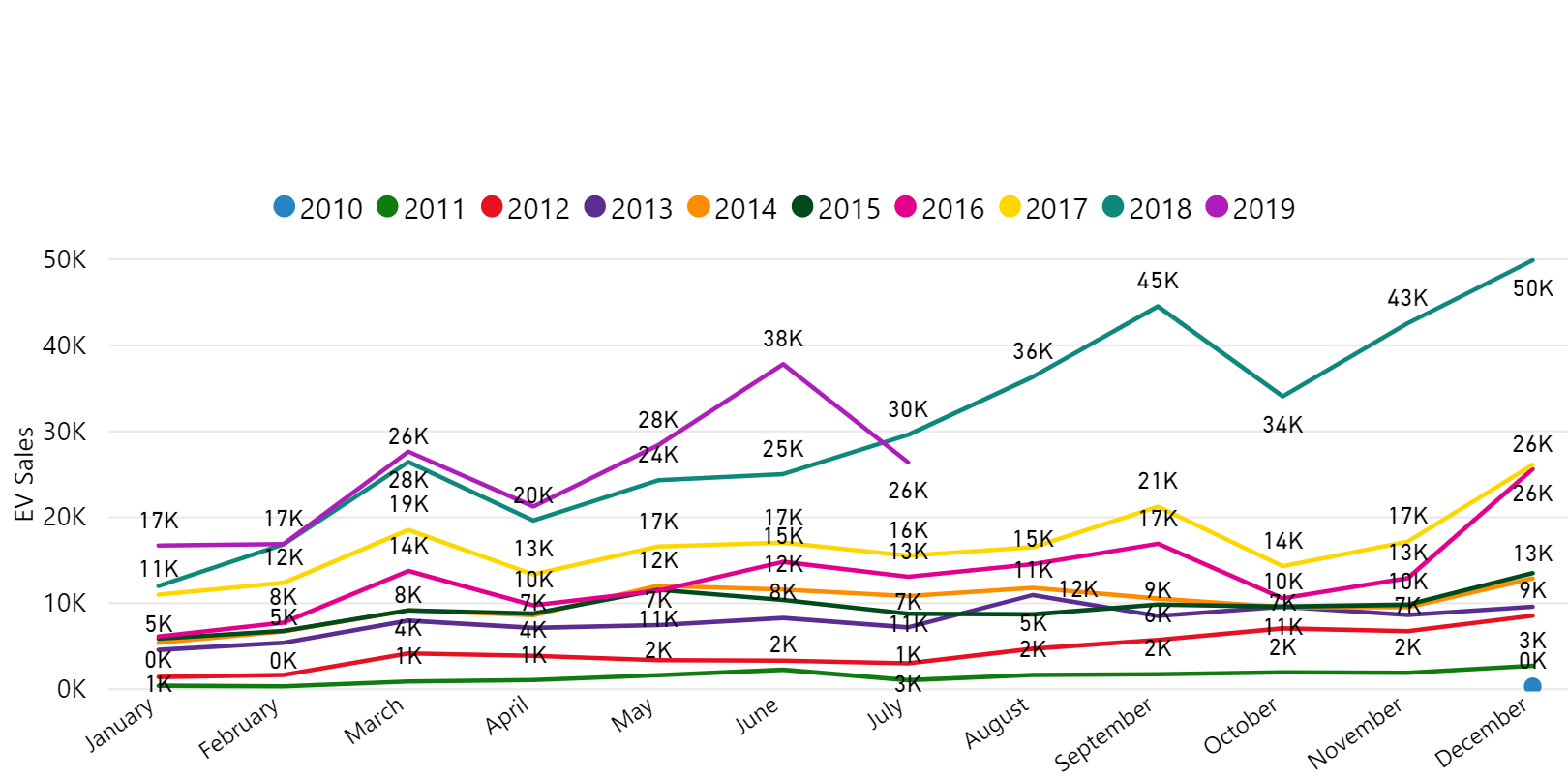 U.S. EV sales declined for the first month since May 2016 in another sign that the U.S. market will struggle to reach the sales level achieved in 2018. While the overall U.S. auto market experienced a sales decline this month, the EV sector was hit particularly hard, with a nearly 11 percent drop compared to July 2018. This development ends the monthly sales record streak at 37 according to the EV Hub National EV Sales dashboard. Tesla continues to dominate the market with nearly 60 percent market share in July, though their tally is down almost seven percent from last year. This dip isn't attributable to surging competitors either as sales of other EVs were either flat or down compared with last year.
As we've mentioned in previous weekly digests, Tesla's Model 3 drove the record sales last year and it will be difficult for the California-based company to have a repeat performance in second half of 2019. Tesla enjoyed a strong June driven by the company's push to deliver vehicles at the end of Q2. July saw the company's sales fall back to Earth, with a 32 percent year over year decline for the Model S and a 6 percent decline in Model X (delivery for the Model 3 was still limited last July).
Most other automakers have yet to launch EV models that have been as successful as Tesla nationwide. General Motors, for example, only sells one EV now, the Chevy Bolt, and sales were up less than three percent compared to last year. Toyota's lone plug-in, the Prius Prime, experienced a sales decline of over 35 percent in July. On the upside, more than 40 models were sold from 20 automakers in July alone but this is largely unchanged from last year. The challenge for the broader market will be to translate this vehicle diversity into a larger market share. The recent dip in overall EV market share from 2.2 percent in July 2018 to 1.9 percent last month shows that much work remains to be done.
Looking ahead, there's reason for optimism as automakers drive down EV production costs. A senior vice president at Volkswagen recently stated that EVs are approaching price parity with conventional vehicles; the company is pouring $50 billion into EVs and will start production on its ID.3 later this year. Volkswagen is just one example of the several companies actively investing billions into electric drive technology (see the EV Hub Global Private Investment dashboard), and these companies will likely do what is needed to earn a return on these investments.
About the author: Nick Nigro