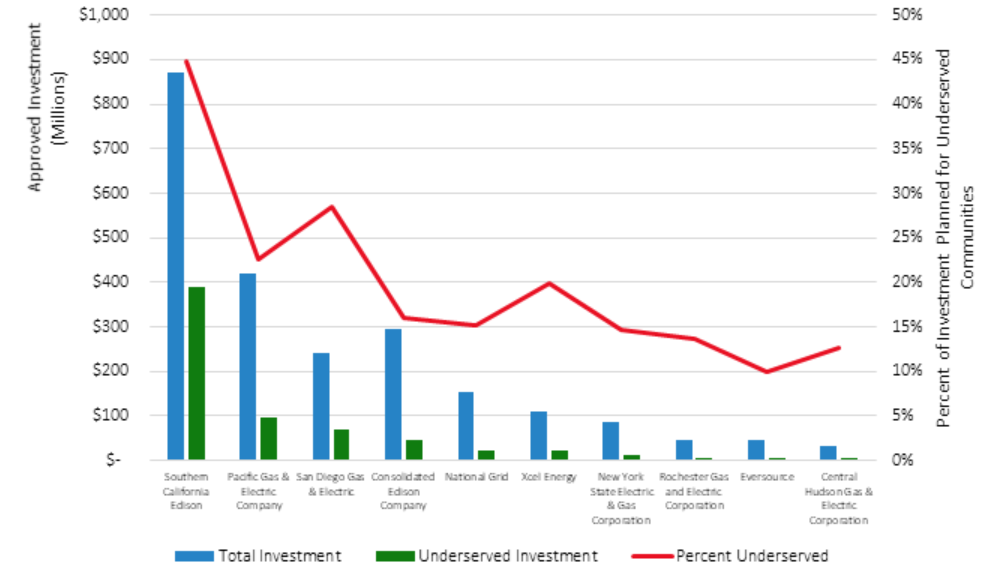 In the first half of 2021, electric utilities were approved to invest more than $44 million in underserved communities led by filings from San Diego Gas and Electric and Xcel Energy Colorado. This latest investment brings the total electric utility investment planned for underserved communities tracked on EV Hub to $770 million.
Xcel Energy's comprehensive transportation electrification plan dedicates $22 million of investment to underserved communities and San Diego Gas & Electric's make-ready extension adds $21.8 million. Pending filings in New Mexico, Michigan, and Pennsylvania could add an additional $4 million of investment in underserved communities if they are approved.
Beyond dedicated investment, an approved filing from Atlantic City Electric worth $20 million contains equity goals but does not allocate a specified percentage to underserved communities. Specifically, the program includes a multi-family dwelling rebate program that offers higher rebates for multi-family dwellings in underserved communities.
State legislators continue to play an important role driving investment in underserved communities. Nearly all of the $44 million approved so far in 2021 comes from California or Colorado where legislators have enacted laws that require utilities to prioritize equity in transportation electrification.
Colorado's Senate Bill 19-077, passed May 2019, directed utilities to prioritize equitable access when developing their transportation electrification plans. In its recently approved $110 million program, Xcel initially proposed allocating 15 percent of the investment to equity focused programs, but the Colorado Public Utilities Commission's final order pushed Xcel to exceed this number, citing the mandate from the Bill.
California's AB 841 goes a step further by requiring a minimum of 35 percent of investment pursuant to transportation electrification plans to be located in underserved communities. In total, California represents over 80 percent of dedicated funding for underserved communities.
To date, 62 out of the 143 filings tracked on the EV Hub include an equity goal in at least one element of the program. Equity elements are more common in 2021 than they have been in previous years with half of the 12 filings approved so far including at least one element that prioritizes investment in underserved communities.
Among programs that include at least one element that prioritize investment in underserved communities, over 30 percent of the total approved investment is designated for underserved communities. This represents a decrease of six percentage points from the last data story we released on December 21, 2020.
This update is the third in a series of data stories focused on equity investments in electric utility filings. The first data story was published in December 2019 followed by an update in December 2020. The series is published with the support of the Natural Resources Defense Council (NRDC).
Read the full data story here.
About the author: Tom Taylor