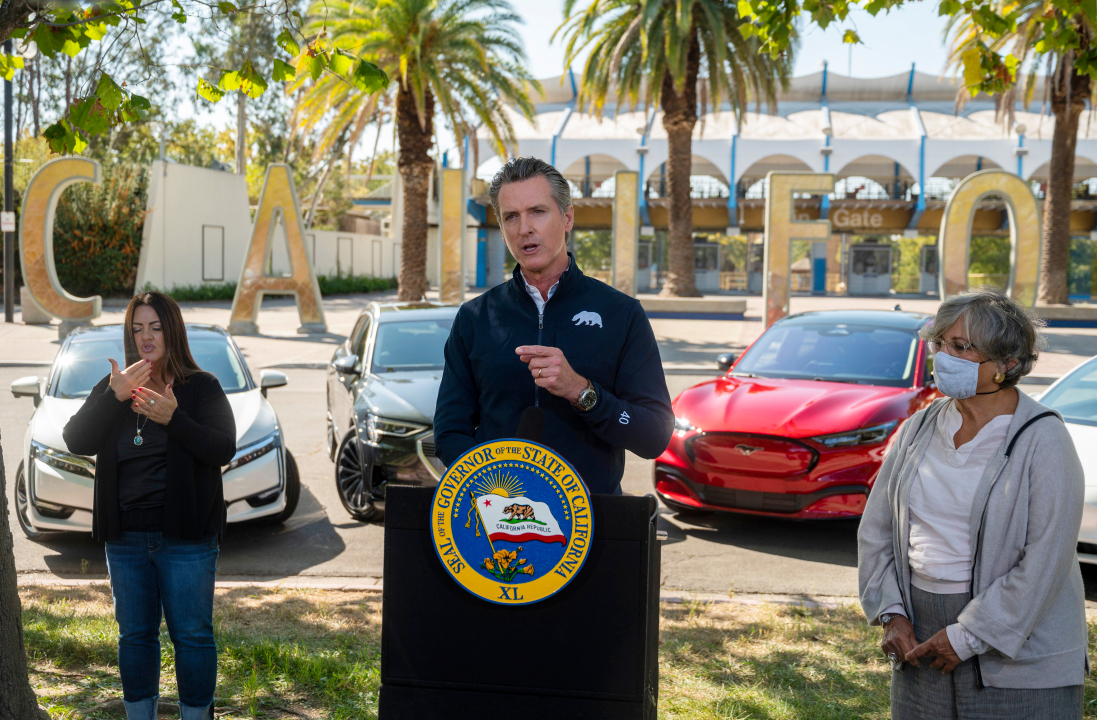 COVID-19 has done little to dampen major policy commitments, investment announcements, and technology advances throughout the EV sector. California made history on September 23rd when Governor Gavin Newsom signed an executive order setting the state on course to reach 100 percent ZEV passenger vehicle sales by 2035. The order calls for major emissions reductions across the transportation sector and comes at a time of increasing concern over climate change-fueled wildfires in the state as well as studies that link poor air quality to more severe COVID-19 outcomes. Passenger vehicle electrification is already well underway and eight years since the state's ZEV Program was strengthened, California is on track to reach EV market share goals five years early. California accounts for almost half of the country's all-time EV sales and in July 2020, nine percent of the new vehicles sold were EVs.
California is also the national leader in both government funding and utility investment for electric trucks and buses. State agencies have awarded more than $544 million and utilities have been approved to invest more than $700 million, accounting for 44 percent and 93 percent of the national total for each category respectively. California's lead in electric truck deployment is set to increase following the adoption of the Advanced Clean Trucks Rule in June 2020 which set targets to achieve 100 percent ZEV truck sales by 2045. California has now committed to achieve zero tailpipe emissions from all newly sold on-road vehicles except school buses by 2045.
September has been a big month for the EV market overall. Over the last two weeks, six New York utilities filed their plans to implement $701 million in approved investment in transportation electrification. These programs are expected to bring 53,000 Level 2 and 1,500 DC fast charging stations to the state by 2025, a massive increase over current EV charging deployment of roughly 5,000 Level 2 and 630 DC fast charging ports. States with smaller EV markets are also beginning to step up their efforts. Duke Energy was approved on September 10th to invest almost $8.8 million in EV charging in South Carolina. This is the state's first approval for an electric utility program and could expand the DC fast charging network by more than 50 percent. In the Midwest, Xcel Energy is continuing their momentum and filed another EV charging program in Minnesota targeting low-income residents of multi-unit dwellings for $4.4 million in proposed investment. If all of Xcel's remaining $161 million in pending filing is approved, Minnesota would become the state with the third-highest utility investment in transportation electrification.
Utilities are not the only entities investing heavily in EV charging. Across the country, charging service providers and other companies have committed more than $2.8 billion to support the nation's charging network. At least $345 million in investment has been raised by ChargePoint, which on September 24th announced they would be going public via reverse merger with Switchback Energy Acquisition Corp. The deal values ChargePoint at $2.4 billion and will be the first stock offering of an EV charging company in the United States.
While ChargePoint will be the first dedicated EV charging company stock offering, several EV manufacturers  have secured reverse mergers to enter the stock market on an accelerated timeline. These deals have led to a surge in investment led by automakers and startups with more than $9.2 billion in additional investment announced since July 2020. This activity and anticipated technology promises made by Tesla to halve battery costs and produce a long-range, $25,000 EV in the next two years are stoking excitement throughout the EV market. We will be discussing some of these developments in our third episode of EV Hub live with our guests Patty Monahan of the California Energy Commission and Phil Jones of the Alliance for Transportation Electrification and co-host Kellen Schefter of the Edison Electric Institute. Join us at 1 pm EST this Wednesday!
About the author: Conner Smith