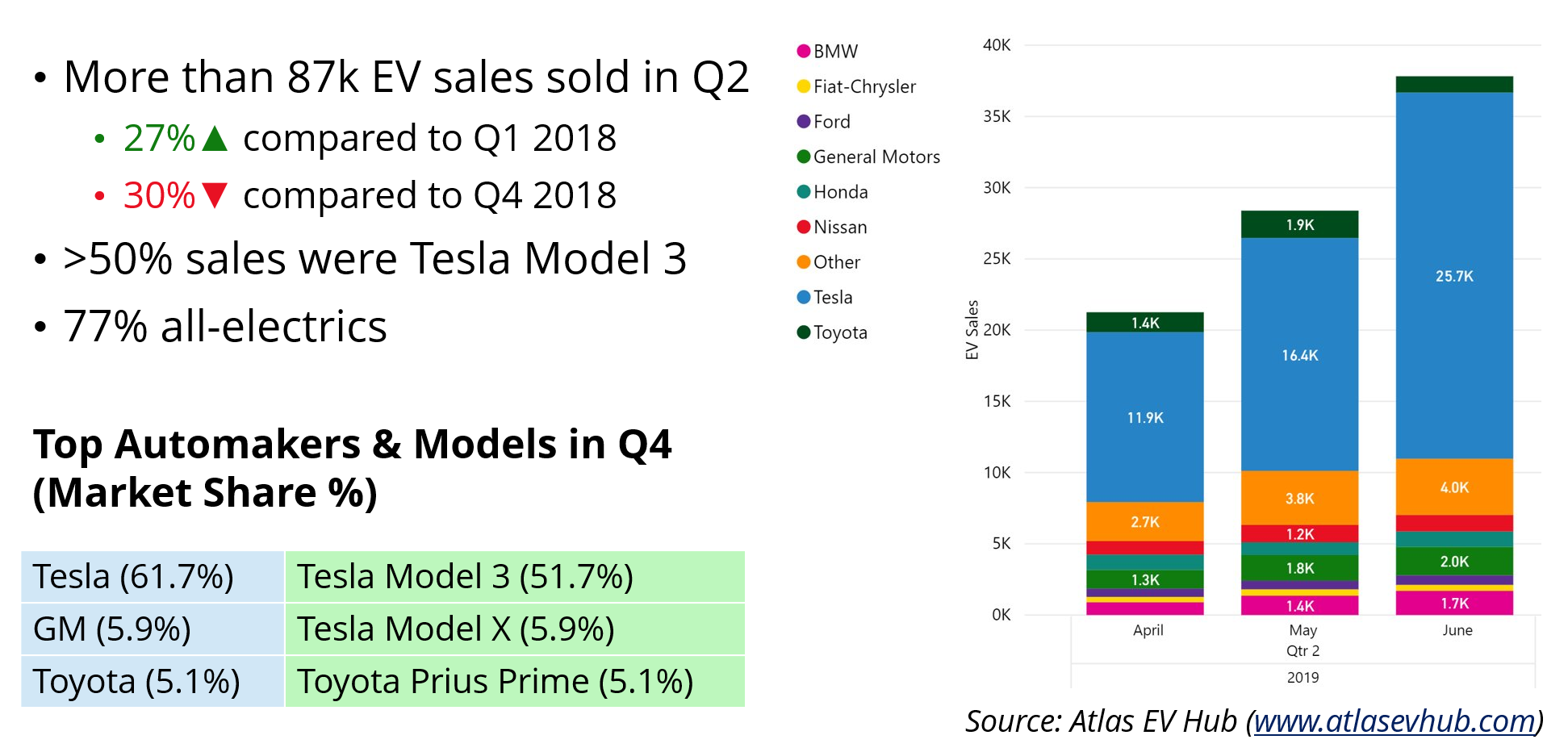 Mixed signals continue in the EV market through the second quarter of 2019, leaving lingering uncertainty around what the rest of the year may hold. While year-over-year sales growth recovered from 11 percent in the first quarter to 27 percent in the second (reaching an impressive 51 percent year-over-year growth in June), the continuation of tax credit phase outs for industry leaders Tesla and GM could dampen this momentum.
Despite the recent slowdown in market growth and regulatory quiet from the federal government, the auto industry continues to pursue electrification plans. Several new or expanded automaker commitments to electrification have been announced in the second quarter, adding to the almost $350 billion in private investment committed to transportation electrification globally. New partnerships between automakers such as Ford and Volkswagen could accelerate growth in the U.S. EV market.
Automakers pushing EVs are benefiting from supportive state policies that seek to accelerate local markets and meet climate goals. States like Colorado continue to assert their leadership in the policy space, conducting a suite of activities in the second quarter including passing new directives encouraging utility engagement, statewide vehicle tax credits, and significant investment of VW Settlement funds in EVs.
While EV sales have recovered through the second quarter, electric utility investment has slowed. Only $18.5 million in new funding was approved in the second quarter, down from $98 million in the first. New filings worth $37 million were proposed in the second quarter, with a large filing in New York accounting for the majority of the investment. New filings in the first quarter were valued at more than $76 million almost entirely due to a Duke Energy program. The bulk of utility programs in the second quarter seek to expand public and residential charging networks, with more than 10,000 Level 2 and almost 200 DC fast charging stations supported by both approved and pending programs.
Public funding also seeks to expand the national charging network, which continues to grow through the second quarter. With the release of Florida's draft Volkswagen Settlement Beneficiary Mitigation Plan, all states have now released mitigation plans and more than $300 million has been committed to charging infrastructure investment. Seven states made awards in the second quarter worth more than $71 million, 78 percent of which went to transportation electrification including almost 55 percent specifically for electric transit buses. New Jersey continues to increase their lead in VW funding awards for the year, allocating more than $16 million in the second quarter for a variety of electric medium- and heavy-duty vehicles including freight trucks, yard tractors, refuse trucks, and airport support equipment. 
Increasing public funding for electric buses and trucks continues to spur interest in the sector. New research developments and media coverage in the second quarter have highlighted medium- and heavy-duty electrification as an area of particular focus while also highlighting persistent gaps in the charging network. States like California are rising to the challenge and regulatory signs are pointing in a positive direction following news that leading automakers struck a new deal with the state to limit tailpipe emissions to just below the targets proposed by the Obama administration. This rebuke of Trump administration efforts to roll back emissions standards has been applauded by automakers as a needed move towards regulatory certainty as they expand their electrification efforts through the rest of the year.
Stay tuned for the quarterly review webinar which is free to all. The webinar will be held on August 19 at 1 pm ET. We encourage you to share information on joining this webinar with your networks!
About the author: Conner Smith