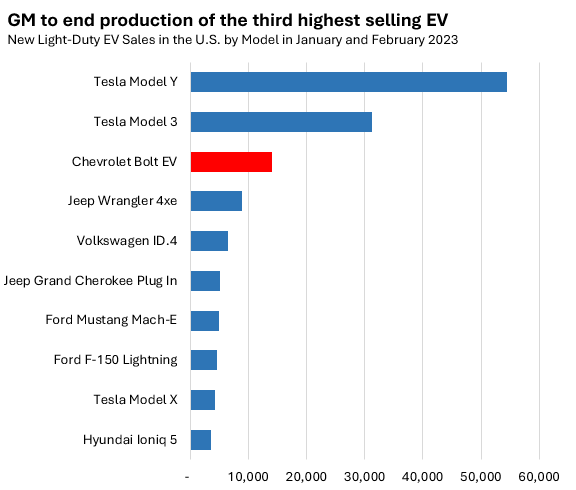 In a contentious move, General Motors (GM) recently announced that the company will axe production of its popular Chevrolet Bolt EV and EUV models after this year. While briefing investors on quarterly earnings last Tuesday, CEO Mary Barra noted that the automaker will retool its Bolt-producing Michigan plant to focus production on the Chevy Silverado and GMC Sierra electric pick-up trucks launching next year. This decision by GM to discontinue the Bolt has been met with criticism by EV and climate advocates.
To date, the Chevy Bolt EV has represented the majority of the company's EV sales. In January and February of this year, the Bolt was clearly the best-selling non-Tesla EV, and third highest selling EV in general. However, the Bolt's journey has not been an easy one. In 2021, sales of the Bolt plummeted after the automaker recalled nearly steadily climbed 142,000 vehicles due to battery fires.  Despite this major setback, Bolt sales have steadily climbed back up and reached an all-time high at the start of this year (7,519 sales in January 2023).
GM's decision to ditch the Bolt comes at a time when EV affordability remains a big-ticket concern, and the Bolt's long-time popularity has largely been in part due to its attractive price tag. With a current starting price of $26,500 and a range of up to 260 miles, the Bolt has long shone as an obvious choice for those wanting to affordably and comfortably drive electric.  Additionally, the company's shift towards heavier EVs has sparked sustainability and road safety concerns. The Bolt's compact size generates less emissions than its electric truck counterparts, and experts suggest that heavier EVs can cause significantly more damage in the event of a collision.
To put that into perspective, below is what the Bolt's top EV competitors (based on sales) are priced at (sourced from fueleconomy.gov):
Tesla Model Y: $54,990-$58,990

Tesla Model 3: $53,990

Jeep Wrangler 4xe: $54,735 – $62,620

Volkswagen ID.4: $38,995 – $52,794
Furthermore, the Bolt is one of the few EVs that is eligible for the full $7,500 EV tax credit, making it even more affordable for EV buyers.
As GM goes all in on its Ultium battery platform (which is incompatible with the Bolt) and adds to its EV lineup, it is likely that we may see more affordable EV options from the automaker. According to CEO Mary Barra in a LinkedIn post last fall, the upcoming Chevy Equinox EV will have a starting manufacturer suggested retail price (MSRP), of $30,000 – a price tag that is still significantly cheaper than the top EVs in the market right now.
In other news, GM cutting the Bolt wasn't the only noise the company created last week. In a recent press release, GM and Samsung SDI announced a new joint venture for battery production, contributing to our growing domestic EV battery landscape. The exact location has not been announced. Both companies will invest more than $3 billion to construct a battery cell manufacturing plant in the United States that is expected to launch and begin operations in 2026.
As we say bye to the Bolt, we can expect more than 70,000 Bolt EV and EUVs to be built in 2023. 
About the author: Moe Khatib