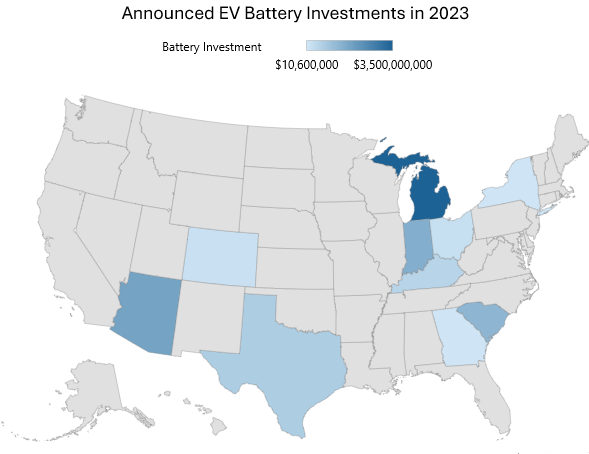 It's been a minute since we talked about battery investments in detail in a digest, and with the recent General Motors (GM) and Samsung SDI joint venture announcement, we're due for a 2023 round up.
In case you missed it in last week's piece, GM and Samsung SDI announced recently that they are joining forces and taking on the U.S. EV battery market. Together, the companies plan on investing over $3 billion to manufacture EV battery cells, with a goal to begin mass-production in 2026. So far, we don't know where exactly the companies plan on setting up shop, and state leaders are already pitching their state to be the home of this investment.
While details are yet to be released, this announcement is one of many multi-billion-dollar battery production investments in the U.S. we've seen so far this year. In 2022 alone, we saw upwards of $51 billion in announced investment for domestic battery manufacturing, and by the looks of it, companies are continuing that momentum into this year (likely due to the Inflation Reduction Act). In 2023, we have tracked nearly $10 billion so far in EV battery investments, with Michigan, Arizona, and Indiana leading all states.
What investments in battery manufacturing have we seen so far in 2023?
Ford: Let's start with our top investment from Ford. In February, the automaker announced it will be investing $3.5 billion in its home state of Michigan to establish a battery production hub called BlueOval Battery Park Michigan. This plant will focus its production on lithium iron phosphate (LFP) batteries for its EV lineup. Ford's decision to produce LFP batteries potentially has its advantages. According to recent analysis by Atlas Public Policy, LFP batteries offer cheaper production costs and the ability to deliver more watt power per kilogram — which may translate into cheaper EV models from Ford. Production is slated to begin in 2026 with approximately 2,500 employees to start. Since 2019, EV Hub has tracked over $14 billion of Ford investment in electric vehicle and battery manufacturing.
In other news, as Ford invests in Michigan, new research by the World Resources Institute finds that Michigan could support up to 56,000 jobs in EV and battery assembly if the state "fully embraces EVs," with the majority of these jobs stemming from battery manufacturing.
LG Energy Solution: Next, South Korean automaker LG Energy Solution (LGES) is tapping into the North American EV market in response to IRA. In March 2022, the company announced an initial investment of approximately $1.4 billion USD to manufacture cylindrical batteries for EVs in Arizona. Fast forward a year later in March 2023, the company upped this investment to $3.2 billion – a $1.8 billion increase. Additionally, the automaker is directing other funds to produce LFP pouch-type batteries for energy storage systems. Production is lined up to begin in 2025 and 2026, respectively.
ENTEK: In March 2023, ENTEK announced an investment of $1.5 billion for a battery component manufacturing facility in Indiana. This marks the company's largest investment ever and is expected to support up to 642 new jobs by the end of 2027. Indiana is looking to be a growing EV manufacturing hub, attracting other significant battery investments from companies such as Stellantis and Samsung SDI last year.
The list goes on. More data on battery investments can be found on our Automakers Dashboard. 
And in case you missed it, earlier this year we hosted an entire EV Hub Live episode where we heard from Panasonic and Lucid Motors on lessons learned and recent developments in the rising domestic battery tech industry.
About the author: Moe Khatib