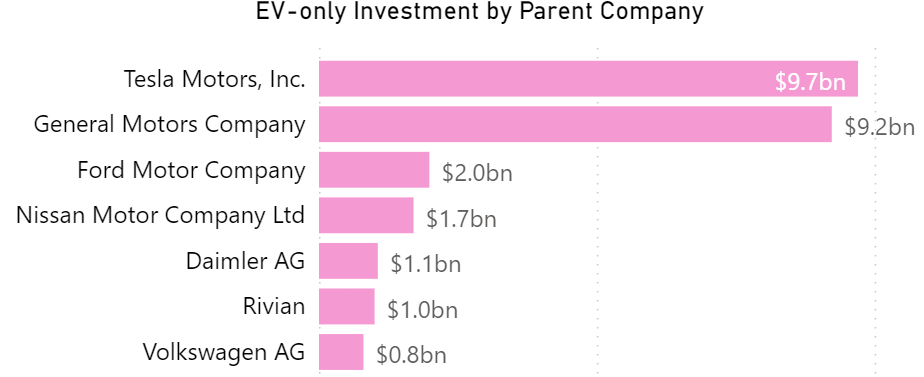 Global EV investment commitments, as tracked on EV Hub, are nearing the $500 billion mark. Roughly $46 billion of this has been pledged in the first four months of 2021. America's second-largest domestic automaker, Ford, leads the year in new investment commitments with an additional $17 billion pledged in February. Almost $29 billion, 63 percent of the year-to-date total, across all companies tracked on the Global Private Investment Dashboard could go towards EV and EV charging programs in the United States.
Automakers are also continuing to specify where they plan to produce the new EVs they are working to bring to market. In early April, GM committed to investing $2.3 billion to build a new battery manufacturing plant co-located with their existing Spring Hill facility in Tennessee. However, the automaker came under fire from the United Auto Workers union last week when it announced plans to invest $1 billion to bring EV production to a facility in Mexico. The announcement again demonstrates that not all the EV investment promised by American automakers will land in the United States and highlights the importance of supportive policies such as the American Jobs Plan to capture as much investment as possible.
Ford also plans to manufacture some EVs overseas. Earlier in April, the automaker announced plans to invest $1 billion to build a new EV facility in Germany as a part of their pledge to electrify all sales in the European market by 2030. Ford also continues to signal a clear intention to support the EV manufacturing sector closer to home. On April 27, the automaker joined the fray of companies seeking to expand domestic battery manufacturing with plans to build new battery facilities in Michigan. The 150 employees and $180 million committed in the announcement add to the $27 billion in domestic EV manufacturing investment and 36,400 planned jobs at specific facilities tracked on the Automakers Dashboard.
Facing down challenges including pervasive chip shortages, automakers continue to charge forward with their EV rollout. On April 28th, GM announced a new platform for EV charging called the Ultium Charge 360 plan. Named after the automaker's anticipated Ultium batteries, the platform will allow for drivers to charge seamlessly (without registering separately for each network) across seven of the nation's largest charging networks covering more than 60,000 charging ports. The companies participating in the program include Blink Charging, ChargePoint, EV Connect, EVgo, FLO, Greenlots and SemaConnect. According to the EV Charging Deployment Dashboard, only 3,600 of these are DC fast charging ports with the remaining being Level 2.
The roughly 60,000 ports covered by Ultium Charge 360 make up 54 percent of the 113,100 charging ports installed around the country. ChargePoint alone claims 43,100 of the 60,000 in GM's platform. Of the stations not included, Tesla's proprietary network claims the lion's share with more than 24,600 stations. Electrify America is the next biggest with more than 2,700 charging ports, the majority of which are DC fast chargers. While Ford has taken a similar approach of offering app-based platforms to allow drivers easy access to existing networks, newcomers like Rivian have opted to pursue the Tesla route of building a proprietary charging network. Rivian plans to install 3,500 fast charging ports across the United States and Canada, which will be available for charging only by Rivian vehicles, the first of which are expected to hit the market in June of this year. Rivian's charging buildout will also include 10,000 Level 2 charging ports that will be available to any EV.
The demand for EV charging and need for additional public funding is increasing as the U.S. EV market accelerates. February 2021 saw an all-time record number of EVs sold in the month with more than twice the number of EVs sold compared to the same month in 2020. New models like the Ford Mustang Mach-E and Volkswagen ID.4 are now available on the market and the former saw sales increase by more than 10 times between January and February. You can track new models as they come to market and their sales on the Automakers Dashboard.
About the author: Conner Smith