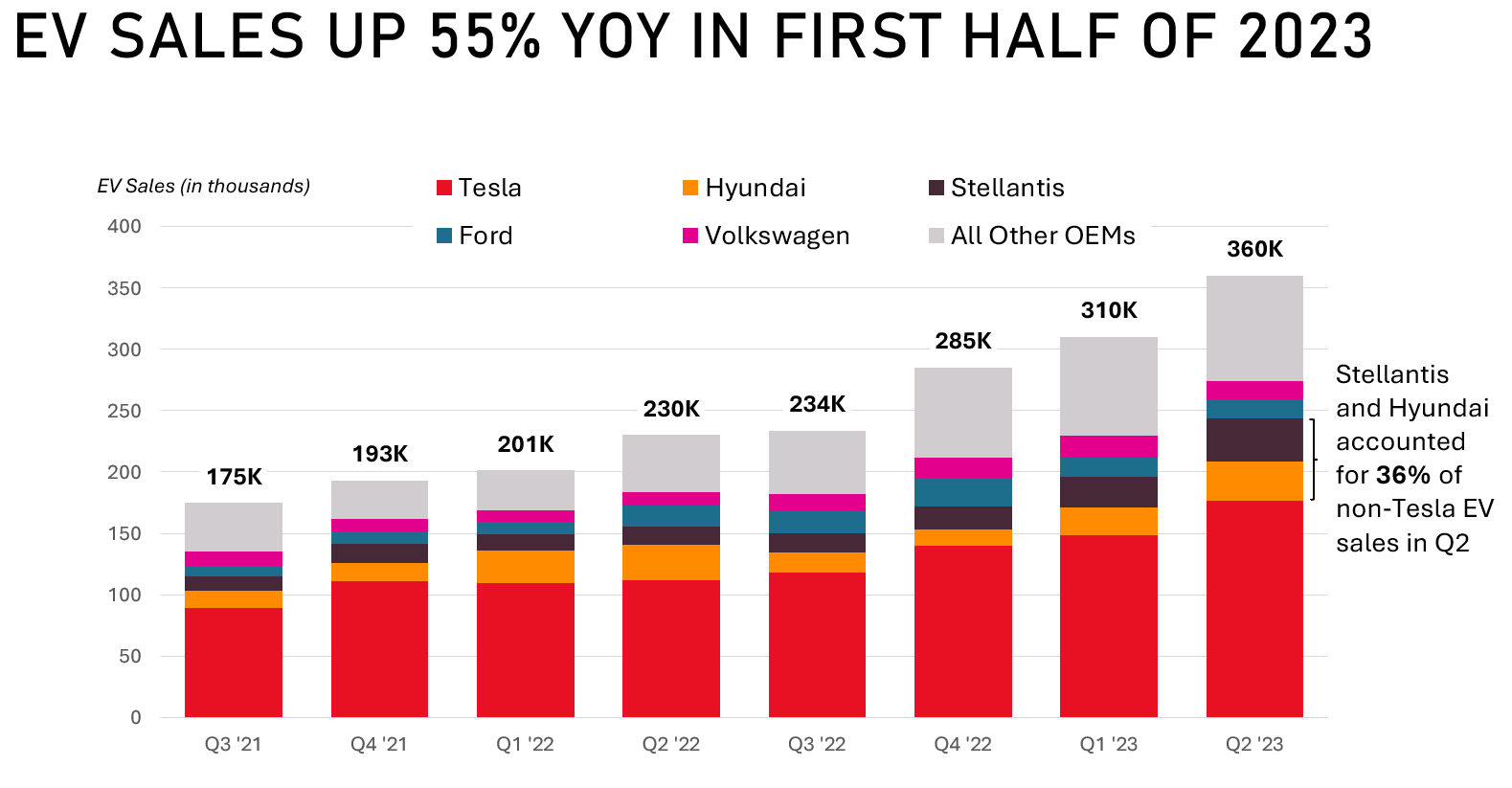 Today, we published our Q2 Quarterly Review, which packages up key electric vehicle (EV) policy and market developments in April, May, and June of this year. As a reminder, you can view the slide decks for each quarterly review here. Here's what caught our eye in Q2:
U.S. EV market share surpassed 9 percent for the first time with 360,000 light-duty EVs sold in the U.S. during Q2. EV market share in this quarter rose 34 percent from Q2 2022, which stood at 6.9 percent.
Below are three unique EV market developments during Q2:
Six new models entered the market in Q2 2023, led by the Audi Q8 e-tron and Mazda CX-90 with 978 and 892 sales, respectively.
Stellantis and Hyundai continue to stand out, capturing 36 percent of non-Tesla sales in Q2.
Ten states and the District of Columbia surpassed 10 percent EV market share for the quarter. California led other states at 26 percent followed by the District of Columbia at 19 percent and Washington state at 18 percent.
Nearly $11 billion of private sector investment was announced for U.S EV and EV battery manufacturing during Q2, and $60 billion of domestic investment has been announced since the signing of the Inflation Reduction Act (IRA). A notable investment we saw from this quarter came from a joint venture between General Motors and Samsung SDI valued at $3 billion. Together, the companies plan on manufacturing battery cells in Indiana beginning in 2026, creating approximately 1,700 jobs.  
Additionally, North Carolina saw a hefty investment from Toyota. At the end of May, the company announced it will be investing an additional $2.1 billion in its existing North Carolina battery manufacturing plant to expand production of future Toyota EVs, including the company's all-new three-row, battery-electric SUV.
The Federal Transit Administration awarded over $1 billion for zero-emission buses and bus facilities. Bolstered with new funding from the Infrastructure Investment and Jobs Act, the Low- and No-Emission and Bus and Bus Facilities programs delivered another year of record funding for transit agencies. The FTA awarded $1.7 billion in total, of which $1.1 billion, or 65 percent, went to zero-emission projects, leading to the deployment of nearly 850 zero-emission buses. We highlighted these awards in detail in an earlier digest.
Xcel Energy filed $439 million transportation electrification plan in Colorado, the largest filing by a single utility outside of California to date. The plan includes $145 million to develop a network of up to 580 utility-owned public DCFC ports, $50 million for proactive distribution grid upgrades, and multiple V2X and battery energy storage pilots. The remaining funds are dispersed among a number of EV rebates, charging incentives, and more.  Importantly, approximately 20 to 30 percent of the total investment will go towards equity and income qualified customers. The record plan was filed just weeks before Xcel's decision to withdraw a similar $382 million proposal in Minnesota.
See more key insights from the entire Q2 Quarterly Review here.
About the author: Moe Khatib