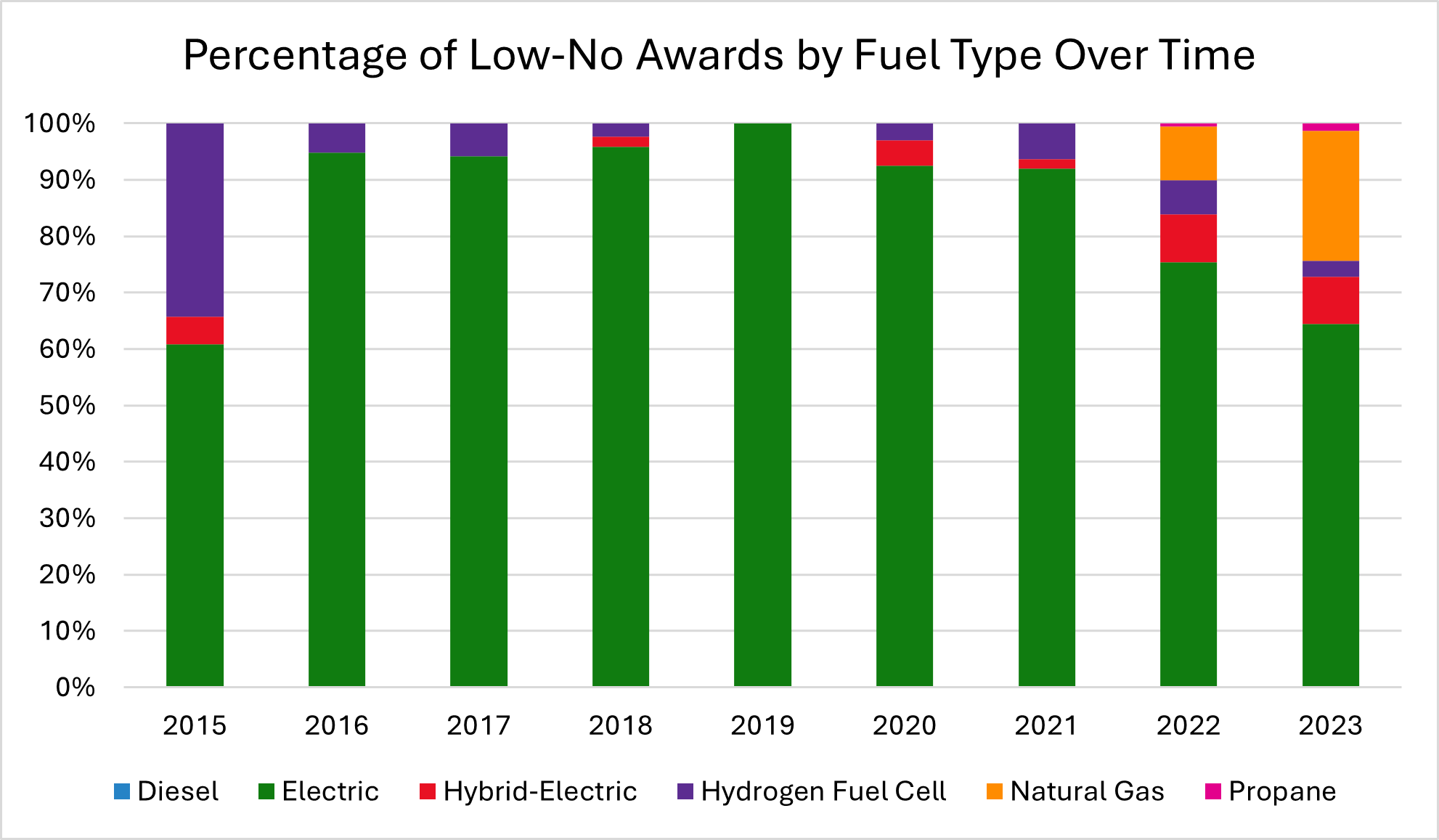 Last week was a big week for clean bus enthusiasts like me. The U.S. Department of Transportation's Federal Transit Administration (FTA) awarded $1.7 billion of funding from the Buses and Bus Facilities and Low- and No-Emission (Low-No) Vehicle programs bolstered by record funding from the Infrastructure Investment and Jobs Act (IIJA). These awards will support 130 transit projects across 46 states, plus D.C and Puerto Rico.
The Buses and Bus Facilities Program funds transit agencies to purchase and retrofit buses and vans to be zero or low-emissions and works to electrify bus facilities. Similarly, Low-No is a competitive grant program that funds state and local governments for the purchase or lease of zero or low-emissions transit buses. IIJA provided the FTA $5.5 billion for the Low-No program, an increase of nearly 10 times previous funding levels, and $5.2 billion for the Buses and Bus Facilities Program (comprised of both competitive and formula grants), consistent with previous funding levels. The Fiscal Year 2023 announcement, which represents the second of five funding cycles, awarded $1.22 billion to 83 projects through the Low-No program, and an additional $473 million to 47 projects through Buses and Bus Facilities program.
Importantly, IIJA implemented new requirements for the program. First, any transit agency receiving funding for a zero-emissions project must reserve five percent for workforce development, and second, the Low-No program can only award up to 75 percent of program funds to zero-emissions vehicles, while the rest must go to the rest to low-emissions vehicles. This year, approximately 67 percent of Low-No funding went to zero-emissions projects, including electric and hydrogen fuel cell vehicles.
Here are some of the zero-emissions projects that caught our eye:
Washington Metropolitan Area Transit Authority (WMATA): WMATA was awarded $104 million to electrify its Lorton, Virginia, bus garage, purchase 100 battery-electric buses, and develop a workforce development program for drivers, mechanics, and first responders. WMATA plans to transition its entire fleet to 100 percent zero emissions.
New Orleans Regional Transit Authority: The New Orleans Regional Transit Authority will receive $71 million in funding for the purchase of 20 battery-electric buses, two on-route chargers, and six depot chargers. Additionally, the funding will support a microgrid for charging resiliency and implement a workforce training program.
New Jersey Transit Corporation: $47 million will be awarded to New Jersey Transit to electrify the Hilton Bus Garage to support new battery-electric buses, which will increase service to densely populated communities in New Jersey. Electrification equipment and workforce development are included in this funding package.
University of Maryland, College Park: The University of Maryland in College Park is set receive nearly $40 million to purchase battery-electric buses and supporting charging infrastructure. This project is expected to improve transit service reliability and improve air quality in the College Park community.
King County Metro, Seattle: King County Metro in Seattle was awarded $33.5 million for the purchase of 30 battery-electric buses and charging equipment. These buses will serve 27 bus routes that serve low-income areas. Additionally, this project will expand Metro's apprenticeship program and promote transit careers for residents in underserved populations.
A full list of awarded projects can be found here.   
According to the press release, transit agencies shifting to low or zero-emissions vehicles that are recipients of the funding can receive free technical assistance from the Joint Office. As a reminder, you can view public funding awards on our State Policy Dashboard.  
About the author: Moe Khatib