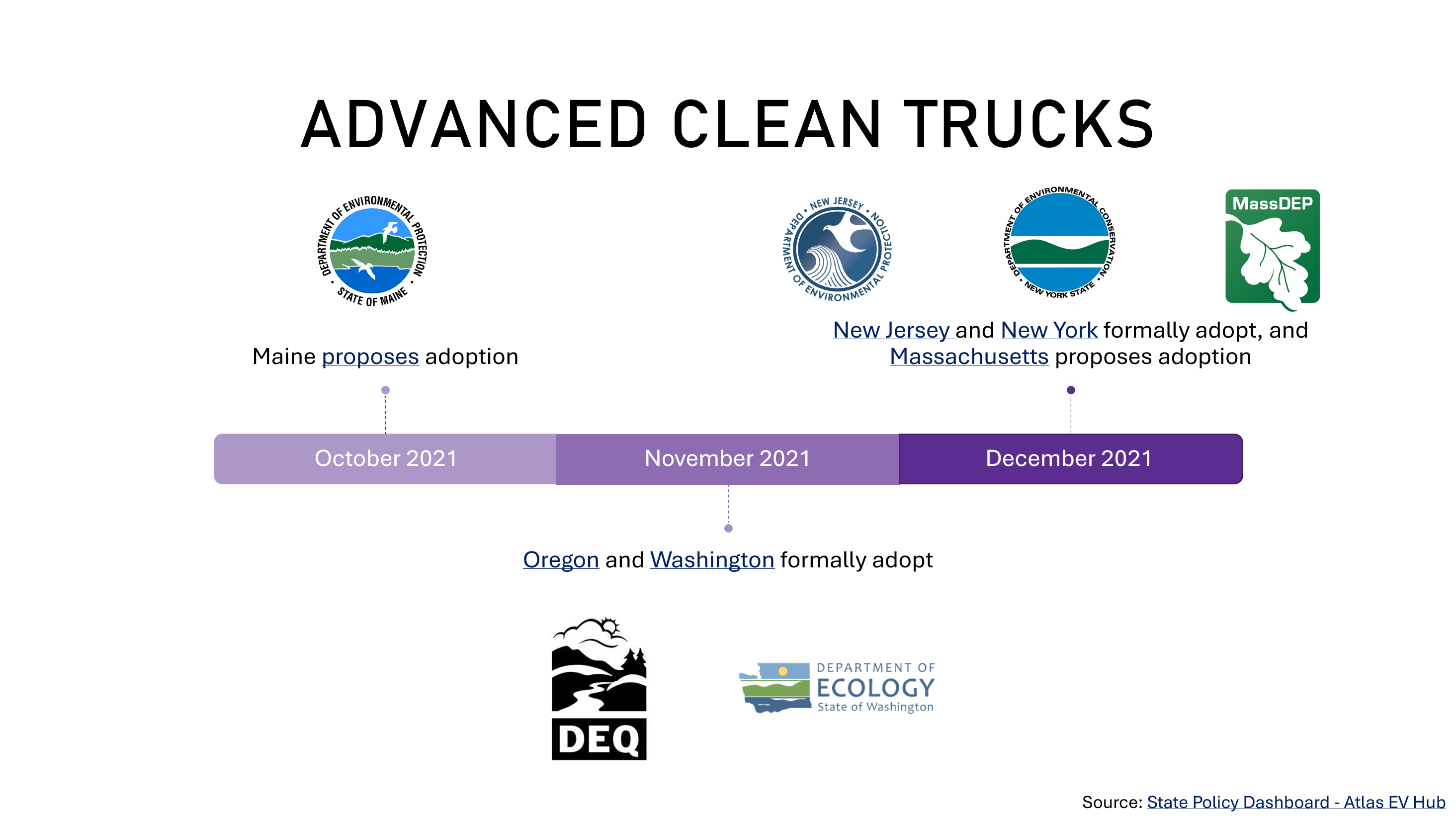 We just put out our quarterly slides, summarizing developments in Q4 2021. Here are three stories from Q4 2021 that caught our eye.
Highest selling quarter and highest selling month of all time
The fourth quarter of 2021 saw more EVs sold than ever before. December capped off a strong quarter by breaking the record for EVs sold in a month by nearly 5,000 vehicles. EVs made up around 6 percent market share of new light duty vehicles in Q4 2021 and 4.4 percent for the year. This is an important point in the growth of the EV market and indicates a continued upward trajectory for EVs. Overall, U.S. EV sales soared 102% in 2021 surpassing 650,000 vehicles. That is more than a quarter of all EVs ever sold.
What is driving the sales? As expected, much of the growth was driven by market-leader Tesla. Tesla sales were up 70 percent from 2020 as the manufacturer captured just over 50 percent of the EV market in 2021. For non-Tesla manufacturers, the story was the renaissance of plug-in hybrids. Plug-in hybrids made up 55 percent of non-Tesla EV sales in 2021 and were up 150 percent year over year. Two new models, the Jeep Wrangler 4xe and the Toyota RAV4 Prime, led the resurgence selling nearly 30,000 units each. Q4 saw two hot new entrants on the BEV side in the form of the Rivian R1T and the Lucid Air. Rivian and Lucid sold 577 and 88 vehicles in the quarter, respectively.
These sales records are in spite of an enormous drop from General Motors (GM) – the second highest selling EV maker to date. GM dropped from over 10,000 units in Q2 to nearly none in Q4. GM will look to rebound early in 2022 with the release of several new models and the restart of production of the Chevrolet Bolt in April 2022.
Advanced Clean Truck (ACT) progresses
Here's an explainer for the ACT rule, but in short it requires that manufacturers sell an increasing percentage of electric MDHD vehicles as part of their annual sales through 2035. It is inspired by a rule out of California. The state will begin implementing the rule in 2024. The California rule requires the following by 2035:
– 55% of Class 2b – 3 truck sales are zero emissions.
– 75% of Class 4 – 8 straight truck sales are zero emissions.
– 40% of truck tractor sales are zero-emissions.
Q4 2021 saw a flurry of developments around the country regarding the ACT. Maine proposed adoption in October, Oregon and Washington formally adopted in November and in December, New Jersey and New York formally adopted and Massachusetts proposed adoption.
Utilities have been busy, including $337 million approved and $354 million proposed for transportation electrification programs
In approved filings, Florida Power & Light's $205 million program became the largest utility-owned charger program to date. NV Energy was approved to invest nearly $100 million in chargers along corridors, at parks, at schools, for fleets, for school and transit buses, and at government properties. Evergy Kansas was approved to invest $14 million in Level 2 residential charging and Level 2 and DCFC commercial charging. Another $18 million of programs approved from PNM (NM), Minnesota Power, and Duquesne Light Company (PA).
Equity-focused provisions were included in all except one approved infrastructure investment program and Xcel Energy Colorado proposed several EV rates as well as an Equity Performance Incentive Mechanism (PIM).
On the proposed front, Pacific Gas & Electric proposed a $276 million program to support on- and off-site charging for multi-family housing residents and Hawaiian Electric proposed to invest $79 million to own and operate 150 DCFC and 150 Level 2 ports across 75 sites from 2023 through 2030.
Combined, these proposed and approved programs would deliver more than 2,000 DC fast chargers and nearly 27,000 Level 2 chargers.
About the author: Tom Taylor