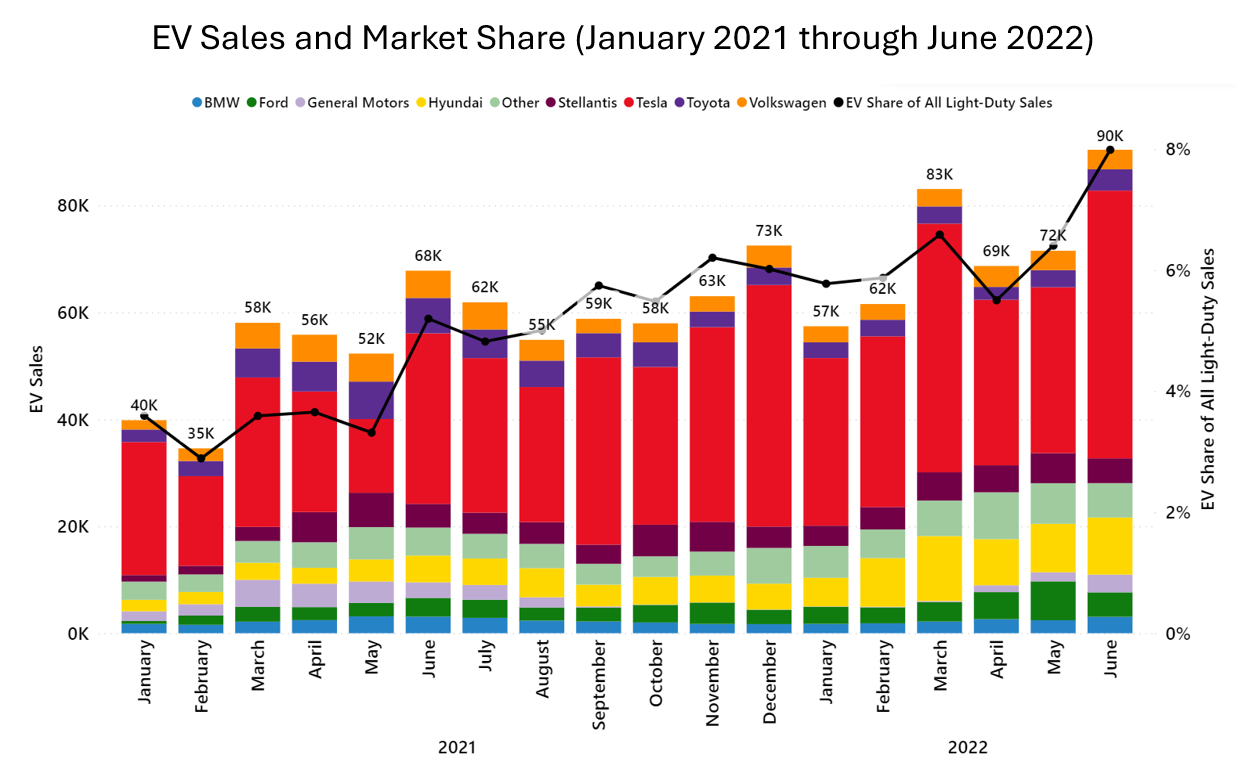 We have just published our Q2 Quarterly Review (April, May and June 2022). The slides bring together key developments from the EV market. Here are three stories that caught our eye.
EV Sales on the Rise
EVs in the U.S. had their best quarter yet. Below are some numbers worth noting:
A whopping 230,000 EVs were sold during Quarter 2 of 2022, with 90,000 sales in June alone (the highest month yet)

EV sales in Q2 were 14 percent greater than any other quarter on record

EVs claimed 6.7 percent of sales in the light-duty vehicle market this quarter (and 8 percent in June)
As expected, Tesla captured a large share of EV sales this quarter rounding out to 49 percent. Hyundai also had a record-breaking quarter with nearly 30,000 sales, and General Motors makes a comeback by virtue of the re-rise of the Chevy Bolt.
Jobs, Jobs, Jobs
EV jobs continue to grow around the country with more than 19,000 EV manufacturing jobs announced in Quarter 2, bringing the total to over 115,000 jobs. More than 17,000 announced EV jobs are set to begin in 2022. Georgia leads all states with more than 18,000 planned EV jobs following a massive $6.5 billion investment from Hyundai Motor Group for a dedicated EV and battery manufacturing facility announced in May 2022 and other EV-related projects happening in the state. As the largest economic development project in the state's history, this facility alone will create 8,100 jobs for well-paying manufacturing positions.
California comes next following a $4 billion investment from Statevolt to build a battery plant. This investment will create 4,000 new jobs in the state with an annual production capacity of approximately 650,000 EVs per year. Last but not least, Ford announced a $3.7 billion investment commitment in the Great Lakes, creating 6,200 new union jobs across Michigan, Ohio, and Missouri.
The Northeast Turns It Up
States in the Northeast have made significant strides in transportation electrification this quarter. In Q2, New Jersey announced $45 million to implement electric school bus programs. It is worth noting that Colorado also authorized $65 million. Furthermore, New York, Massachusetts and Connecticut set a target for 100 percent zero-emission school bus fleets by 2035, with Maryland following suit requiring school districts to procure only zero-emission buses beginning in July 2024.
Other key policy developments include the enactment of the following:
· Massachusetts H. 5060, which authorizes a ban on light-duty ICE sales by 2035. Governor Baker signed it into law. The legislation also establishes a Charging Infrastructure Deployment Fund and creates a council for the purpose of developing a plan to deploy EV chargers equitably.
· Connecticut SB 4, which mandates a state fleet ZEV purchase requirement, sets a target for 100 percent ZEV school bus fleets by 2035, and provides charging incentives
· Maine LD 1579, which sets a target for 100 percent zero-emission state fleet by 2045
· Vermont H 662, which provides $28.25 million in funding for EVs and EVSE
About the author: Moe Khatib