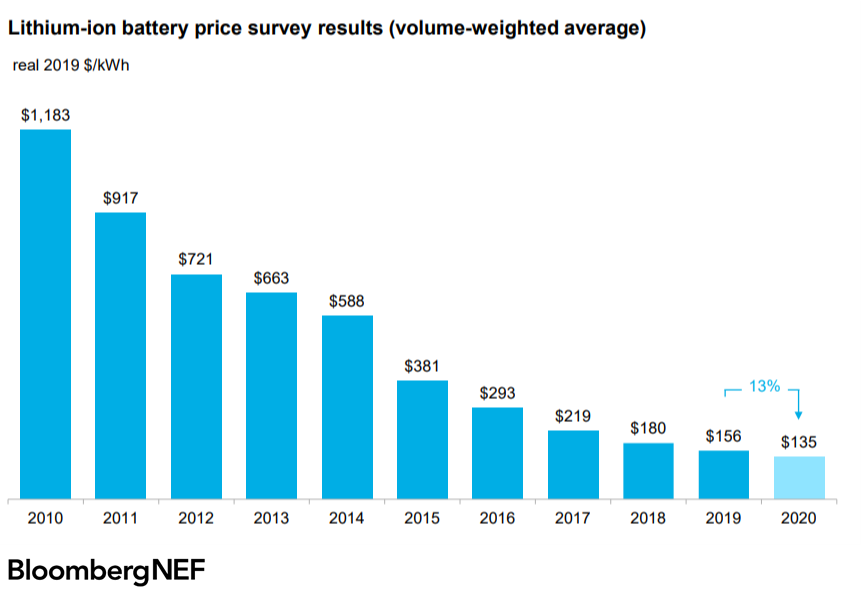 EVs are becoming increasingly cost competitive with conventional vehicles according to forthcoming analysis from Bloomberg New Energy Finance (BNEF). The group's annual battery price index is expected on December 16th and projects a 13 percent decline in the cost of batteries between 2019 and 2020. BNEF estimates a battery pack price of $135 per kilowatt-hour (kWh), nearing the $100/kWh threshold projected by both BNEF and Wood Mackenzie by 2024. Since 2010, EV battery pack prices have dropped more than 86 percent from $1160/kWh to $156/kWh.
Declining battery costs are one of several factors increasing the competitiveness of EVs in the global vehicle market. Europe is leading the passenger EV market in the final months of 2020 as countries across the continent continue to smash records. Germany outsold the California EV market by 25,000 vehicles in the first nine months of 2020. Both Daimler and Volkswagen have net zero commitments through the next several decades and the European Union seeks to have 30 million EVs on the road by 2030. Across the Channel, the United Kingdom made moves to ban the sale of gasoline-powered cars by 2030 on November 18th. These developments have led to a surge in EV market share throughout Europe where EVs now make up 13 percent of the vehicle market and October sales across the continent almost tripled.
While the U.S. EV market has begun to recover from the pandemic, the pace is sluggish with EV sales down 19 percent through the first three quarters of 2020. EVs only make up two percent of new passenger vehicle sales in the Unites States. One driver of this slower pace of transportation electrification may be resistance from some stakeholders. On December 4th, 17 percent of Cadillac dealerships broke ties with the brand to avoid spending on facility upgrades including charging infrastructure and repair tools needed to sell EVs. These dealerships instead opted to take the buyout offer and focus on other GM brands in their franchises. This comes only weeks after GM increased their commitment to EV investment by $7 billion. Part of the automaker's investment announcements in 2020 included plans to spend $2 billion to expand their facility in Spring Hill, Tennessee to manufacture the new generation Cadillac EVs.
Automaker investment in the United States continues to surge despite this resistance and EVs have already reached cost parity on a total cost of ownership basis in some markets. This is the key finding in our newly released study on public fleet electrification in Washington state. Assessing the lifetime cost of vehicles currently available on the market, the study found that Washington state is positioned to cost-effectively electrify nearly all of its publicly owned vehicles by 2035. Converting to EVs could save the state more than $3 billion when accounting for the anticipated cost-saving innovations in battery technology and use of pre-existing charging infrastructure. The picture looks even better for EVs when considering the flood of new models expected through 2022 which should increase the electrification potential of new segments like trucks and medium-duty vans.
Political momentum in the United States could also help EVs in the near term. The Biden administration plans include strong support for transportation electrification and the new industry advocacy group, ZETA, will push for progress towards 100 percent ZEV sales by 2030. In our next episode of EV Hub Live, Nick Nigro will sit down with ZETA Executive Director Joe Britton and Michael Berube, Deputy Assistant Secretary for Transportation at the U.S. Department of Energy. They will discuss the vehicle and charging technology progress we can expect in the near term and the importance of United States leadership in electric transportation. Join us for the episode at 11:30 EST on December 15th.
About the author: Conner Smith