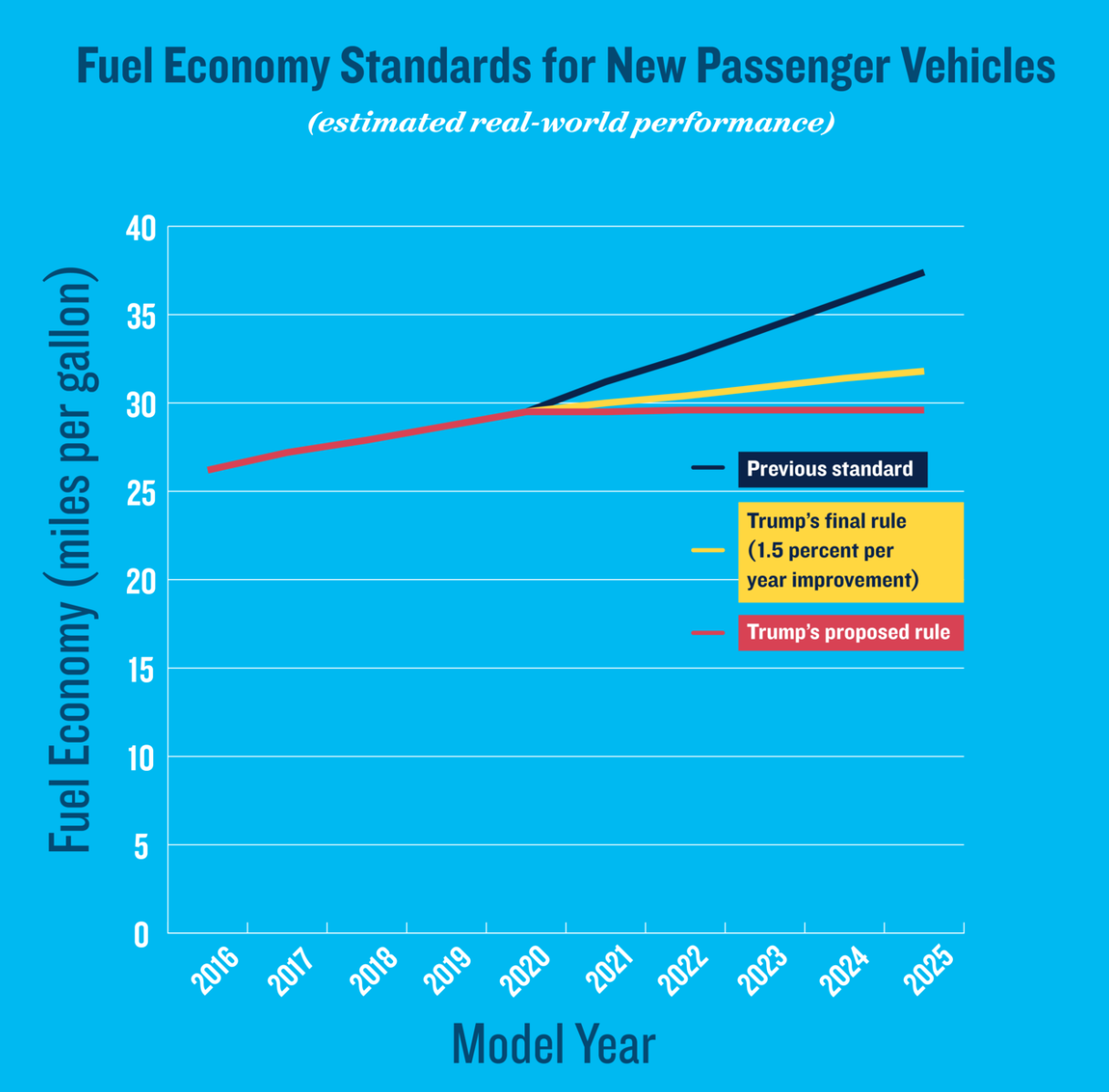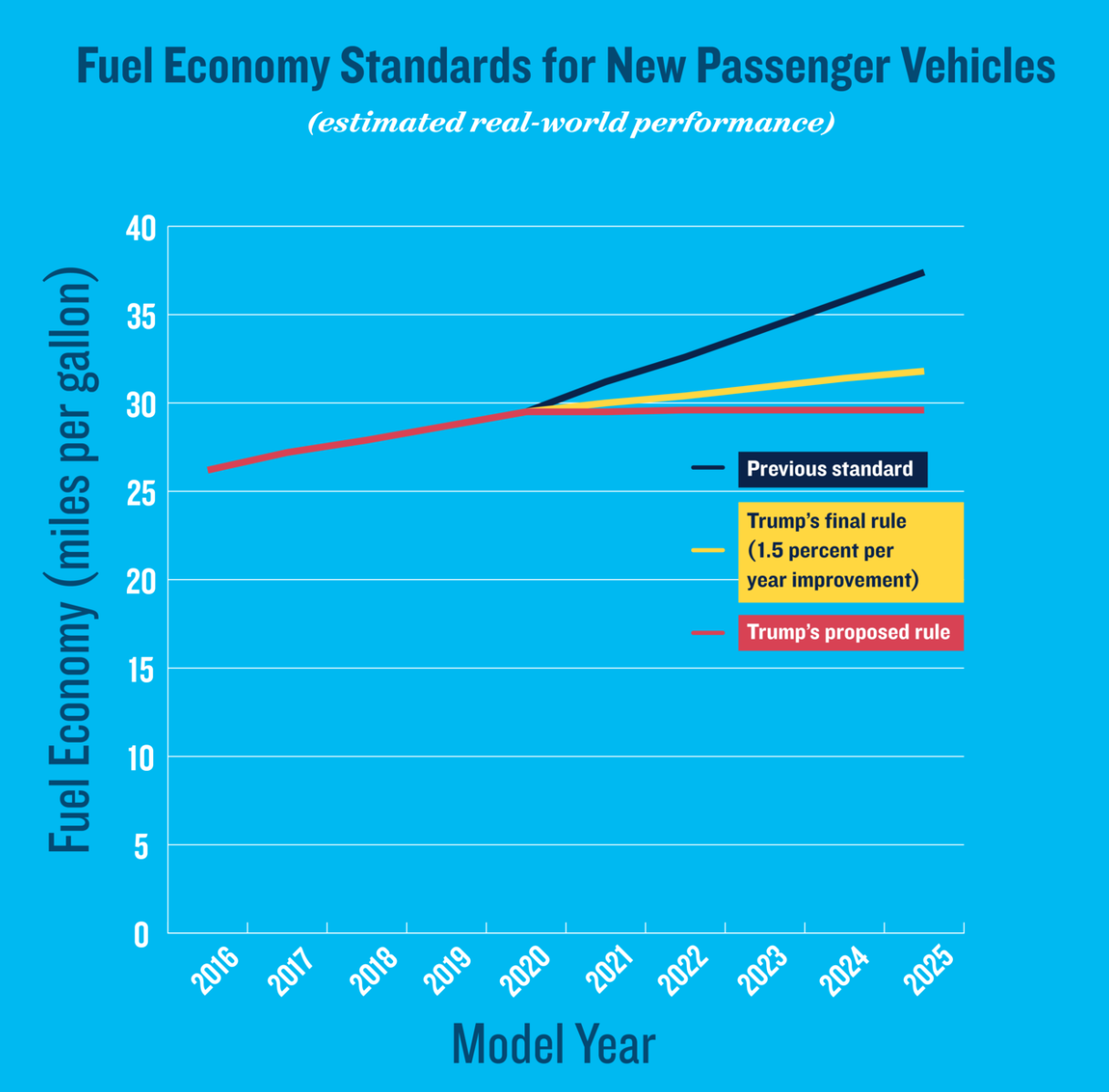 The battle around auto emissions and fuel economy standards rages on in the age of coronavirus with the Trump administration finalizing plans to roll back the Obama-era regulation on March 31st. Under the guise of making vehicles more affordable for consumers, the new rule slows the required annual increase in standards from five to 1.5 percent. Available reports estimate this will lead to a decline in average fuel economy of six miles per gallon by 2025. As the new regulations come from a joint rulemaking of the National Highway Traffic Safety Administration (NHTSA) and U.S. Environmental Protection Agency (EPA), the rule correspondingly rolls back greenhouse gas emissions standards for passenger cars and light trucks.
The industry's main trade association, the Alliance for Automotive Innovation neither praised nor resisted the new rules, though advocacy groups voiced strong concerns. Experts at the Natural Resources Defense Council fear that the new rule could allow automakers to underperform on EV innovation, weakening American competitiveness in the global EV market while costing jobs. GM and Ford have already been called out in recent weeks for lackluster EV production plans despite recent commitments to an electric future. Based on released plans, GM and Ford's combined EV output by 2026 is expected to be 15 percent lower than Tesla's 2019 production.
Critics of the rule are pushing back against NHTSA and EPA claims that softer standards will lead to cheaper cars, noting that EVs save consumers money over the lifetime of the vehicle. Additionally, arguments that the new rule favors consumers rubs up against years of increasing demand for greater fuel economy and ignores the potential of creating upward pressure on gas prices. If the latter is true, then the new rule could ultimately hasten the date when EVs reach price parity with conventional vehicles. Bloomberg New Energy Finance expects large EVs in the European Union to reach price parity with gas-powered vehicles by 2022, four years sooner than they predicted in 2018 due to several factors including falling battery costs. Outside of arguments about cost savings, the administration itself estimated that the rule will lead to more respiratory illness and premature deaths as a result of increased air pollution; an estimate that comes at a time when the nation is grappling with a deadly respiratory virus pandemic.
New rule or not, ongoing regulatory uncertainty is expected to create headaches for automakers as states continue fighting for the right to establish their own regulations. California leads this effort and is likely to take a growing number of ZEV states with them. In November 2019, the state dramatically announced it would stop buying GM, Toyota, and Fiat-Chrysler vehicles for state fleets as these automakers have remained more sympathetic with the Trump administration's efforts to strip California's authority to set its own rules. The Golden State is moving ahead on its own terms, pursuing voluntary emissions agreements with Volvo who would join Ford, BMW, Volkswagen, and Honda in alignment with the state's efforts to maintain the Obama-era standards.
While California-led lawsuits to uphold the right to set independent emissions standards crawl through the legal system, the auto industry is bracing for impact as facilities remain shuttered in response to COVID-19. We continue to await the reporting of first quarter U.S. EV sales from a majority of automakers as global numbers begin to roll in. InsideEVs, the source for the U.S. EV sales data in the National EV Sales Dashboard, reported that Global EV sales for February were up 16 percent compared to 2019 with roughly 116,000 vehicles sold. The European market led this growth as sales in China plummeted due to coronavirus shutdowns. Chinese EV sales were down 65 percent compared to 2019 while the overall auto industry saw a decline of 82 percent. U.S. EV sales were not reported for February as automakers have cut back on monthly reporting. Global EV sales in January were down seven percent from 2019.
Early results are mixed at the automaker level and the overall state of the U.S. EV market remains unclear. Tesla still saw a strong first quarter despite production freezes in China and then North America, posting 88,400 global vehicle deliveries. This represents a 40 percent increase over the first quarter of 2019 for the leading EV automaker. Numbers were less rosy for BMW, which is reporting a 94 percent drop in U.S. i3 sales in the first quarter. Quarterly U.S sales for the Nissan Leaf were also down, coming in at 27 percent lower than 2019. Sales for Audi's e-tron dipped by 14 percent while demand continues to increase for Porsche's Taycan. We will continue to report sales data as it is received and will adapt to limited datasets in our upcoming review of the first quarter in late April.
About the author: Conner Smith