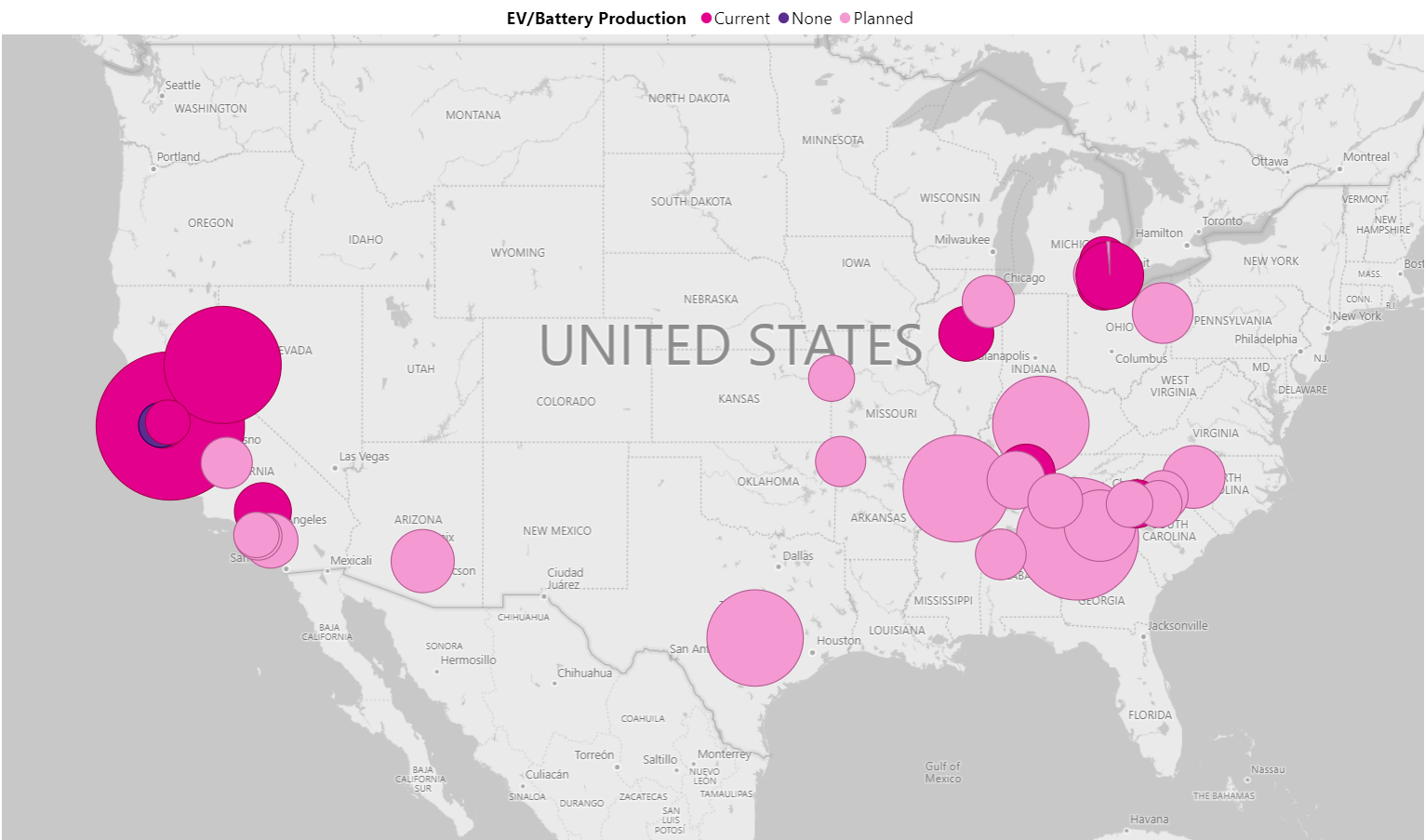 It is a good time to be moving into clean energy. The Department of Energy announced last week that there would be 1,000 job openings to join the Clean Energy Corps. With large investments pouring into transportation electrification not just from the federal government but also from state governments (Governor Newsom of California released his budget last week that was stacked with EV initiatives), there will be significant EV employment flow on effects.
Take EV manufacturing. There are 67,311 EV manufacturing jobs that have been announced per the EV Hub Automakers Dashboard. Many of these jobs (63 percent) are "Planned" jobs and so will not be realized for some time as the automakers build out EV factories around the country. A note on the data, we track jobs that are publicly announced alongside EV investments. If automakers do not publicly announce job figures, or do not distinguish between EV jobs and conventional jobs, then they will not be captured in our data. For instance, two states – Virginia and Oklahoma – have both announced EV investments however the EV job implications have not yet been announced.
California leads all states with jobs created however Georgia, Tennessee, Texas and Nevada are all close behind. Note that Michigan is outside the top five states – notable given that it is home to the Detroit Three.
When we zoom in, there are some significant clusters for EV jobs. The Southeast is a major hub for EV employment along with the California/Nevada cluster and then, to a lesser extent, the Midwest and Texas. In fact, the Southeast (Alabama, Georgia, North Carolina, South Carolina and Tennessee) makes up 35% of publicly announced jobs in EV manufacturing. We wrote about the strength of EV manufacturing in the region in the Transportation Electrification in the Southeast 2021 report.
What for Fremont, the Tesla hub in California? In 2021, Tesla announced a relocation of its headquarters to Austin, Texas. Elon Musk has indicated that the Gigafactory based in Austin, Texas will create 20,000 direct jobs eventually. Will those jobs in California also shift over to Texas? At this point, it does not appear so. In fact, Tesla appears to be expanding its operations in California.
About the author: Tom Taylor