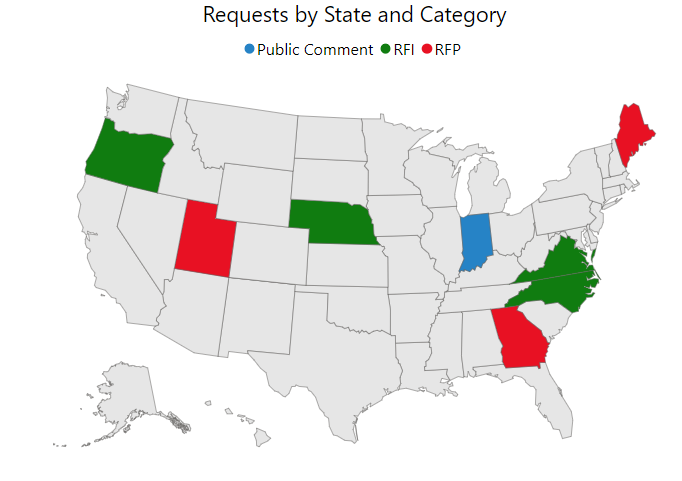 Funding through the National Electric Vehicle Infrastructure (NEVI) program is taking shape, and throughout this year, we've been keeping a close eye on how states are preparing to put chargers in the ground.
But first, the Federal Highway Administration (FHWA) recently released new information regarding the next year of NEVI funding. Per the latest guidance, states must submit their plan update no later than August 1st, 2023, including a section on updates from last year's plan. The FHWA also released an updated state NEVI plan template, and strongly encourages states to use this template to develop their plans. Moreover, the FHWA released a Q&A for the NEVI program. The FAQ answers a suite of helpful questions relating to the program, including questions relating to Justice40 and contracting for EV chargers.
With our NEVI Dashboard, we have been tracking state agency requests that relate to NEVI charging deployment, including Requests for Information (RFI), Requests for Proposals (RFP), and public comment requests. See below for the current list of active requests in order of due date.
Virginia: Virginia Round 7 Alternative Fuel Corridor Request For Nominations – Due Date: Today
The Virginia Department of Transportation is seeking input from local and state partners, regional transportation agencies, MPOs, planning districts, Virginia residents, and other stakeholders on Round 7 AFC nominations.
Indiana: Draft Request for Proposals for Indiana NEVI-funded EV Charging Station Deployments – Due Date: 6/17/2023
The Indiana draft RFP is available now through June 17 for review and comment by the public and EV charging industry. Email nevi@indot.in.gov to submit your comments.
Maine: Efficiency Maine Trust Request for Proposals (RFP) for DC Fast Charging Stations – Maine Phase 5 – Due Date: 6/22/2023
The Efficiency Maine Trust (the Trust) seeks qualified bidders to install and operate DC Fast Chargers (DCFC) for electric vehicles (EVs) along select "Alternative Fuel Corridors" in Maine through the NEVI program. The target areas particular to this RFP are located on certain segments of US Route 1 and Interstate 95 consistent with the Maine Plan for EV Infrastructure Deployment.
Nebraska: Nebraska National Electric Vehicle Infrastructure (NEVI) Request for Information – Due Date: 6/30/2023
The Nebraska Department of Transportation (NDOT) has released a Request for Information (RFI) to solicit feedback from potential applicants for its NEVI grant program.
North Carolina: North Carolina NEVI Networking Database – Due Date: 6/30/2023
The North Carolina Department of Transportation (NCDOT) anticipates entities that are interested in deploying EV Supply Equipment (EVSE) under the NEVI program will form teams potentially consisting of: Site Developers, EVSE Providers, and Site Hosts. To help these entities prepare to respond to the procurement process, NCDOT is facilitating two networking opportunities: an online database and a networking event.
Georgia: Georgia Electric Vehicle Infrastructure Program RFP Round 1 – Due Date: 7/6/2023
GDOT is seeking developers experienced in undertaking electric vehicle charging infrastructure projects, for the first round of the Georgia Electric Vehicle Infrastructure (GEVI) Deployment Program (GEVI Round 1). GDOT intends to solicit responses from interested firms to design, install, finance, operate, and maintain electric vehicle charging infrastructure in alignment with the NEVI Program.
Oregon: Oregon DOT NEVI Request for Qualifications – Due Date: 7/6/2023
ODOT is seeking statements of qualifications from vendors for EV charging infrastructure work on the Year One NEVI projects. ODOT will evaluate each proposal and select vendors for an "approved vendor list" for EV charging infrastructure work with ODOT. Approval is a prerequisite for step 2: vendors must be approved before they bid on the Year One NEVI request for proposals.
Utah: DRAFT Utah National Electric Vehicle Infrastructure Funding Program Request for Application Phase 1 – Due Date: N/A
The current draft of UDOT National Electric Vehicle Infrastructure Funding Program Request for Application- Phase 1 is currently available.
Be sure to check back in with NEVI dashboard to stay on top of all requests. Have we missed any current requests? Get in touch by sending a message to info@atlasevhub.com
About the author: Moe Khatib