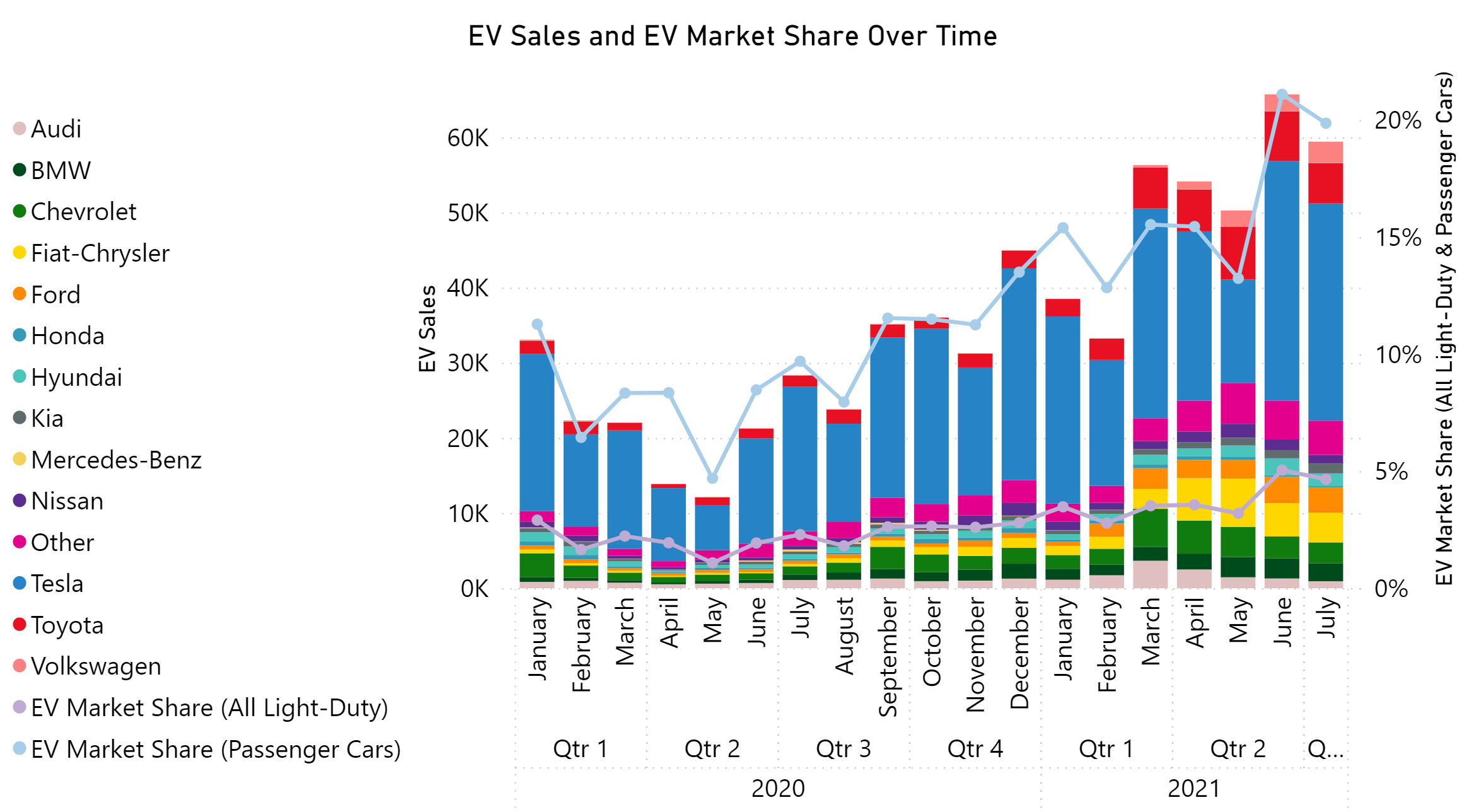 New sales data are in. July 2021 was the second highest month on record behind a bumper month in June. More than 59,000 electric vehicles were sold across the country.
July 2021 nearly doubled the previous high for July. Tesla captured 49 percent of the EV market share with sales of the Model 3 and Model Y making up almost all of the company's sales.
Texas (selling 3,382 EVs) had its biggest month on record and was second in EV sales among all states behind California. California made up 41 percent of national EV sales.
Before we get too far into the weeds, a word or two on counting. Atlas reports two EV measures as a proportion of the overall new vehicle sales:
1. EVs made up 20 percent of all passenger car sales and
2. EVs made up 4.7 percent of all light duty vehicles.
At a glance, these two numbers appear to measure the same thing, but they refer to quite different markets. Passenger cars refers specifically to vehicle types such as sedans and coupes, while light duty vehicles includes passenger cars as well as other light-duty vehicles such as pickups, minivans, utility vans or SUVs. Most EV sales are passenger cars, but passenger cars only make up a proportion of light duty vehicle sales (though this proportion is increasing with new EV crossover SUVs coming to market).
Another way to put it is that EVs make up a good chunk of passenger car sales (20 percent), but passenger cars are just one slice of the light duty vehicle pie.
So what should we expect next for EV sales?
I'm not wise or foolish enough to make a prediction on where EV sales will head; instead it is worth noting something to watch. When we look at vehicle sales data broadly, one thing stands out: Americans love a pickup. According to Edmunds, the top three best-selling vehicles on the road are all pickup trucks – Ford F-Series, Chevrolet Silverado and the Dodge Ram. There is no electric alternative available for purchase for any of these three vehicles – indeed there is only one electric pick up model in production. The Rivian electric pickup is just hitting the streets around the country after the first production vehicle rolled off the line on September 14th.
Over the coming months, we anticipate the entry of other electric models of existing, popular pickup trucks which may impact EV sales numbers. We expect to see Tesla enter the market with the Tesla Cybertruck and anticipate the release of the GMC Hummer EV SUT. We also aren't too far off the release of Ford's F-150 Lightning – the electric version of the most popular vehicle in the country. We will need to wait and see how the entry of these new, more popular vehicle types will reshape the market.
Last but not least an important note on the data as raised by this Twitter user. This data refers only to new vehicle sales. Used vehicle sales are a different market altogether.
About the author: Tom Taylor