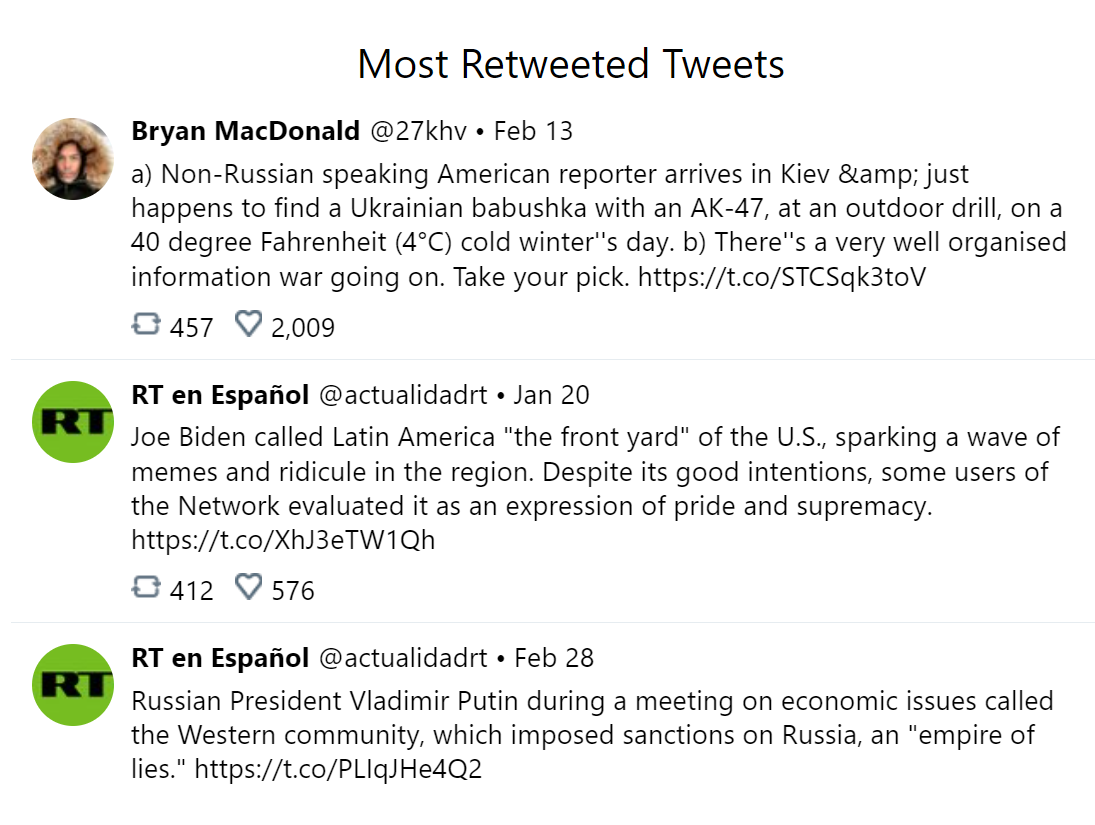 This week, we take a pause from EV content to talk about Ukraine. The Russian invasion has led to enormous death and destruction in Ukraine. With ongoing media coverage, global attention, and criticism from the U.S. President in his State of the Union address, the role of social media has become increasingly important. It is crucial to track messaging from Russia and other key players to understand how they are framing and justifying the invasion and how that justification is changing.
Atlas, in partnership with the Alliance for Securing Democracy (ASD), released the War in Ukraine Dashboard last week. This Dashboard tracks Russian government and state backed tweets, videos and articles that mention the war.
Analysts from ASD identified key terms – see here – to track across platforms. These key terms change over time. Analysts have also identified narrative trends to track the reporting and storytelling of this war over time. For instance, you can see the tweets by day on "Russian Victimization" to see how that narrative was escalated over the past few weeks.
The Dashboard was refined from the Hamilton Dashboard and allows for users to explore Chinese and Iranian tweets linked to the invasion of Ukraine. The dashboard also uses the same global media outlets from Hamilton to let users compare how stories are being told by global media outlets.
As you filter on this dashboard, you can see not just the trends but also narrow down the content. That way, you can do a more qualitative analysis of the ways in which messaging about the invasion is being actively framed and spread across social media platforms.
The Alliance for Securing Democracy has produced a bunch of interesting insights about narratives and the invasion. Here is some analysis on the week leading up to the invasion on February 24. The analysis reveals the ways in which Russian media relied on talking points about Ukraine developing nuclear weapons and about Ukraine seeking to take back the Donbass region. All the while, as seen in the Dashboard, Russian media talks about an alleged genocide in eastern Ukraine. ASD has also produced this helpful timeline on the way narratives have shifted over time.
About the author: Tom Taylor