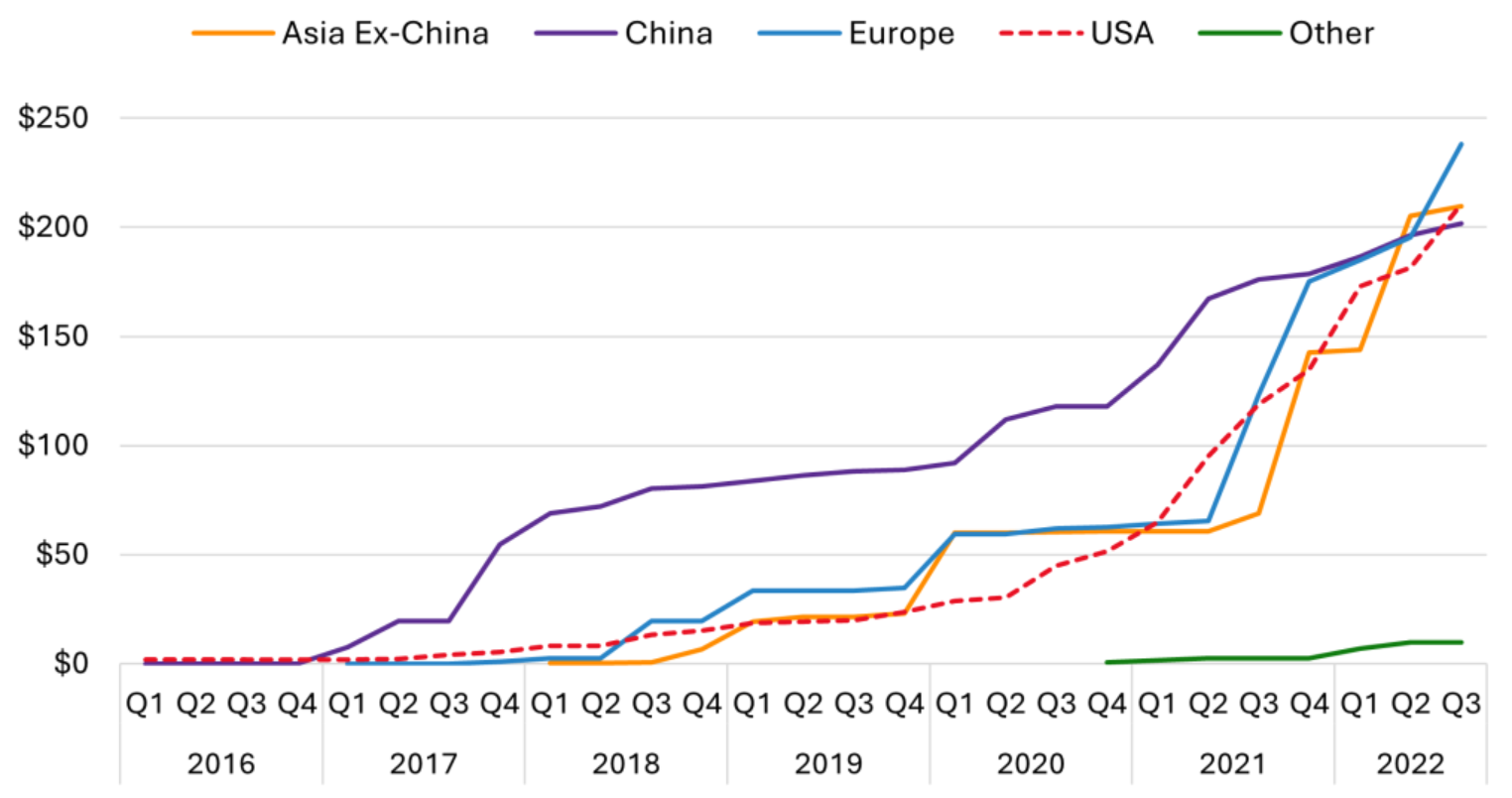 Last week, Atlas Public Policy analysts Spencer Burget, Noah Gabriel, and Nicole Lepre partnered with the Natural Resources Defense Council to publish a new data story that details the announced electric vehicle (EV) and battery manufacturing investments in the United States, Asia, Europe, and the rest of the world. In this most recent analysis, Atlas researchers scraped press releases, company earnings reports, and other public resources to tally up EV investments from the private sector and track where those investments are expected to take place.
Here are three takeaways from the data story:
Electric vehicle and battery manufacturers have announced plans to invest $860 billion by 2030 in the transition to EVs as of Q3 2022. Of these plans, $210 billion is expected to be invested in the United States, more than in any other country. For the first time, the U.S. has surpassed China in announced EV and battery manufacturing investments, proving global leadership in the EV and battery production industry. Europe based companies still lead with a total of $238 billion announced, followed by companies based in Asia (excluding China) and China with $210 and $199 billion announced, respectively. Additionally, companies that are headquartered in the U.S. account for 72 percent of total announced investment for the U.S. Globally, U.S. based companies have announced that they will invest more than $173 billion in the transition to EVs with Ford, GM, Tesla, and Stellantis leading the way.
Approximately half of the investment commitments in the U.S. have been allocated for specific EV and EV battery manufacturing facilities. Automakers and battery makers have announced plans to invest a total of $54 billion across 37 dedicated EV battery manufacturing facilities throughout the country, from Statevolt's Imperial Valley Gigafactory in California to Ascend Element's Apex 1 facility in Georgia and Imperium's Huron Campus in New York. The Atlas researchers found that domestic investment in specific EV and EV battery production facilities has drastically increased from just $12 billion at the start of 2020 to more than $100 billion by Q3 of 2022. Atlas assumes that unspecified investments are allocated to the investor's home country.
Federal policies such as the Inflation Reduction Act (IRA) and the Infrastructure Investment and Jobs Act (IIJA), together with strong vehicle emission standards, will increase market certainty in the U.S. and help "lock-in" these private investments domestically. IRA and IIJA offer at least $83 billion in funding in the form of loans, grants, and tax credits that will go towards the production of low or zero-emission vehicles or batteries, including $8.1 billion of grants and $25 billion of loans designated specifically for manufacturing. IRA offers billions in tax credits for domestic EV and battery manufacturing facilities. With these federal funding pots, we are currently seeing and can continue to expect an upward trend of domestic investment by the private sector in EV and battery production.
Together, these transformative policies represent a total of $245 billion in potential public support for EVs and $210 billion in private sector investment for the United States. With this major policy support and private sector investment, the U.S. is poised to become a leader in the EV transition.
In addition to this research, Atlas regularly tracks both domestic and global investment in EV and battery manufacturing with our Automakers and Global Private Investment dashboards.
About the author: Moe Khatib