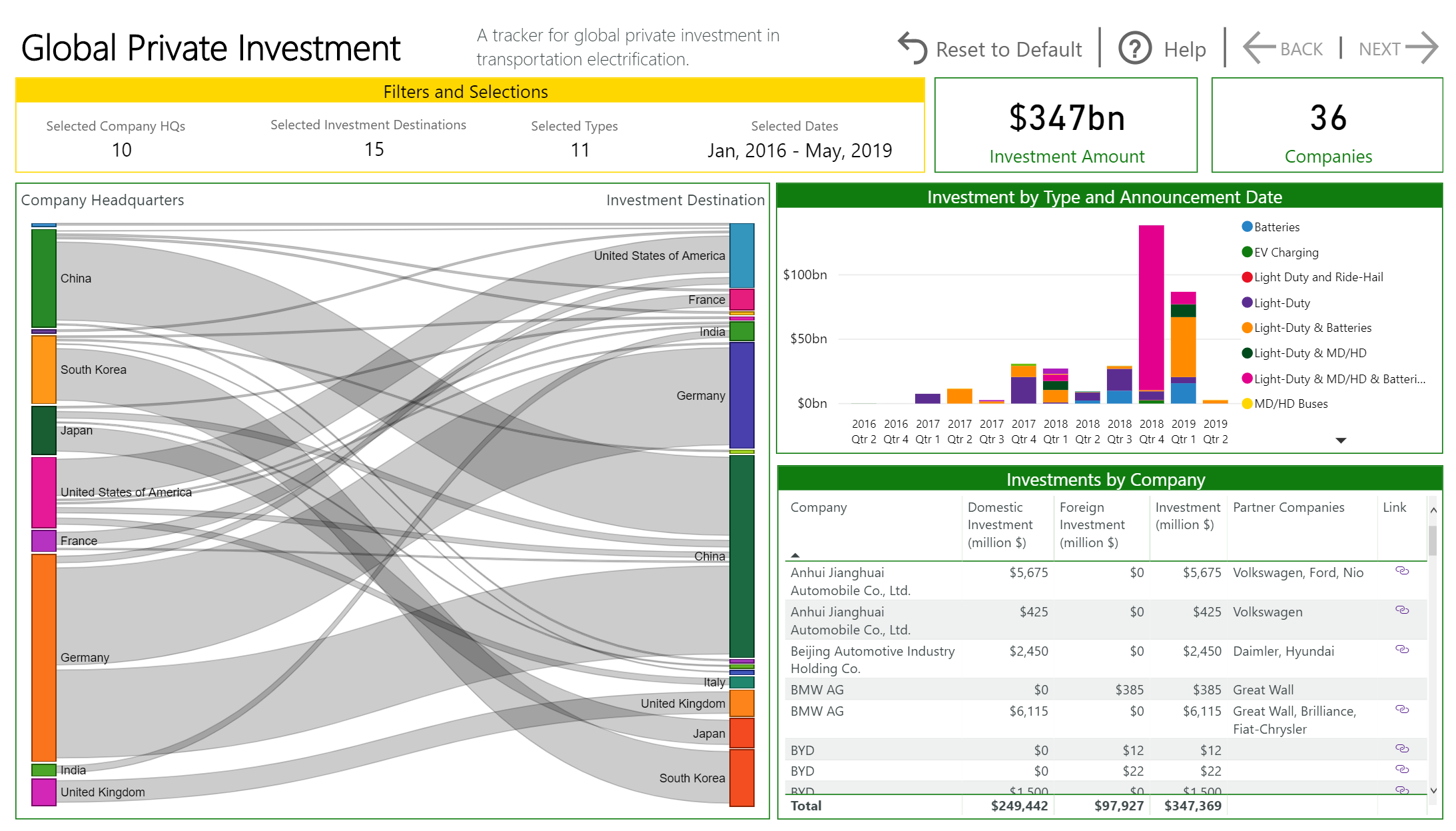 At the beginning of 2019, Reuters estimated that automakers had invested more than $300 billion in electrification. The EV Hub is now tracking this information, and our new Global Private Investment Dashboard has recorded almost $350 billion in total EV investment across the globe. This data confirms China's dominance in the market with almost 40 percent of investments recorded from all companies targeted for China. German and Chinese companies are the leading EV investors, committing to almost $200 billion to transportation electrification. U.S. companies have only committed $34 billion to EV development so far and the United States is poised to receive only $35 billion – roughly 10 percent of the committed worldwide investment.
EV investment is accelerating globally, but most will fall outside the U.S. market. New reports from Bloomberg New Energy Finance (BNEF) indicate that EVs could account for 57 percent of all passenger car sales by 2040. China currently accounts for more than half of global sales and its dominance in the growing EV market is expected to continue for decades. Europe will likely follow behind China, leaving the United States behind as EV production and sales increase steadily worldwide.
Highest EV Investments by Manufacturer
| | |
| --- | --- |
| Manufacturer | Total Investment |
| Volkswagen | $93.7 billion |
| Daimler | $43 billion |
| Hyundai | $40 billion |
| Tata | $17.9 billion |
| Toyota | $15.1 billion |
| Total | $210 billion |
None of the top five automakers investing in EVs are headquartered in the United States. These automakers account for more than 60 percent of all investment in the sector. The larger investments from Daimler and Volkswagen include dedicated funding for medium- and heavy-duty EVs as well. Overall, funding announcements totaling $168 billion across 15 companies include some investment in electric trucks or buses. So far, the dashboard includes $9 billion in specific commitments to electric trucks and buses across 10 companies.
Despite lower investment in medium- and heavy-duty vehicles as compared to light-duty vehicles, BNEF expects electric bus adoption to outpace passenger EVs. China is expected to continue leading the charge in the bus market, already accounting for more than 90 percent of the world's electric buses. With declining costs as the technology advances, electric buses could account for 67 percent of the worldwide feet by 2040 compared to just 30 percent for passenger EVs. Medium- and heavy-duty trucks are expected to account for 18 and 11 percent of global commercial fleets by 2040 respectively, according to BNEF. 
While recent investment announcements from Ford and GM are significant, the Global Private Investment Dashboard shows how the rest of the world is moving ahead at a faster pace. It is also not guaranteed that all of the money companies like Ford plan to invest will end up in the United States, and it is likely that some of it will land in China. Compiling the best available data, we'll continue to add more investments as we're made aware of them. As is the case with other dashboards, the comprehensiveness of this resource relies on input from EV Hub users to fill in gaps and build the dataset. Let us know what you think of this tool and let us know if we are missing anything!
About the author: Conner Smith