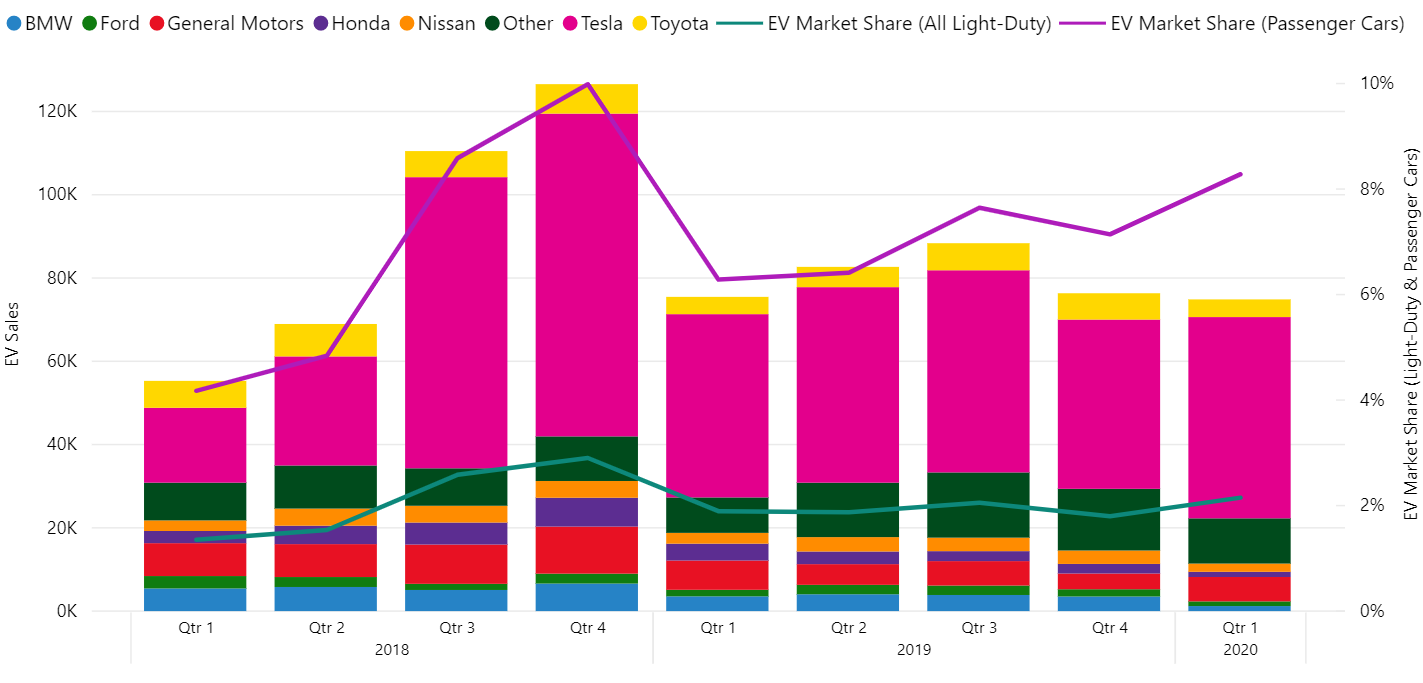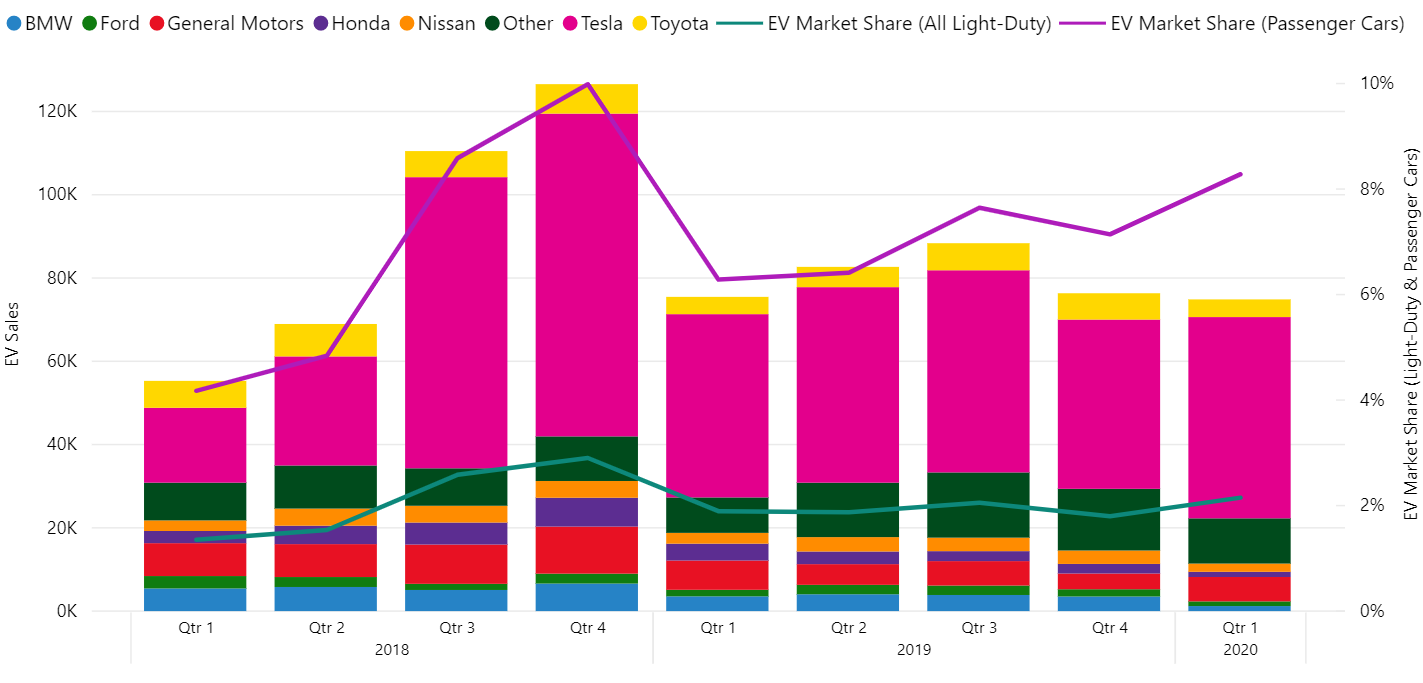 The U.S. EV market held steady through the first quarter despite plummeting gas prices and passenger vehicle demand as the COVID-19 pandemic spread. The U.S. EV sector saw a total sales decline of 0.8 percent compared to the first quarter of 2019 with almost 75,000 vehicles sold. February brought a 24 percent increase while sales were down five percent in January and 14 percent in March.
Automakers stopped reporting U.S. EV sales data earlier this year and as of January 2020, InsideEVs (our previous source for the National EV Sales Dashboard) was no longer able to update EV sales figures by make and model. We have gained new access to data from IHS Markit courtesy of the Energy Foundation, and the data shows that that EVs fared better than gas vehicles in the first quarter. While EV sales remained almost flat, the U.S. auto industry overall experienced a 12 percent decline in the first quarter.
Tesla is to thank for 65 percent of the total quarterly U.S. EV sales. In the California market, the Model 3 outsold every other vehicle across all market segments including SUVs and trucks. This market dominance comes as Tesla lost the federal tax credit at the end of 2019. Outside of the Tesla sphere, the Chevy Bolt had a particularly good first quarter with a sales increase of 35 percent over 2019. Other leading models did not fare as well with Nissan Leaf sales down 24 percent and sales for the Toyota Prius Prime remaining flat. The Hyundai Kona EV, which was introduced in only a handful of states last year, saw sales more than double compared to the first quarter of 2019. In the luxury market, BMW i3 and Jaguar I-Pace sales fell by 76 and 15 percent respectively.
The performance of the EV sector in the second quarter will be telling as some outlets have pointed towards April as a particularly bad month for the auto market. Bloomberg New Energy Finance's 2020 EV Outlook predicts the global auto market will face a 23 percent decline with EV sales also expected to drop. Based on what we know, it is clear the impacts of the pandemic will not be felt equally—some markets will outperform others. Europe, for example, reported an 87 percent increase in first quarter EV sales as conventional vehicle sales fell by 26 percent. Europe's EV sector is supported by recent commitments to clean energy and transportation in the continent's pandemic recovery plan that could move the EU towards carbon neutrality by 2050.
For their part, several European automakers including both Volkswagen and Daimler have echoed these pledges to slash emissions with carbon neutrality pledges for both manufacturing operations and vehicle sales. While Volkswagen plans to follow the EU's pace in achieving carbon neutrality, Daimler is looking to accelerate their own timeline by a decade with their Ambition 2039 plan announced last month. Daimler's plan includes a commitment to ensure EVs make up more than 50 percent of global sales by 2030. We will be consolidating automaker commitments to electrification as well as a range of other data in a new dashboard that we are working on with Natural Resources Defense Council. Expect to see that dashboard soon!
About the author: Conner Smith