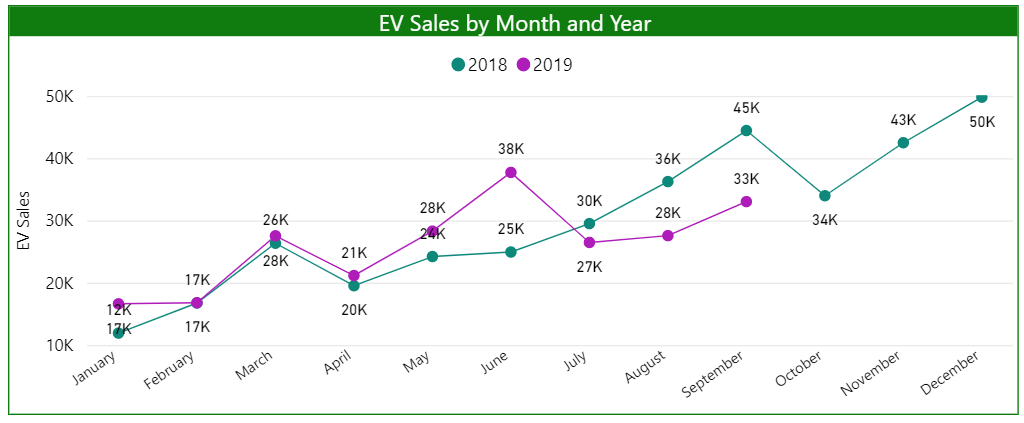 Total U.S. EV sales for 2019 are 0.5 percent higher than sales through the third quarter of 2018. Some months this year have brought encouraging sales numbers, but it has all been downhill since June for the U.S. EV market. While September brought U.S. EV sales closer to the peak reached in June, the market has lost more ground than it has gained. EV sales have declined for three months in a row compared to sales from a year ago; EV sales fell 10 percent in July and 24 percent in August. Despite a monthly sales increase from 26,570 vehicles in July to 33,128 vehicles in September, EV sales for September are still almost 26 percent lower compared to 2018. The September numbers rounded out a weak third quarter, resulting in a 21 percent decline in U.S. EV sales compared to the third quarter in 2018.
The Tesla Model 3 continues to lead the market with 44,000 vehicles sold in the third quarter, more than half of the total sales for the quarter. Despite its continued dominance, even the Model 3 saw a dip in third quarter performance with sales figures down almost 19 percent compared to last year. Beyond Tesla, the only vehicles with more than 1,000 monthly units sold for the majority of 2019 are the Toyota Prius Prime, Chevrolet Bolt, and Nissan Leaf. The Prius Prime was the second-highest selling EV in the third quarter at 7,100 vehicles sold.
A vast sea of makes and models sits well outside of the top four picture. Vehicles like the Hyundai Kona that received considerable fanfare early in the year have yet to make a significant impact on the market. This is likely due to limited production throughout the year resulting in the Kona EV being among the ten least available EVs on the market with only 13 states offering it. In the luxury segment, newly introduced "Tesla killers" including the Jaguar I-Pace and Audi e-tron have yet to come close to the Model X's average of 1,500 monthly vehicle sales through the third quarter.
Tesla saw yet another wave of tax credit phase-outs at the beginning of July, which, along with other market forces, likely contributed to declining sales. While there are many reasons behind shifting Tesla sales, including a focus on international markets for a significant portion of the year, U.S. sales across all Tesla models plummeted between July and August with a 40 percent, 55 percent, and 44 percent sales decline for the Model 3, Model X, and Model S, respectively. Despite this drop, Tesla reported another record-breaking quarter for global vehicle deliveries with more than 97,000 vehicles delivered.
The EV market has significant ground to cover if it is to emerge from this slump. The fourth quarter of 2018 was the strongest quarter for EV sales on record with almost 120 percent growth over the final quarter in 2017 and average monthly vehicle sales above 42,000. A huge portion of the end-of-year growth in 2018 was attributable to the ramping up of Model 3 production, and no new, game-changing vehicles are expected to enter the market for the remainder of this year. Automakers continue to look for policy levers to advance their EV investment strategies and appear determined to work with EV market leaders like California to accelerate the push for electrification. 
About the author: Conner Smith