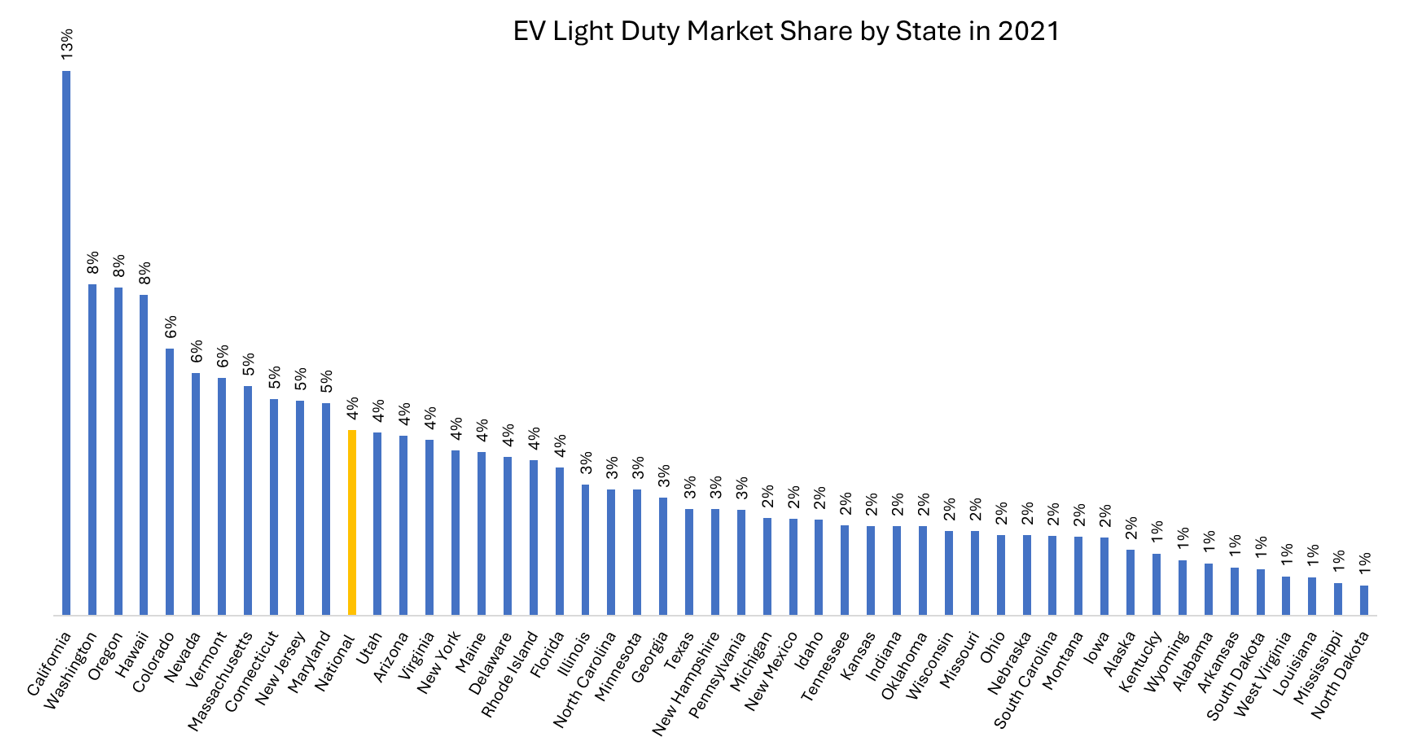 Love the Olympics but bored of all that snow and ice? I've got the race for you.
I present: the 2021 EV state race. The criteria are these – states race for the highest proportion of EV sales relative to all light duty sales in 2021.
In 2021, it was a west coast sweep. The heavy favorite, California, took the gold with EVs accounting for one out of every eight light-duty vehicles sold in 2021. Washington state took the silver, and Oregon snatched the bronze with Hawaii a close fourth.
Any unexpected placings? Michigan, the automaker state, is well down the list. Tennessee and Kentucky likewise are in the bottom half even though EVs are bringing in a lot of big investment. It will be interesting to see how those two states shift over the years to come. New York is perhaps lower down the list than one may expect, slightly trailing the national average.
The big growth story in 2021 was Oklahoma. The state saw by far the highest growth in EV market share, from 0.2 percent in 2020 to 2.1 percent in 2021. Much of this growth took place in Q4. It is not really clear what is happening there, so if you have any ideas, get in touch!
Nationwide, it was a banner year for EVs. In 2019, EVs had 1.9 percent of market share. In 2020, it was 2.2 percent. In 2021, it was 4.4 percent. That is, EV market share nearly doubled over the past 12 months. Of that 4.4 percent, 1.2 percent was from plug in hybrid and the rest was battery-electric vehicles.
The fourth quarter of 2021 marked the largest quarter to date, capping off a year that saw each quarter set a record for their respective quarters. The record in Q4 is in part explained by the month of December, which saw the highest EV sales in any month to date at more than 71,000 vehicles (December regularly takes the record for EV sales which may be explained by year-end inventory clearances and holiday gifts). In Q4, EVs made-up six percent of all light duty vehicle sales.
Tesla continued to dominate the market in 2021 with 52 percent market share for the year. After a Q2 slump with just 40 percent market share, Tesla finished the year strong capturing 53 and 59 percent of EV sales in Q3 and Q4 respectively. The question remains as to how highly anticipated new models from competitors will impact Tesla's market share in 2022.
Honda and Tata both had a tough year with year over year drops in their EV outputs. Likewise, GM also had a tumultuous year in sales and fell from its spot as second highest selling automaker in 2020 to ninth in 2021. Mercedes-Benz also saw a drop however the starting point was lower in their case.
One last big story from the year was the resurgence of plug-in hybrid vehicles. After capturing just 21 percent of sales in 2020, plug-in hybrids accounted for one out of every four EVs sold in 2022, including more than half of non-Tesla sales. Strong sales of new plug-in models like the Toyota RAV4 Prime and Jeep 4xe propelled Toyota and Stellantis to the number two and number three spot in EV sales, respectively (behind Tesla).
About the author: Tom Taylor