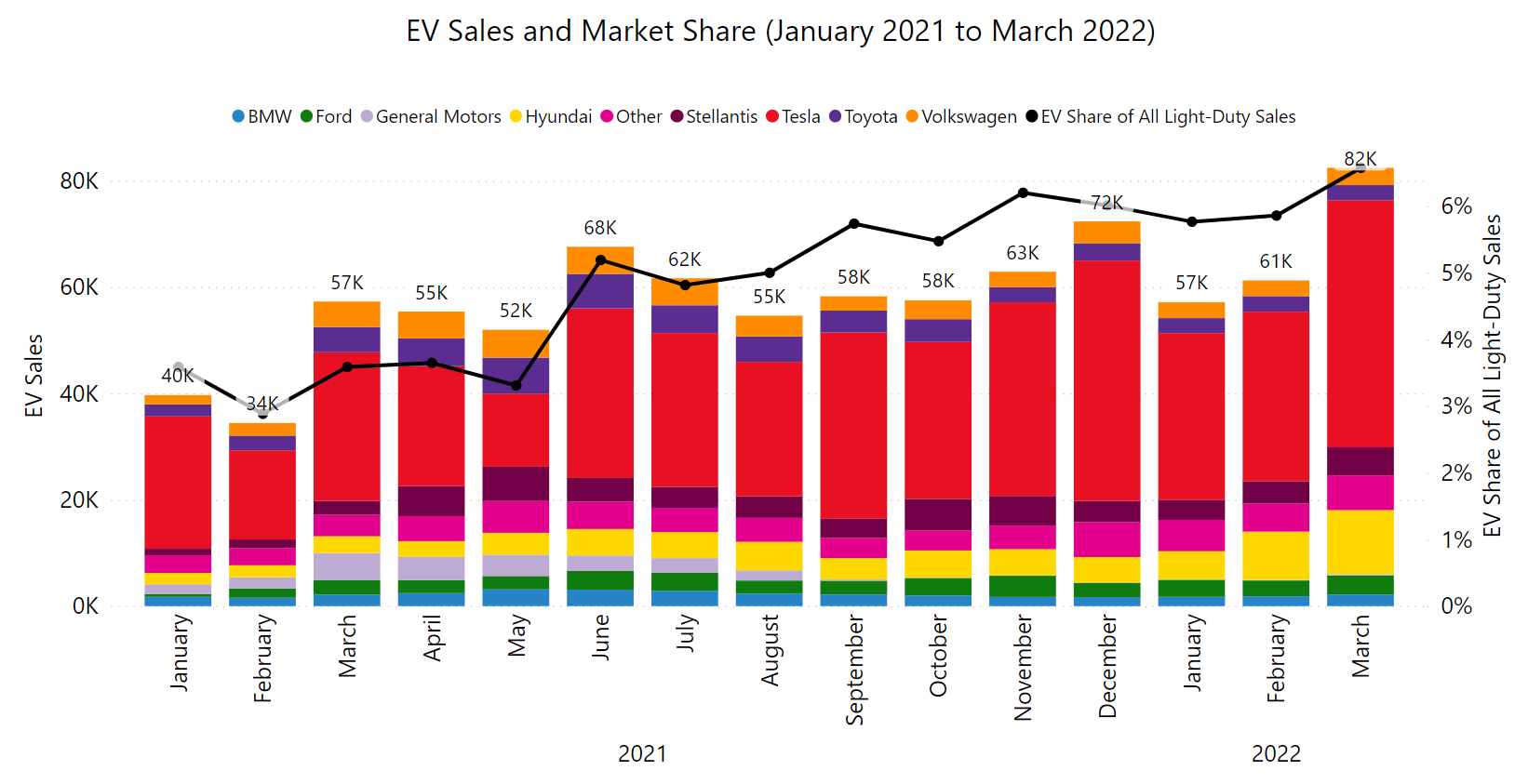 I had a story in my back pocket ready to go and then March sales data dropped last week and I couldn't help myself. Let's start with the caveat that it is unhealthy to focus too much on a single month but luckily this month of data now completes Q1 2022 and so we can talk about a bit more of a trend.
In March 2022, more than 82,000 EVs were sold – the highest for any month by 10,000 sales. This is a remarkable monthly haul. EVs made up nearly 7 percent of all new sales (compared with 3.6 percent in March 2021). Again, remarkable growth in market share for EVs.
Tesla refuses to release its grip on the EV market. It had 56 percent of all new sales in March 2022 and is led by the Model 3 and the Model Y. For reference, these two models both separately outsold any other automaker in Q1 2022.
But there's another story in this data. Hyundai again sets record sales and now holds first and second place for any month for any company not called Tesla (February and March 2022).
What is driving Hyundai's moment? Let's look at Q1 data – and as a reminder, Hyundai Motor Company includes both Kia and Hyundai brands. Hyundai was led by three strong battery electric vehicle models, Kia Niro (more than 7,000), IONIQ 5 (more than 6,000) and the Kia EV6 (nearly 5,000) and led the way for the company in Q1 2022. For reference, 12 months earlier in Q1 2021, the Kia Niro was just over 2,000 sales and the others were under 2,000. The Kia EV6 was not available at that time. Relatedly, on Friday, Hyundai announced details of a new factory that will commence operation in 2025. The factory will be built on the outskirts of Savannah, Georgia, and will create 8,100 jobs to build EVs and batteries.
When we drill down into the data for Q1 2022, we see the story is even more compelling for some states. California had 18 percent market share for EVs, DC had 14 percent and Washington and Oregon had 10 percent. Colorado was next with nine percent and Nevada and Hawaii rounded out the top batch with eight percent. To give you a sense of the range of the data, Louisiana, Mississippi, West Virginia and North Dakota all hovered around one percent for EV market share in Q1 2022.
The sales reflect a broader normalization of (or warming up to perhaps) electric vehicles. See this summary of EV search results over the past five years. You will notice that the trend line heads up slowly and then more quickly since mid-2020. Then a large spike came in early March 2022, which has been reported by a number of outlets. In part it may be as a result of the increasing profile of EVs planting seeds in the minds of people (see Superbowl ads) but also is significantly driven by the price of gas as suggested in the article.
About the author: Tom Taylor