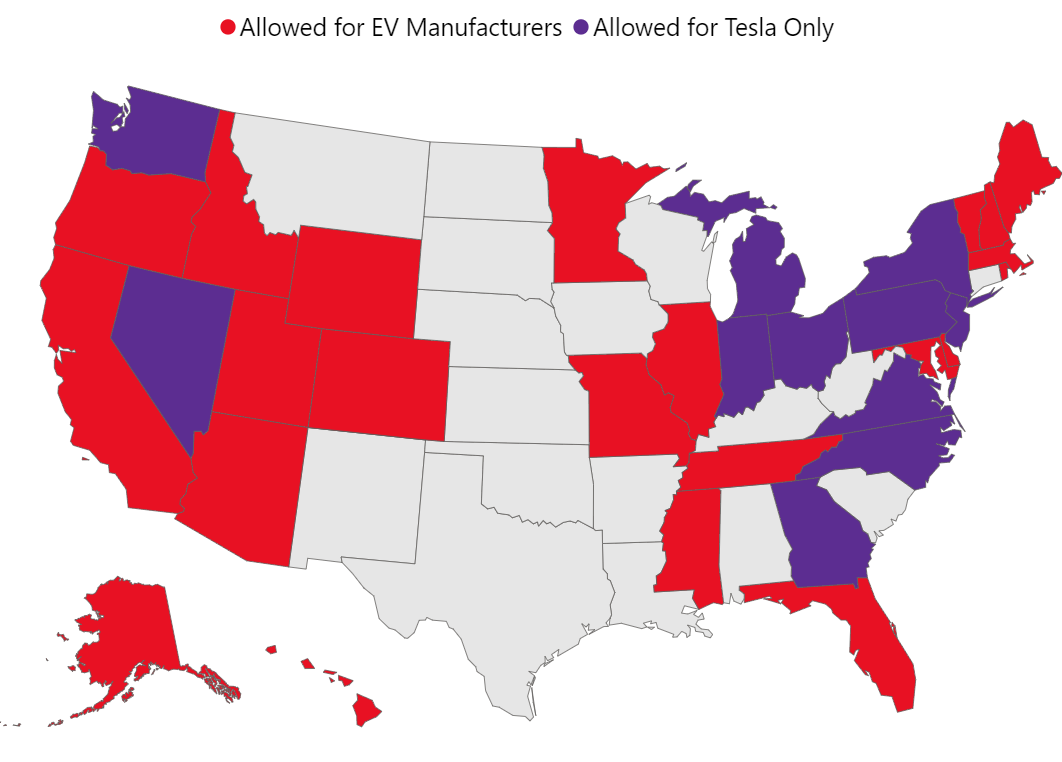 Tesla is headed to Austin, Texas. We touched on reasons for the move in the Digest last week.
There is, as always, a catch. Texas is one of 17 states where automakers cannot sell directly to consumers. Reporting by the New York Times describes the experience of buying a Tesla in the state, "Employees are not even allowed to discuss prices with prospective buyers and the showrooms cannot accept orders. Texans can buy Teslas online and pick the vehicles up at its service centers."
Efforts in 2013 and 2015 to pass direct sales legislation in Texas both failed. Earlier this year, a bill allowing direct sales was proposed again though appears to have stalled.
On EV Hub, State Policy Dashboard, we track three buckets of state policies for direct sales:
1. No direct sales allowed (17 states)
2. Tesla-only carve out – often carved out through litigation (11 states)
3. EV Manufacturers can sell directly to consumers (22 states)
There is technically a fourth. In New Mexico, Tesla and the Pueblo of Nambé this year entered an agreement to sell vehicles, skirting state laws barring direct sales (Nambe Pueblo is a sovereign tribal nation and so exempt from the state ban). A 2019 bill to allow Tesla to sell direct to consumers in the state went nowhere. This case shows Tesla's willingness to think laterally about getting their vehicles to the public. The new outlet also provides repair capacity for EV owners meaning that Tesla owners will no longer have to travel out of state to have their vehicle serviced.
We reported that in July, Texas was second in the country in EV sales. Would lifting the direct ban increase sales in the lone star state? The short answer is that we don't know but we do know that EV manufacturers are trying hard to repeal those laws.
Another area that is receiving increasing scrutiny is the Tesla-only carve out in 11 states. This carve out gives Tesla a head start against emerging EV automakers like Rivian or Lucid for instance. In New York, a Tesla carve out was passed in 2014, allowing just five Tesla dealerships in the state. This year, a bill to allow EV manufacturers to sell direct to the public was proposed but did not pass the legislature.
Lawmakers in Connecticut also attempted to pass laws making it easier for EV automakers to sell directly to consumers. Direct sales are currently banned in the state. A bill to allow direct sales for EV makers in Connecticut failed in June of this year – despite having support from the Governor. The bill has been proposed so many times that it was labelled an "annual tradition" in the Hartford Courant.
Colorado and Minnesota are the most recent states to have changed their laws. Colorado passed legislation in 2020 that allows EV-only manufacturers to sell directly in the state.
Efforts to change laws are often opposed by dealers who have argued that bans on direct sales protect local jobs and that loopholes could be exploited by auto manufacturers.
Will Tesla be able to disrupt the EV politics of the lone star state? We shall see.
About the author: Tom Taylor