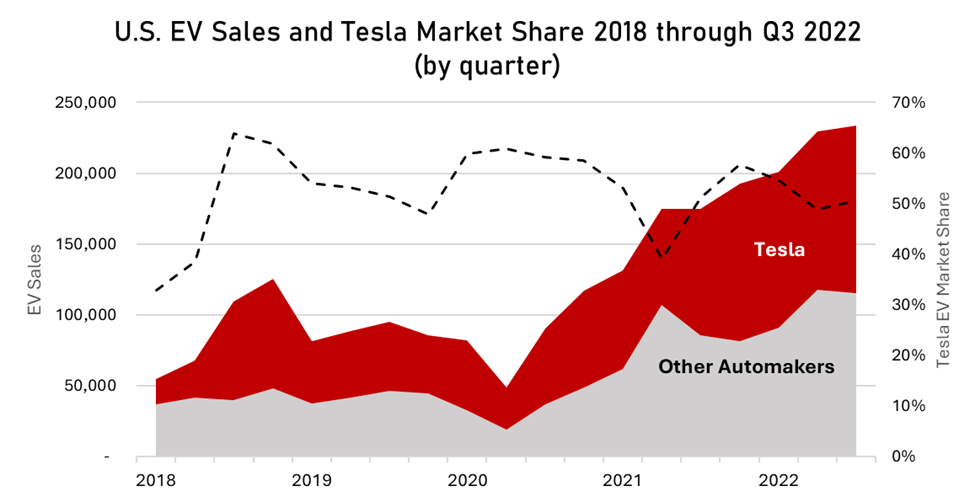 Last week, November 2022 sales data came in and so did some new automaker developments. EV sales had its third highest month in November, with nearly 86,000 EV sales and an 8.2 percent light-duty market share.
Of course, Tesla accounted for the highest share of those sales with approximately 39,000 units sold just for that month (or 3.8 percent of all new light-duty vehicle sales). In more recent news, however, Tesla CEO Elon Musk announced that the company had a record fourth-quarter profit of nearly $3.7 billion, which is a 59 percent increase from the previous year. Despite concerns over the company's popularity because of Musk's contentious Twitter politics and other up and coming market entrants, the automaker is still proving dominant in the EV market. More on the Tesla front, the company just last week announced a $3.6 billion dollar investment in a Nevada plant to manufacture its electric semi-truck this year, which has attracted a ton of buzz in the medium- and heavy-duty EV space.
While Tesla's grip on the EV market remains firm, other automakers like Hyundai have continued to grow. For the past few months, Hyundai sales have been steady after a substantial dip in sales between June and September of this year. In an earlier digest we wrote about Hyundai having its moment as the company had a hot streak at the beginning of the year. It's hard to say exactly what's causing this sudden downward trend for the company, but the Inflation Reduction Act's EV tax credit qualifications may further complicate the picture. This EV tax credit has spurred pushback from companies abroad including Hyundai.
Relatedly, Toyota has seen a dip in sales in 2022 too, and it appears that the company's sales will fall short of 2021 totals when we compare the numbers. Toyota's CEO Akio Toyoda has been publicly outspoken about not going all in with electric vehicles despite increasing pressure in the industry to do so. However, in a development last week, Toyoda is expected to step down and hand the reigns to "a new CEO tasked with bringing the company into the modern era."
Another prominent EV automaker that had a slower year was Volkswagen. We see in the data that 2022 EV sales are likely to match or fall short of its sales totals for 2021. On the other hand, BMW sales appear to be soaring in 2022. In November 2022, the automaker reported nearly 7,000 sales, a huge jump from November the year before, which reported just under 2,000 sales. The BMW i4 and x5 models continue to be popular and represent the majority of these sales.
Visit our Automakers Dashboard to learn more about EV sales.
About the author: Moe Khatib