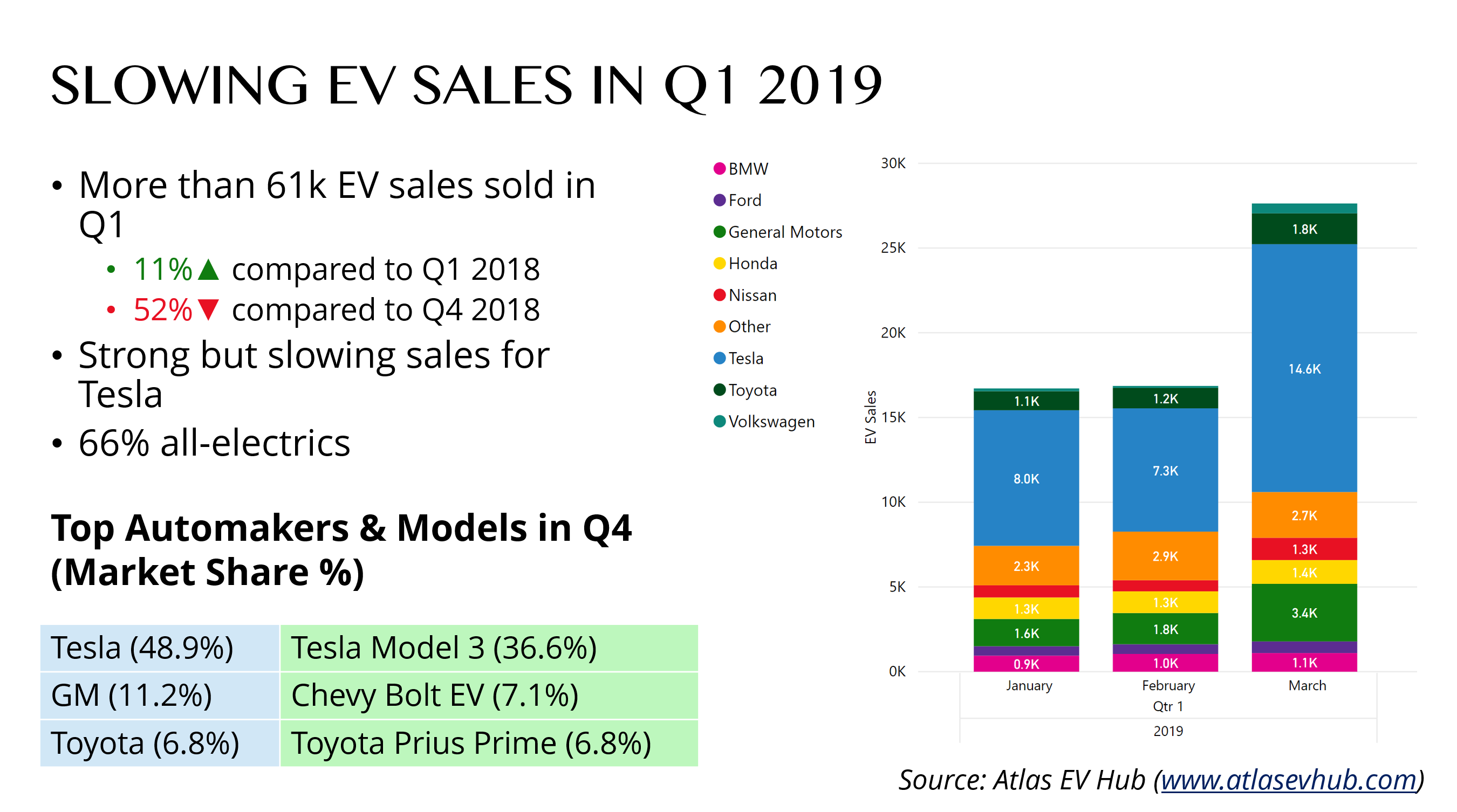 Slowing national EV sales and regulatory uncertainty have dominated the start of 2019. With the Trump administration advancing plans to weaken Obama-era emissions regulations, states like California are charting their own course and maintain tougher standards. As federal policy wavers, utilities continue to invest in expanding the charging network with more than $98 million of investment approved in the first quarter. States continue to push forward using Volkswagen Settlement funds with electric buses representing a majority of all 2019 funding awards. This funding feeds into a growing focus on medium- and heavy-duty electrification efforts reflected in media coverage. Investment from manufacturers across the EV market continues to surge forward despite low demand.
2019 market growth so far over the first quarter of 2018 was only 11 percent, down from 30 percent growth between the first quarters of 2017 and 2018. Some of this is likely attributed to slackening demand for Tesla coupled with their focus on international markets. All-electric vehicles have increased their lead over plug-in hybrids, accounting for 66 percent of the total market in the first quarter. Despite the stagnation of EVs at roughly 1.5 percent of the total U.S. light duty vehicle market, automakers are pouring money into the sector. Big announcements from Ford, GM, and others have dominated the news cycle in 2019.
Federal policy is not making it easier for EV manufacturers. Proposed regulatory reform would hold the 2020 standards in place and could lead to 800 million more tons of carbon emissions, according to an ICCT report published in April. The report tracked state and city commitments to clean transportation and concluded that states representing more than 60 percent of the national auto market support tougher standards.
While many states support tougher emissions standards, new or increased annual EV registration fees have been proposed in 20 states in 2019. Legislation implementing new fees has already been passed in Alabama, Arkansas, Ohio, and North Dakota, bringing the number of states with EV fees to 24. States argue that this is one way to ensure EV drivers contribute to road network funding, but some fear fees could deter potential EV buyers.
Despite this wave of fees, expanding public charging networks are increasing interest in driving electric. Electric utilities continue to play a significant role in charging infrastructure deployment. Programs valued at $96 million were approved in the first quarter. This will support the installation of more than 8,200 Level 2 and 1,200 DCFC public charging stations across six states. Investments worth $180 million were denied, indicating more utility engagement was denied than what was approved in first quarter. Several large programs are still pending, however, and a new $76 million program from Duke Energy was proposed in March. Utilities are also stepping up to support a growing fleet of electric buses, reflected in Hawaiian Electric's new reduced rated for off-peak charging for bus operators.
Electric bus adoption is on the rise across the country with ongoing cash infusions from state VW allocations. Of the $40 million in total VW awards in the first quarter, electric transit buses accounted for more than $22 million. Recently announced plans from Colorado that fall outside of the first quarter cutoff will bring in an additional $13.8 million in funding for electric transit buses. 12 requests for proposal are currently open and funding awards will likely to increase through the rest of 2019.
We are constantly developing new resources and updating our data for the EV Hub to track these issues. In the first quarter, we added the Public Funding Requests and Funding Awards Dashboard, State Legislation Tracker , and the Road Network Funding Dashboard to the EV Hub. Stay tuned for more updates as we follow these issues into the second quarter and watch you inboxes for an invite to the Q1 recap webinar on May 23!
About the author: Conner Smith