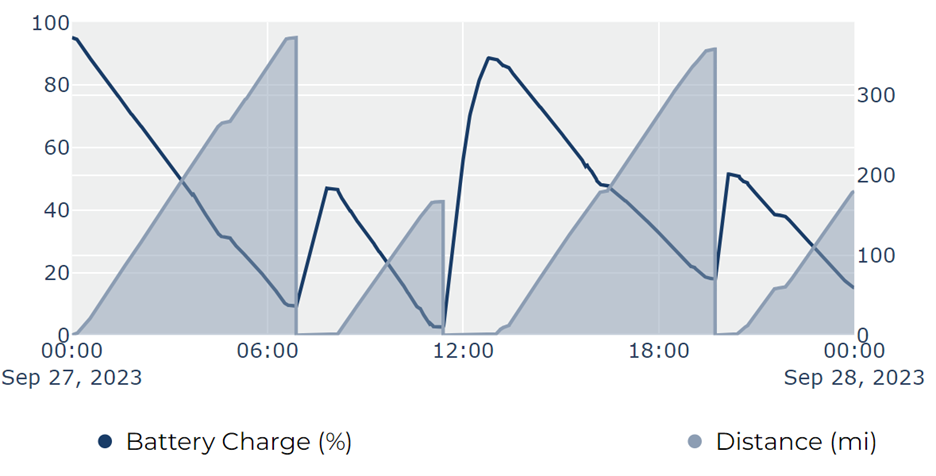 Interest in freight electrification has swelled recently as the Environmental Protection Agency takes aim at the medium- and heavy-duty trucks which make up less than five percent of vehicles on the road, but account for about seven percent of overall U.S. emissions. However, many questions remain about the real-world capabilities of electric alternatives. That's where the North American Council for Freight Efficiency (NACFE)'s Run on Less: Electric Depot comes in.
The event, which ran over three weeks in September, put electric trucks to the test hauling real freight on real routes, all while publishing performance data to the public. The event aims to shed light on important considerations for scaling electric freight such as vehicle performance, charging infrastructure, utility engagement, total cost of ownership, driver and technician training, charge management, and more.
In total, ten fleets participated, outfitting 22 battery electric trucks with telematics from GeoTab to track the vehicle's driving patterns and battery levels over 18 days of operations. The fleets covered a diverse set of electric trucks including:
1 OrangeEV Terminal Tractor
Overall, the event demonstrated just how far electric trucks have come since the last Run on Less Electric in 2021. . Three Tesla Semis operated by PepsiCo stole the show, averaging over 500 miles each over the three-week period and recording a 1,076 mile day. While the precise payload was not made public, PepsiCo's Dejan Antunović confirmed that the three Semis were "actively delivering/hauling beverages across Northern & Central California, and Nevada, with gross vehicle weight plus load above 70,000 lbs for more than 65% of our miles ran."
Further, a LinkedIn post from Dave Mullaney of RMI estimates that the route includes over 7,000 feet of elevation gain and observed temperatures as low as 36 degrees. PepsiCo accomplished the feat using high-powered 750kW charging and multiple stops per day as seen in the vehicle data from the 1,000 mile day:
Battery Charge (%) and Distance (Mi) for PepsiCo's Tesla Semi's 1,000 mile Day
Source: NACFE
The Tesla Semi wasn't the only vehicle to impress. While PepsiCo was testing the range limits of the Tesla Semi, Schneider's Freightliner eCascadia was shining in a different way. Working intermodal drayage out of their South El Monte depot, one truck accomplished a full 13-hour shift running from 7:30 AM to 8:30 PM engaged in stop and go driving throughout. The eCascadia covered 185 miles with no opportunity charging, using about 80% of its charge. Plugging in at the end of its shift, the eCascdia returned to 90% state of charge by 11:00 PM.
As RMI's Dave Mullaney put it, "this type of duty cycle is where traditional diesels fare the worst, both in terms of fuel economy and pollution emissions – with emissions management systems often struggling in low engine load conditions like this. But they are uniquely suited to electrics. This truck looks to have got about 20% of its energy into the battery from regen – recovering energy that would normally be lost as heat from the brakes. That also saves money on brake pads and rotors, which get worn down pretty quickly in these types of conditions."
Battery Charge (%) and Distance (Mi) for Schneider's Freightliner eCascadia's Stop and Go
Source: NACFE
NACFE Executive Director Mike Roeth shared initial findings with FleetOwner on the race, and highlighted his six key takeaways:
Small depots are ready for electrification now, and electrification at large depots is becoming more possible.
There have been big improvements in trucks and chargers since Run on Less—Electric in 2021.

The industry needs cost and weight reductions to improve the total cost of ownership.

Range can be extended with multiple charges per shift at the depot and enroute.

Power delivery and infrastructure are still taking too long to be installed, which is driving portable/temporary charging.

The diversity, passion, and capability of the people involved are helping to scale the adoption of electric trucks.
More data is expected to be shared at the end of the month, and a report of the demonstration is expected to be released in 2024.
About the author: Moe Khatib