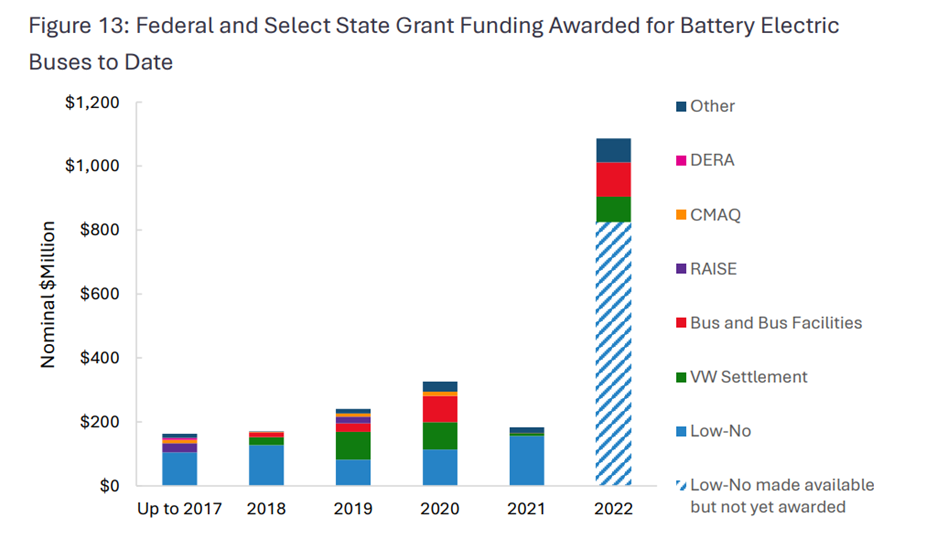 Federal and state funding for battery electric buses is on the rise. As funding and policy support ramps up for battery electric buses, as shown in Figure 13, agencies around the country are beginning their transit electrification journeys. This research captures the early learnings and best practices from some of the first agencies to begin the process of electrifying bus fleets.
Atlas Public Policy analysts Spencer Burget, Nicole Lepre, and Lucy McKenzie recently published a new report, Deploying Charging Infrastructure for Electric Transit Buses, highlighting lessons learned in deploying charging infrastructure for electric transit buses. Through a series of 28 industry interviews, the report explores the latest developments, challenges, and solutions in battery electric bus charging, and compiles specific examples, anecdotes and on-the-ground experiences from those at the forefront of deployment.
The research was supported by the Environmental Defense Fund. Thanks to the interviewees for their time and willingness to share their knowledge.
The insight gathered from the interviewees revealed the importance of planning for the long-term and getting relevant departments and stakeholders involved for successful battery electric bus charging deployment.
Here are high-level summaries of what the authors found.
What do transit agencies need to consider when designing charging facilities?
Transit agencies face several key decisions in the facility design process. In the report, interviewees provided specific guidance and experiences with these decisions for transit agencies just beginning their electrification journey:
· En-Route vs Depot Charging: As bus ranges continue to increase, agencies should generally aim to charge as much as they can at depots and only use en-route charging where necessary.
· Charging Ratio and Power Level: Dynamic charging strategies using a combination of fast and slow chargers at the depot can reduce charger costs, reduce peak power draw, and save space.
· Plug-in vs Inverted Pantograph Charging Dispensers: Separating power cabinets from dispensers and using inverted pantograph dispensers at the depot can save space and simplify the charging process for large deployments. Some agencies are working with technology that automates the charging process, reducing burdens on staff.
· Scaling from Pilot to Full Electrification: Pilot projects and small-scale deployments should be designed from the beginning with scale in mind
How should utilities be engaged?
Electric utilities have one of the most significant roles to play in development and execution of a transit agency's bus electrification transition plan. Interviewees identified several key things to keep in mind:
· Electrical infrastructure upgrades can take years to complete, so it is essential for transit agencies to consult with their utility early, especially for agencies who intend to install solar or storage at their charging facilities.
· Simple future proofing steps such as installing additional conduit and laying transformer pads can lower the cost of future charging infrastructure deployment.
· Utility advisory services, utility-owned charging stations or make-ready infrastructure, and EVSE rates can help transit agencies reduce their upfront and electricity costs.
What are best practices for grid resiliency planning?
Resilience to power outages has received increased focus among transit agencies in recent years as fleets begin to move towards full scale deployments and climate events intensify. Interviewees identified four major potential grid resilience solutions:
1) Grid hardening: Transit agencies can work with their utility to improve the overall resilience of their electric service.
2) Generator port and mobile power source: Transit agencies can provide backup power from a generator or mobile battery bank.
3) Redundant electric service: Transit agencies may tie into more than one electricity feeder or substation to provide resilience to localized outages.
4) Microgrid: Transit agencies are piloting solar and storage microgrids to provide zero-emission backup power with the co-benefit of load management.
Agencies are still testing approaches and no single solution has yet emerged as the silver bullet.
How can agencies ensure charger reliability?
Ensuring chargers are reliably operational is key to a successful electrification program. Interviewees shared a number of best practices to maximize charger reliability:
· Formal service level agreements ("SLAs") can help clarify expectations and avoid miscommunications between transit agencies and charger providers.
· Keeping an inventory of commonly used spare parts can reduce maintenance downtime.
· Strong and clear requirements on charger uptime, compliance with charging standards, and software requirements in vendor contracts can help ensure reliability.
What are the benefits of managed charging software solutions?
Managed charging software can be used to control which chargers are used, when, at what power level, and from which power or storage source. Interviewees highlighted four key benefits of managed charging software for transit agencies:
1) Reduces electricity bills
2) Reduces investment in chargers & utility upgrades
3) Reduces labor requirements
4) Maximizes use of renewable energy
Interviewees also noted four key considerations that can help agencies determine if managed charging software is worth the cost: load flexibility, fleet size, labor requirements, and electricity costs.
What funding is available for electric buses?
Despite fuel and maintenance cost savings, upfront costs still present a substantial barrier to transit electrification. Interviewees highlighted the need to tap into federal, state, local, and utility programs to fund electric buses and charging infrastructure.
Some of the key programs utilized by transit agencies include:
· Federal Low or No Emissions Program
· Federal Buses and Bus Facilities Program
· Volkswagen Settlement Trust
· Medium- and Heavy-Duty Voucher Incentive Programs
· Clean Fuel Standards
· Utility Programs to Support Bus Electrification
Funding is on the rise with more than $30 billion in the Bipartisan Infrastructure Law that can fund electric transit buses and charging infrastructure.
Finally, it is worth noting that the real value of this report for those beginning their electrification journey or designing a battery electric bus deployment program can be learned from the individual experiences and anecdotes described by transit agencies in this report as shown in Figure 15.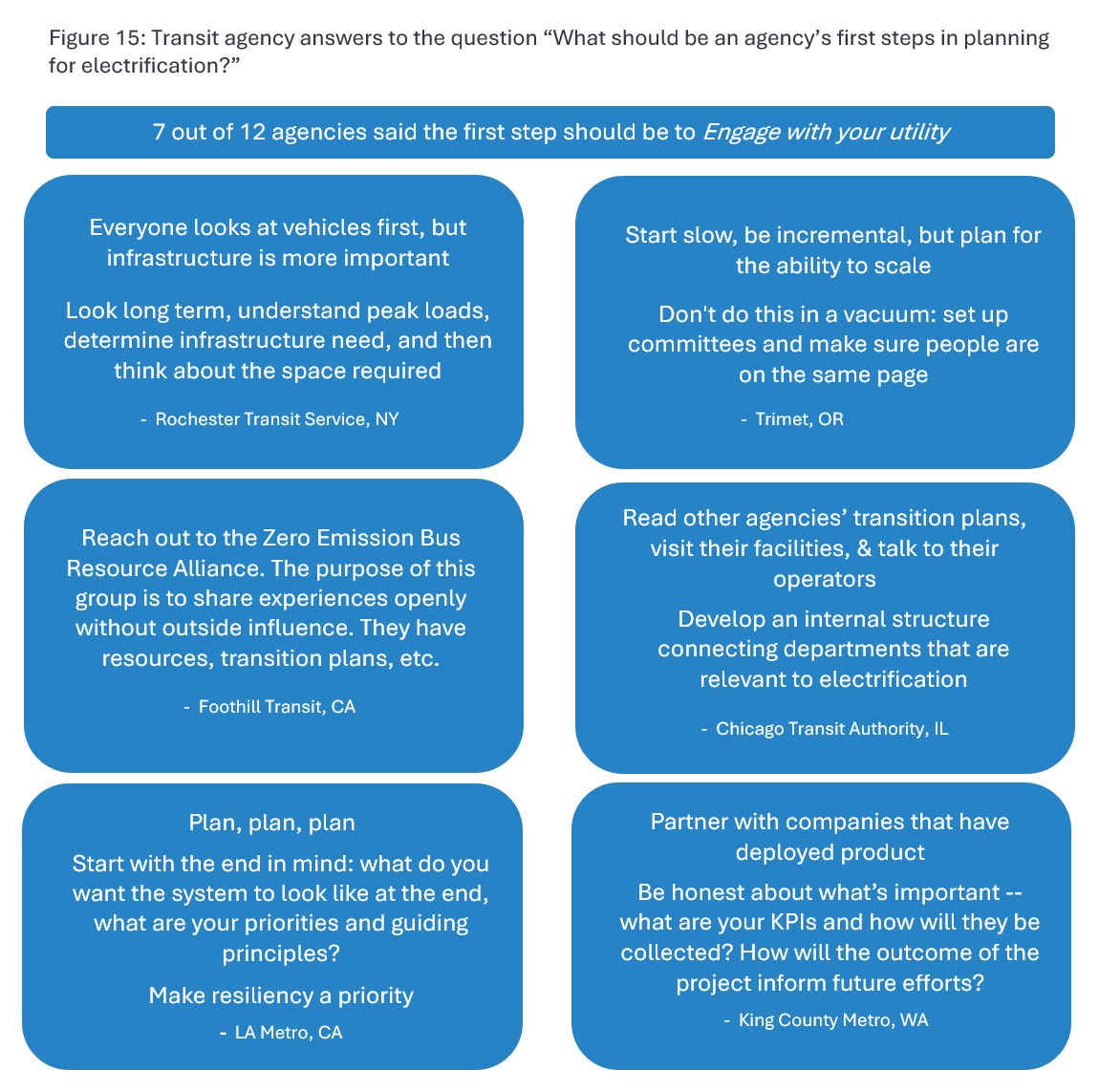 About the author: Moe Khatib