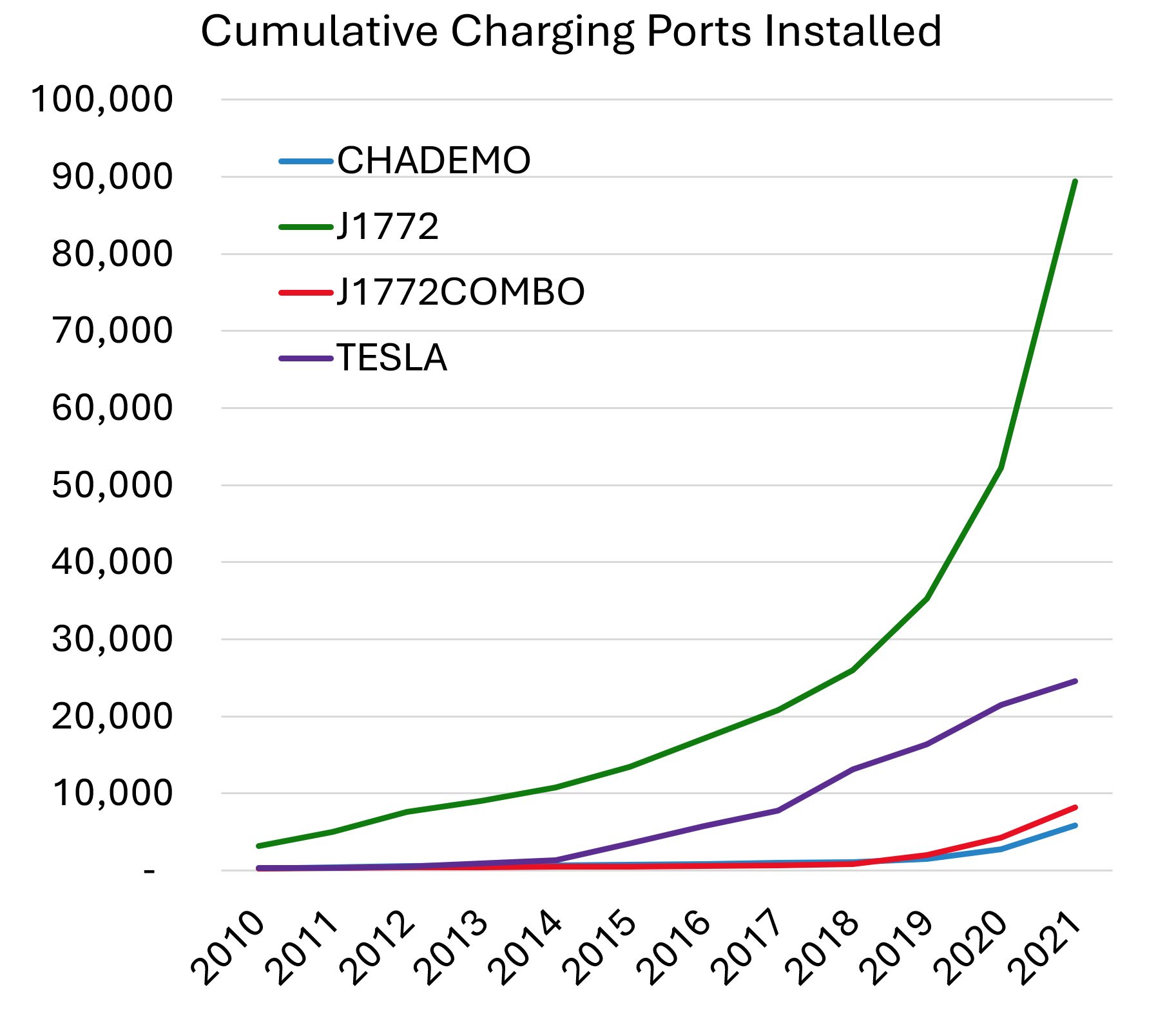 The Infrastructure Investment and Jobs Act (IIJA) will change public charging in America. In the Act, there are two key pots of funding for EV charging: the $5 billion for the National Electric Vehicle Infrastructure (NEVI) Formula Program and a further $2.5 billion for the Discretionary Grant Program for Charging and Fueling Infrastructure. Given that the formula program has moved first, let's look at how it might impact public EV charging in the US.
States are already pulling together their plans to submit to the Joint Office of Energy and Transportation by August 1, 2022. The Federal Highway Administration (FHWA) will then review those plans by September 30, 2022.
Initial Program Guidance issued by the FHWA on February 10, 2022, states that chargers must meet the following requirements (among others):
Include at least four 150 kW Direct Current (DC) Fast Chargers with Combined Charging System (CCS) ports capable of simultaneously DC charging four EVs

Support minimum station power capability at or above 600 kW and supports at least 150 kW per port simultaneously across four ports for charging

Be situated along designated Alternative Fuel Corridors and States should first prioritize investments along the Interstate Highway System.
*Sites with 4 or more CCS plugs in counties along interstates. Sites are colored by charging network and bubble size is proportional to number of plugs at site. Source: EV Hub.
So how many chargers do we have currently that would comply with these requirements? In the graph above, there are four main plugs:
J1772 (Level 1 and Level 2 Charging)

CHAdeMO (DC Fast Charging)

J1772COMBO (DC Fast Charging) – also known as CCS

Tesla (DC Fast Charging)
Low-powered Level 2 charging (J1772) has dominated the public charging market to date. Tesla has long installed higher power chargers but they are proprietary meaning they are not accessible to all drivers. Fast charging for non-Tesla only began to pick up in 2020. CHAdeMO installations continue to grow even though only one EV model supports the standard in the United States and Electrify America indicated that it would no longer install CHAdeMO plugs at new sites outside of California beginning in January 2022.
Most existing sites do not meet the NEVI Program Guidance. While power levels at sites are mostly unknown, especially when it comes to charging more than one EV at once, the installed base is mostly not 150 kW per plug though that is changing quickly.
Of the more than 6,000 sites nationwide with a fast charging station, over 5,300 are in counties that have an interstate. And of these 5,300 sites, fewer than 800 have four or more CCS plugs. Of the 787 NEVI eligible sites around the country, Electrify America operates 553. Once Electrify America is out of the picture, there are just 234 sites that would meet the NEVI requirements. In short, NEVI will mean a significant step change for the industry.
The planning partially aligns with research out of Atlas that indicated there are cost savings for fast charging that is installed now. The research, released in April 2021, found that scale and higher charge will save money down the line including,
"Installing six to 10 fast charging ports at each site versus just two will save $8.4 billion in installation costs between 2021 and 2030. Installing higher-powered fast charging can also create savings while providing customer convenience: Atlas finds that installing 150-kilowatt fast chargers rather than the 350-kilowatt fast chargers modeled would increase needed investment in public infrastructure from $39 billion to $52 billion."
The guidance requires at least four ports per site, though sets the baseline at 150 kW chargers rather than 350 kW as per the Atlas analysis. Regardless, NEVI will mean a step change for the charging market both in terms of scale and the type of charging stations installed. With these changes, NEVI aims to match the growing demand for public fast charging and for vehicles that are charging faster and faster.
About the author: Tom Taylor