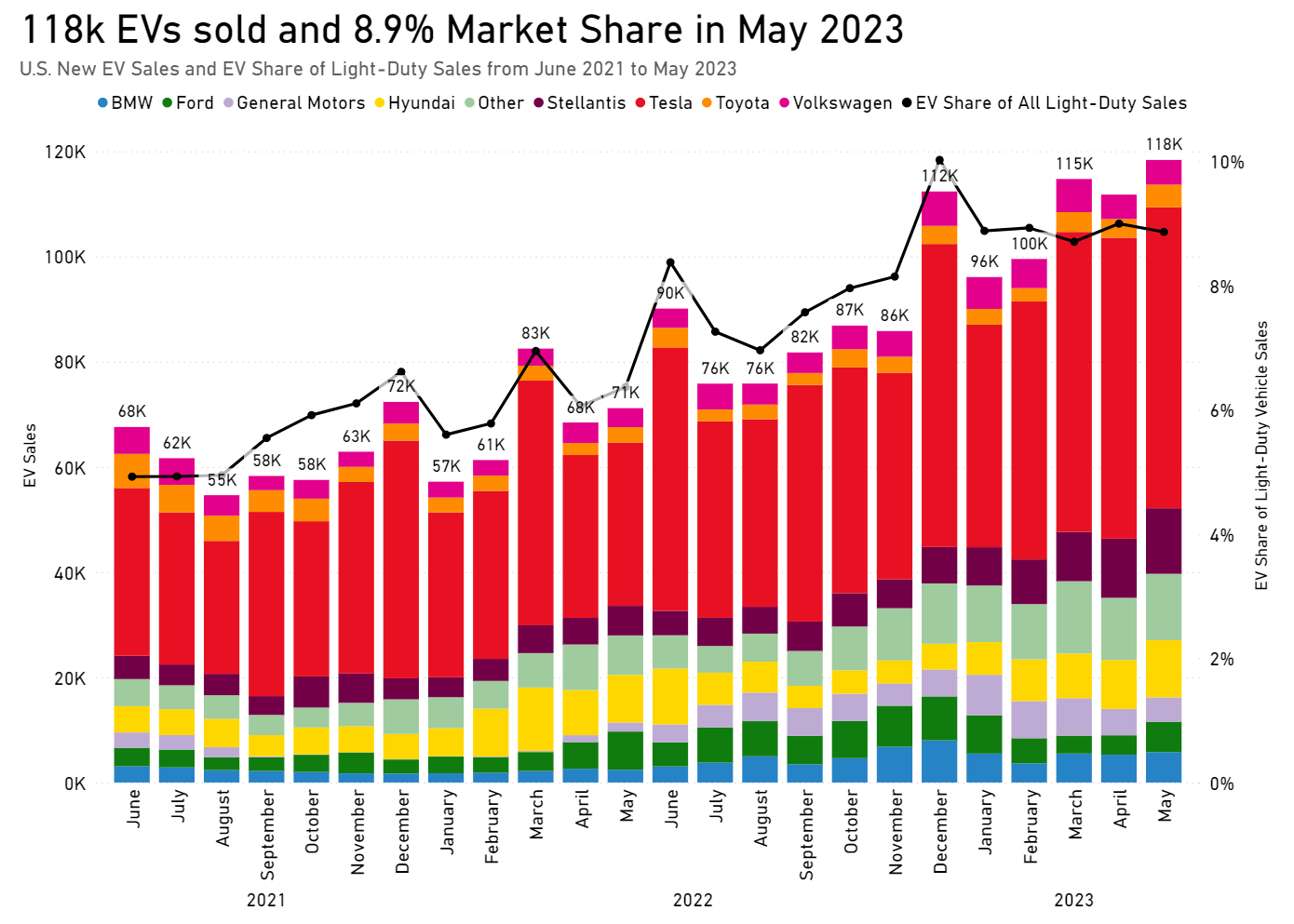 We just got our hands on electric vehicle (EV) sales data from May 2023, which means another set of stories. During May, just over 118,000 light-duty EVs were sold representing 8.9 percent of the new light-duty sales market. May's EV sales were not only the most in any month on record but also represents a staggering 66 percent increase from May of 2022. Here are takeaways from the data.
First, let's talk Tesla. Tesla sold approximately 57,000 EVs in May, continuing to lead the playing field by a wide margin. While Tesla sales have been remarkably consistent in recent months, the automaker has been busy behind the scenes bolstering its future EV strategy. According to Reuters, Tesla has revisited negotiations with the Indian government to set up an EV factory with an annual production capacity of nearly 500,000 vehicles. Additionally, Tesla has been a hot topic in the news as leading automakers and EV charging companies continue to adopt its North American Charging Standard (NACS). As Tesla rallies industry support for its charging connector, the company's position in the market is expected to gain more influence.
Stellantis continues to top its sales records. In May, the automaker recorded just over 12,000 sales, with the Wrangler 4xe and the Grand Cherokee plug-in hybrid electric vehicles (PHEVs) representing the majority of those sales (6,663 and 3,647 sales respectively). Despite battery-electric technology building up a sizeable lead in the EV market (BEVs accounted for 75 percent of May EV sales), Stellantis continues to find success through PHEVs. Earlier this month, however, the company revealed its first of four BEV platforms: STLA Medium. According to the press release, this BEV platform will deliver a range of up to 435 miles and can charge a battery from 20 percent to 80 percent in 27 minutes.
Next, Hyundai continues to see consecutive months of EV sales growth, and as of May, the Ioniq 5 remains the company's top-selling model. So far this month, we have seen two developments from the automaker. First, Hyundai debuted its Ioniq 5 N, which features a number of performance upgrades. While details on price are not available yet, the model upgrade is expected to hit the market next year. Second, Hyundai announced last week that it will be investing $200 million at its West Point plant in Georgia to expand production of the Kia EV9. Production of the EV9 is slated to begin in the second quarter of 2024 and is expected to create up to 200 jobs.
The rest of the data can be viewed on our Automakers Dashboard Any other trends in the data that catch your eye? Let us know by responding to this email.
About the author: Moe Khatib