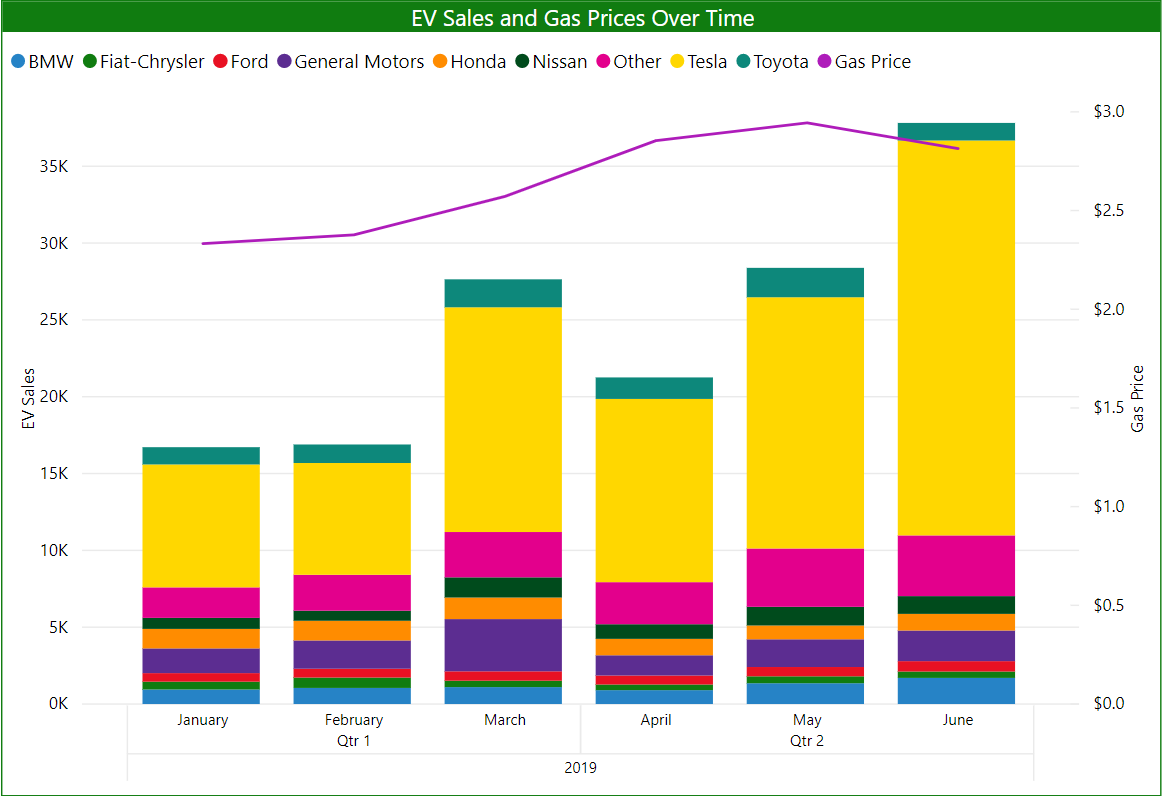 June saw the U.S. EV market post its strongest year-over-year growth for 2019 with sales 50 percent higher than the same time last year. High sales in June rounded out the second quarter and pushed year-over-year growth up to 27 percent over the second quarter of 2018. This growth marks a rebound for the market from the first quarter, which was only up 10 percent from the previous year. Without the Tesla Model 3 sales, however, the U.S. EV market would have shrunk by 21 percent in the second quarter and 18 percent in the first quarter compared to 2018, highlighting Tesla's continued dominance.
Tesla is responsible for the lion's share of this quarter's growth following a record-breaking second quarter for global production and deliveries. Defying analysts' expectations after a sales decline in the first quarter, the Model 3 accounted for more than half of all U.S. EV sales in the second quarter with roughly 45,000 vehicles sold. More than 21,000 of these were sold in June, making it the fourth all-time highest month for U.S. EV sales. The Model X also saw a significant boost with a two-fold increase in sales since May. Globally, Tesla made good on almost 100,000 vehicle deliveries.
The Tesla effect could have been even greater had the value of the federal EV tax credit not been halved at the start of the year, which led the company to focus more on overseas markets. Looking ahead, some fear that the reduction in the federal tax credit by another 50 percent that went into effect on July 1st will make it hard for the automaker to repeat its stellar third quarter from 2018. Competition from new offerings like Audi's E-tron, which is currently the second highest-selling all-electric SUV on the market after only two months of full production, could also dampen demand for Tesla vehicles.
Other automakers have made significant pledges to vehicle electrification, which should lead to more robust competition for Tesla in the near term. Without a single all-electric vehicle on either platform, Toyota and Subaru recently announced plans to partner to deliver new offerings in the next year. BMW, which recently committed to doubling EV sales by 2021, will work with Jaguar-Land Rover to accelerate EV production. Following these announcements, BMW's CEO stepped down in response to slow progress and high pressure surrounding sweeping electrification transformation throughout the company. While electrification strategy has proceeded unevenly for some automakers, industry analysts expect the EU-wide emissions regulations that will take hold next year to provide a boost for the European market. Supportive policies in countries like Norway, Tesla's largest international market per capita, have helped boost the share of EV sales above 50 percent of total light duty vehicle sales.
EVs only accounted for two percent of the U.S. passenger vehicle sales in 2018 despite 80 percent growth compared to 2017. The end of the EV tax credit for Tesla and GM will pose a serious challenge to their U.S. sales and could provide a boost to automakers offering new models that have not reached the cumulative sales cap to enter the phase out period. The upcoming EV Hub Quarterly Review for the second quarter will expand on these trends and other developments in transportation electrification.
About the author: Conner Smith