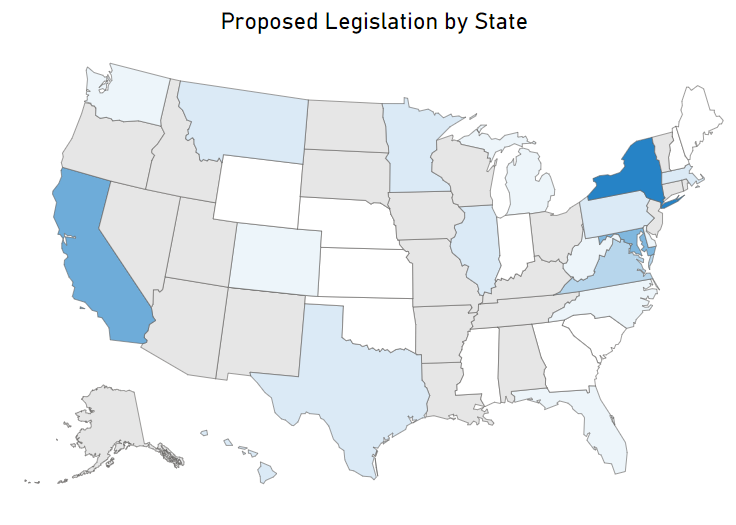 In the map above, the darker-shaded states represent more state policy activity.
States are beginning to wrap up their legislative sessions, and we've seen some unique EV policy advancements for better or for worse.  As a reminder, our State Policy Dashboard tracks policy initiatives moving through state legislatures. Here are the legislative developments that caught our eye:
Veto in the Sunshine State
Let's get the rockier news out of the way. On June 28th, 2023, Governor Ron DeSantis vetoed a nearly unanimous bipartisan bill that would modernize the state's vehicle procurement process. In particular, Florida's Senate Bill 284 would direct the state to prioritize state-operated vehicles with the lowest lifetime ownership costs and provide incentives for integrating electric vehicles in its fleet. The bill was approved 115-1 in the Florida House and 38-0 in the Florida Senate, a rare bipartisan backing in the state's legislature.
DeSantis' veto measure runs counter to prior efforts to boost EVs in the state. Last August, the Florida governor awarded more than $68 million to electrify transit buses, proudly remarking that this decision is a "win-win for air quality and advancing the state's efforts to bolster growing electric vehicle usage."
Advanced Energy United and the Electrification Coalition ran the numbers (using the Atlas DRVE tool), and by vetoing SB 284, the state is missing out on an estimated $277 million by not electrifying its fleet.
Noteworthy budgets for EVs  
In recent months, a number of state legislatures have approved substantial levels of funding for EVs, including Michigan, Minnesota, and Colorado.
First, the Michigan state legislature passed Senate Bill 173, which appropriates a historic $125 million in funding for school districts to transition to clean school buses, and it's expected that the majority of buses will be electric.
Next, Minnesota's HF 2310 appropriates millions in funding towards EVs, including $5 million for Minnesota's electric vehicle rebate program, $1 million to award grants to auto dealers seeking certification to sell EVs, and $3 million for Minnesota's residential electric panel upgrade grant program.
Colorado has also set aside critical funding for EVs. In May, Governor Jared Polis signed House Bill 23-1272 into law. First, the bill increases the EV tax credit to up to $5,000 for Colorado residents who purchase or lease an EV with a manufacturer suggested retail price (MSRP) that's no more than $80,000. Second, the bill also increases the state EV tax credit to $12,000 for purchases of medium and heavy-duty EVs through 2032.
A win for direct sales
While not through legislation, direct sales saw a big win in Delaware. After a series of prickly legal proceedings, the Delaware Supreme Court overturned a prior judge's ruling preventing Tesla from setting up shop in the state in May, who claimed it violates the state's Motor Vehicle Franchising Practices Act. While this ruling only affects Tesla, the precedent now exists for other automakers aiming to trudge the direct sales route in Delaware.
See the full list below for other state legislation developments, or dive in deeper on the State Policy Dashboard. If we missed anything, respond to this email and let us know!
Active: 
Enacted:
Adjourned:
Failed:
About the author: Moe Khatib