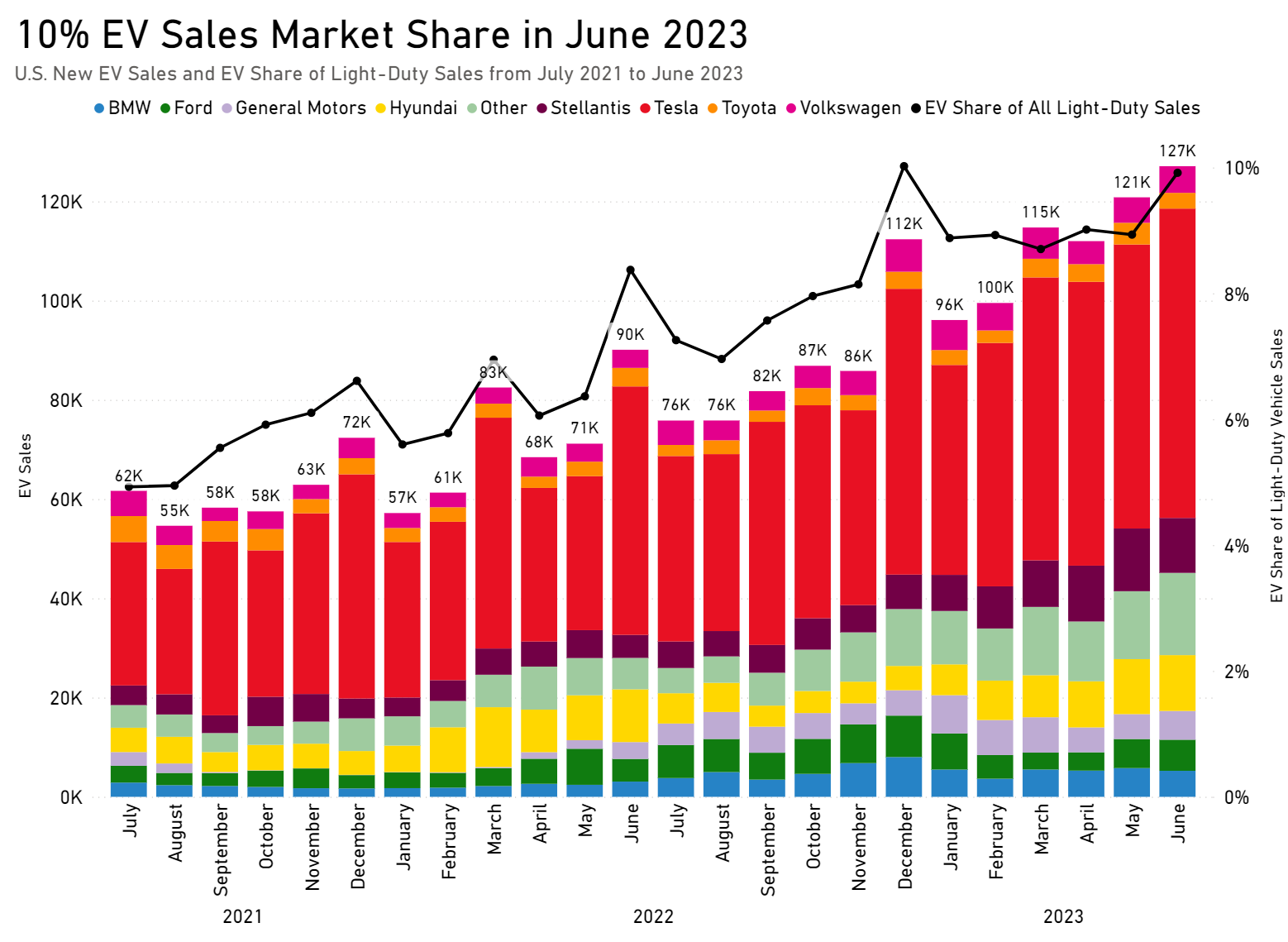 June once again proves to be a hot month for electric vehicle (EV) sales. June 2023 recorded the highest-ever EV sales for any single month; the 127,000 EVs sold represented a 10 percent light-duty EV market share, and a 41 percent increase from June 2022 (approximately 90,000 EV sales). Additionally, 83 percent of all EVs sold in June 2023 were battery electric vehicles, showing continued consumer confidence in all-electric technology. Here are three insights from June EV sales data.
First, Tesla broke a record in June 2023 with just over 62,000 sales, capturing 49 percent of all EVs sold. While Tesla remains dominant in the EV market, competition among other automakers continues to heat up. After four months in the second-place spot next to Tesla, Stellantis has been unseated by Hyundai. Hyundai surpassed Stellantis in June with 11,251 sales, driven by the all-electric Hyundai Ioniq 5 and Kia Niro EV with 2,658 and 2,142 sales, respectively. In contrast, plug-in hybrids continue to drive Stellantis's success with the Jeep Wrangler 4xe and Jeep Grand Cherokee 4xe each selling more than 4,000 units in June. In other recent news, it was recently reported that Hyundai has acquired General Motor's vehicle manufacturing plant in India with plans to produce more EVs.
Next, it appears that Ford is bouncing back from its recent turbulence.  Ford reported nearly 6,700 sales in June 2023, a notable increase in sales after the company paused F-150 Lightning production earlier in the year. While sales have begun to rebound, Ford remains a hot topic in the press. First, many outlets have been reporting Ford's financial losses in its EV division, projected to potentially reach as high as $4.5 billion this year. Despite these challenges, the automaker continues to push forward with its EV investments. Just last week, the automaker announced a $1.2 billion battery manufacturing facility in Quebec, with the help of Canadian government funding. This facility will create 345 jobs and is expected to begin operations in 2026.
Third, Lucid Motor's luxury Lucid Air has been experiencing a slight dip in sales. In June 2023, the company reported 423 sales of the model, down 36 percent from the model's peak in March 2023 (660 sales). Despite this dip in sales, the automaker recently announced the final production specifications for its Lucid Air Sapphire, the world's "first fully electric luxury super-sports sedan." Air Sapphire has an EPA-estimated range of 427 miles on a single charge. Production of the Air Sapphire is expected to begin in September, with deliveries to follow shortly after.
View the rest of the EV sales data on our Automakers Dashboard.  Catch any other interesting insights? Let us know by responding to this email.
About the author: Moe Khatib